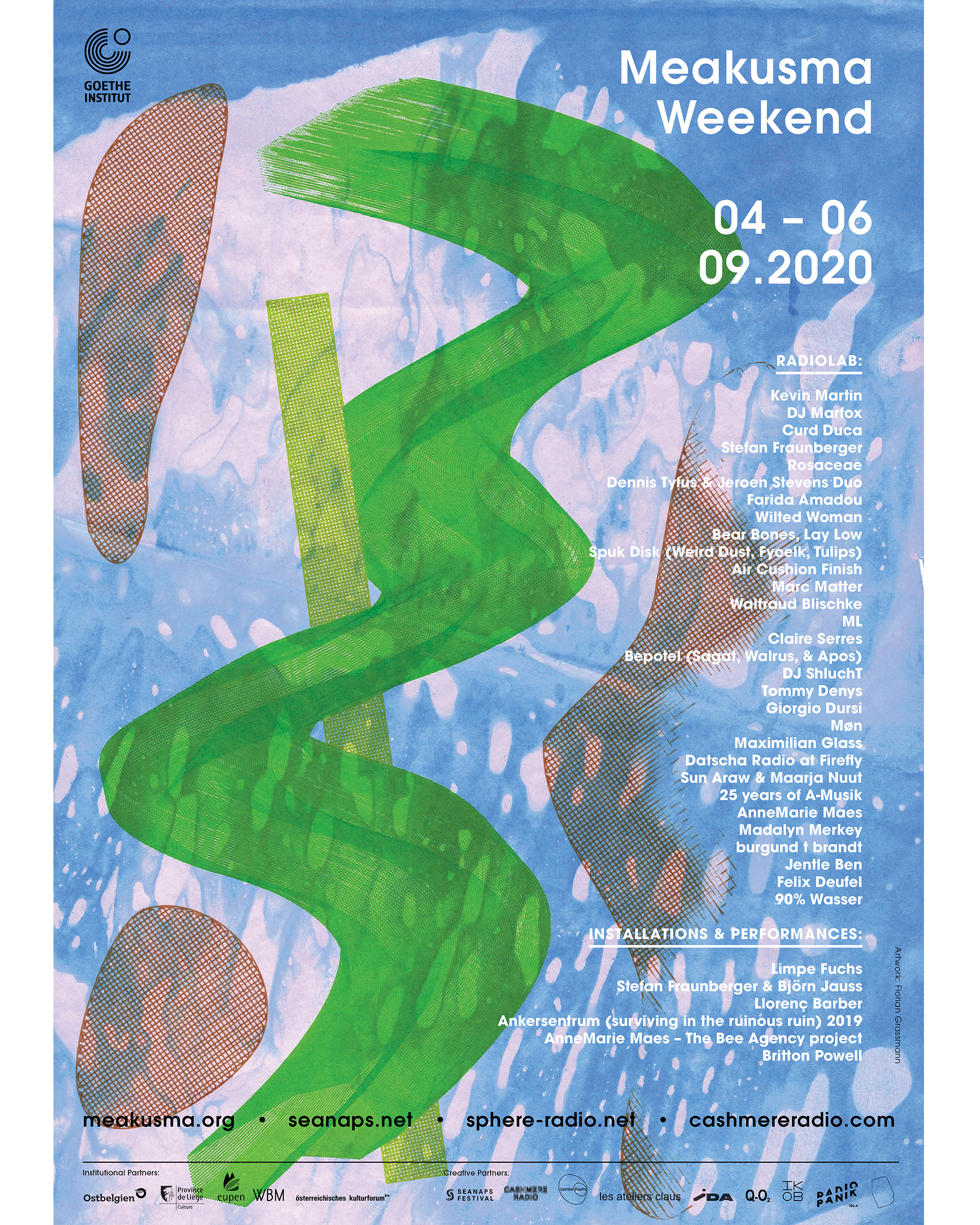 Ikob
Rotenbergplatz 12b
4700 Eupen

Friedenskirche
Klötzerbahn
4700 Eupen
Meakusma Weekend
From September 4th to 6th, the Meakusma Weekend will take place in Eupen, Belgium. The weekend serves as an alternative to the Meakusma Festival 2020 which had to be canceled due to the Covid-19 crisis. It aims to show the full Meakusma spectrum, albeit in adapted form. A temporary radio station stands at the center of the weekend, broadcasting concerts and DJ sets as well as commissioned radio art works and artist talks. As a laboratory it also makes attempts to explore the possibilities of the radio medium. There will also be concerts in the Friedenskirche and installations in the IKOB – Museum for Contemporary Art.
The Meakusma Weekend is presented in cooperation with the Goethe-Institut, the Seanaps Festival and Sphere Radio from Leipzig as well as Cashmere Radio from Berlin. It aims to serve as a testing ground for the creation of an inspiring and connecting experience in a currently distanced world, using formats and content freely.
The center of all action will be the Heuboden room of the Alter Schlachthof in Eupen, where the radio lab will be set up for three days.
Seanaps, Sphere Radio and Cashmere Radio are involved in broadcasting, programming and organisation. Les Ateliers Claus and Q-O2 from Brussels are also involved in the program. Ida Radio from Talinn, Estonia, Radio Panik from Brussels and Radio Corax from Halle (Saale), Germany will also broadcast content from the festival. Musica from Flanders is a partner for the sound installations. The Meakusma website will also broadcast the full weekend.
The Radiolab will broadcast concerts, DJ sets, radio art and artist talks.

Kevin Martin
has produced milestones in bass music hovering between dub, dancehall, industrial and techno as The Bug, Techno Animal or with his band project King Midas Soundsystem. His unique sound design and the physicality of his live performances are legendary. In the Radiolab he will appear under his real name to present his abstract ambient productions.
DJ Marfox
is a key figure in Lisbon's Afro-Portuguese electronic music scene. His music combines African-influenced dance music with house and techno. As a DJ, he has the ability to adapt his sets to various contexts, unfazed to dive into slower realms, meandering between African styles such as the Tarraxo from Angola, psych-tropicalia and sounds from the Euro-African environment on the periphery of Lisbon. In addition to a DJ set, he will hold an artist talk. The music of Austrian
Curd Duca
is based on warm, natural sounds, acoustic instruments, orchestras, singing, noise and bird calls, which are highlighted, cut up and re-contextualized in atmospheric sound collages. "Efia" is
Rosaceae
's new album, released on the Hamburg label Pudelprodukte. Somewhat atypical for ambient music, the album thrives on a relationship to the outside world, namely the experiences of a Kurdish woman in the Syrian war. Tank noises and issues of war and genocide are musically processed and commented upon. Before her concert, she will explain how all comes together in her music. Belgian artist, operator of the Ultra Eczema label and musician
Dennis Tyfus
will do one of his improvised performances. Sound artist and sound poet Marc Matter comes from the founding environment of the Salon Des Amateurs in Düsseldorf and was part of the Durian Brothers trio with Stefan Schwander (Harmonious Thelonious) and Florian Meyer (Don´t DJ). After an artist talk, he will present a live work composed for the radio format. Austrian
Stefan Fraunberger
will give a lecture on the "Quellgeister" project. Wilted Woman is a producer whose unconventional approach to electronic music stems from an experimental, unconditional attitude that she adopted in the punk and DIY scenes of the east coast of the United States and more recently in Berlin.
Bear Bones, Lay Low
and
Weird Dust
are both bustling figures of a fresh Brussels scene that moves between club and experimental music and doesn't care much about conventions. While Bear Bones, Lay Low is playing solo, Weird Dust will perform with his new project
Spuk Disk
. Created together with Johann Kauth (Fyoelk) and Sebastian von der Heide (Tulips) during the lockdown of the Covid-19 crisis and supported by the Goethe-Institut, it is based on sound effects, locked grooves and rhythms that were cut on dubplates. The components are used by the three artists to create new compositions. It ties in with the tradition of turntablism, uses the record player as an instrument and blurs the boundaries between live performance and DJ set. Bassist
Farida Amadou
is one of the up-and-coming Belgian artists on the international free and improv scene. She has played with Thurston Moore, Steve Noble, Peter Brötzmann, Ava Mendoza, Mette Rasmussen and punk formation Cocaine Piss, among others. She will present her first solo album.
The team behind record store, music label and distributor A-Musik from Cologne will be looking back on its 25-year history through a conversation and in musical form. A new album produced by Sun Araw & Maarja Nuut will be premiered exclusively during the Meakusma Weekend with a pre-listening session.
The IKOB Museum for Contemporary Art will be home to three installations, some of which will be on display for several weeks. Together with the Goethe-Institut Brussels, Meakusma will be presenting the mobile listening station of the Ankersentrum (surviving in the ruinous ruin) project by Natascha Süder Happelman. The listening station was part of the artistic contribution to the German Pavilion at the Venice Biennale 2019. It will include the radio version of the "Tribute to Whistle" sound installation which could be heard in the pavilion, the video trilogy that was published on social media over the course of the project, the released album based on the sounds of the installation and the comprehensive publication that was published by Archive Books. Six musicians were involved in the listening station: Jessica Ekomane, Maurice Louca, DJ Marfox, Jako Maron, Tisha Mukarji and Elnaz Seyedi.
Together with Musica – Impulscentrum voor Muziek and gerngesehen.de/georg dietzler Meakusma will present "The Bee Agency Project" in the IKOB. With the "Bee Agency Project", AnneMarie Maes aims to give the Apis mellifera (Western honey bee) back its autonomy, supporting colonies to live in the wild again. The project combines art, design and science and stands on two pillars. There is the mobile "guerrilla beehive", made from biomaterial and equipped with sensors that monitor and analyse the inner workings and the environment of the beehive. And then there is the video Variation Games (21'59"), a condensed edit of a year-long audiovisual observation of the behaviour of a colony of honeybees in their private environment.
"If Anything Is" by American composer Britton Powell explores an ecstatic exchange of experiences in the face of a rapidly accelerating media and business world. As a meditation on the intersection of technology, ritual and urban landscape, the work draws a map through scenes filmed in New York City. Powell explores psychoacoustic phenomena, minimalism and traditions of non-Western music through electronic music, video, and percussion.
Three concerts will take place in the Friedenskirche. Musician and artist Limpe Fuchs, who has been active since the 1960s and who was featured in detail in the Meakusma Magazine in 2019, will stop by in Eupen for the first time. Fuchs studied classical piano and violin in Munich and drums with Hans Holzl. During her forty year career, she experimented with improvised sound and visual aspects, avoiding formalism, using handcrafted instruments and sound sculptures. Limpe Fuchs is considered to be a groundbreaking influence on the Krautrock scene of the late 60s and 70s and later on the experimental psychedelic underground of the late 70s and early 80s. She began her career at Anima Musica in the late sixties together with her then partner, sculptor Paul Fuchs.
Spanish composer Llorenc Barber will perform a unique concert together with singer Monteserrat Palacios, focused on Palacios' singing and Barber's self-made carillon in the Friedenskirche. Barber is a Spanish musician, composer, theorist, musicologist and sound artist. He is considered a pioneer of minimal music in Spain. Since 1980, he has dealt with the sounds of bells, singing and vocal techniques, forms of improvisation, sound poetry and folk music elements. Monteserrat Palacios has been working with Barber since the 1990s and researches various ethnomusicological areas as well as the experimental and improvised use of the voice. The concert is presented together with reihe-M from Cologne.
Austrian musician Stefan Fraunberger will perform in the Friedenskirche together with modular synthesis expert Björn Jauss who hails from East Belgium and lives in Brussels. Fresh off an artist residency at Q-O2 in Brussels, they will present Quellegeister, a project that explores a mixture of decayed Transylvanian pipe organ sounds and minimalist synthetic sounds, where man-made ritual machines meet analog electro-shamanism. The resulting works will be premiered in the Friedenskirche Eupen on a multi-channel 4.2 sound system.
The concerts in the Friedenskirche are accessible to a maximum of 100 people. All events at the IKOB have limited capacity. For those attending, please respect social distancing and wear a mouth mask. Events at both venues are free of charge.

Kevin Martin, DJ Marfox, Curd Duca,
 Stefan Fraunberger, Rosaceae, 
Dennis Tyfus, Farida Amadou, 
Wilted Woman, Bear Bones Lay Low
, Spuk Disk (Weird Dust, Fyoelk, Tulips), Air Cushion Finish, 
Marc Matter, Waltraud Blischke, ML, Claire Serres, Bepotel (Sagat, Walrus, &Apos), DJ ShluchT, 
Tommy Denys, Giorgio Dursi, Møn, Maximilian Glass, Datscha Radio at Firefly
, Sun Araw & Maarja Nuut
, 25 years of A-Musik, Annemarie Maes, Madalyn Merkey, burgund t brandt
, Jentle Ben, Felix Deufel, 90% Wasser
Installations & performances
Limpe Fuchs, Stefan Fraunberger & Björn Jauss, Llorenç Barber, Ankersentrum (surviving in the ruinous ruin) 2019 , Annemarie Maes – The Bee Agency project, Britton Powell
Creative Partners:
Institutional Partners: