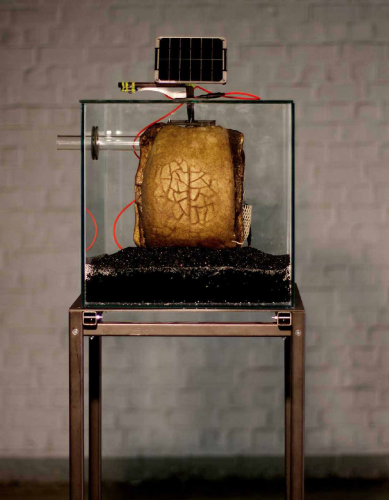 Annemarie Maes
the BEE AGENCY project

AnneMarie Maes
is an artist who has been studying the close interactions and co-evolutions within urban ecosystems. Her research practice combines art and science, with a keen interest in DIY technologies and biotechnology. She works with a range of biological, digital and traditional media, including live organisms.
Her artistic research is materialised in techno-organic objects that are inspired by factual/ fictional stories; in artefacts that are a combination of digital fabrication and craftsmanship; in installations that reflect both the problem and the (possible) solution, in multispecies collaborations, in polymorphic forms and models created by eco-data.
On the rooftop of her studio in Brussels she has created an open-air lab and experimental garden where she studies the processes that nature employs to create form. Her research provides an ongoing source of inspiration for her artworks. The Bee Agency as well as the Laboratory for Form and Matter -in which she experiments with bacteria and living textiles – provide a framework that has inspired a wide range of installations, sculptures, photography works, objects and books – all at the intersection of art, science and technology.
http://annemariemaes.net
the BEE AGENCY project
Pollinators are threatened in all industrialized nations. Given that the survival of bees is crucial for human sustainability, there is a great urgency to improve by all means the ways in which wild colonies could thrive.
With the Bee Agency project, AnneMarie Maes wants to give back autonomy to the Apis mellifera and support colonies to live again 'in the wild', after being domesticated for long times by beekeepers who's apiaries are mainly honey production factories.
The Bee Agency project has an exemplary meaning when it comes to the public perception of biodiversity and sustainability.
It is a project on the interstices of the arts, design and science.
AnneMarie Maes founded
the Brussels Urban Bee laboratory
in 2009.
It is the place of action for a group of artists, scientists and technologists to observe bee colonies in non intrusive set-ups.
The Urban Bee Lab is also a vehicle to raise public awareness via
art installations, talks and workshops
.
The Bee Agency project
is one of these actions.
In this project, bees, humans, micro-organisms and plants are working together to assure a sound basis for the further development of our ecosystem.
With the Intelligent Guerrilla Beehive, the project proposes a shelter for swarming bee colonies and supports the bees in their roles as pollinators and caretakers of biodiversity rather than as honey producers.
Because bees are recognized as important biomarkers, the Guerrilla Beehive is augmented with sensors and sensory processing algorithms that observe the behavior of the colonies, analyze the diversity of pollen and monitor airborne pollution in order to check the state of the ecology in the surrounding area.