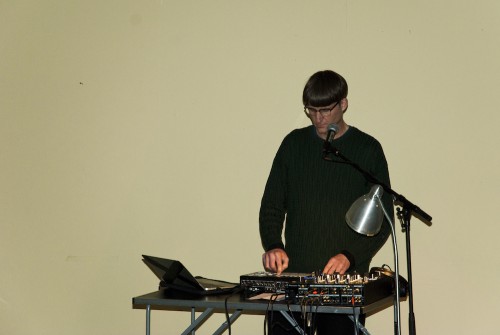 Marc Matter

Marc Matter: "Word Compositions"

In his solo-project, Marc Matter (Institut für Feinmotorik, The Durian Brothers) creates serial word compositions and sample-poetry from speech fragments collected from news headlines and advertisements. A search for new linguistic connections and semantic collisions, as well as for the musicality of speech. After working with Dj-techniques and non-semantic voice sounds for some time, he has now developped new material consisting of layered and repetitive structured word material for his solo live-sets. For this, a minimal set-up of a sampler and mixing-desk is used on stage. These new pieces are meant to be speech-music or musical texts at the same time. They are composed to work both as a text to be followed and as a musical composition made out of words to be listened to. 
In recent years, Marc Matter has been busy to compose text-pieces for radio broadcasts as a solo artist and in collaboration with poets like Dagmara Kraus or Andreas Bülhoff (Again As, a radio-version of the LP "ɅV – A Sound Writing Tool"), and artists like Tris Vonna-Michell or Stefan Römer (Deconceptual Voicings).