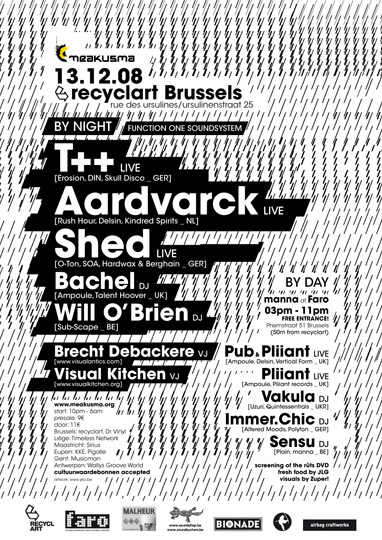 Recyclart
Rue des Ursulines 25
1000 Bruxelles
Start: 22.00
Presale: 9€
At the door: 11€
Cultuurwaardebonnen are accepted!
meakusma at Recyclart
LINE-UP:
Saturday the 13th of December, meakusma continues the party at Recyclart. A manna event in the afternoon at Faro will give the whole an even more festive feel. The night part at Recyclart promises to be nothing more than spectacular with the debut performance in Belgium of Techno and Electronica legend T++, new Techno deity Shed also debuting LIVE in Belgium, Holland's answer to Detroit Aardvarck, Bachel of the ampoule collective and Will O'Brien, the man behind Sub-Scape. Manna at Faro, in the afternoon, once again plunges into leftfield Electronica. Pub & Pliiant head things here with their unbridled take on Hip Hop and Electronica. Pliiant will also do a solo LIVE set. Ukraine's Vakula is debuting in Belgium, just as Immer.Chic, mixing things up in an unusually eclectic way. Manna, Plain and Café Belga resident Sensu kicks things off in his own distinct style. At the manna event, the "rüts" DVD will also be screened.
Partner: