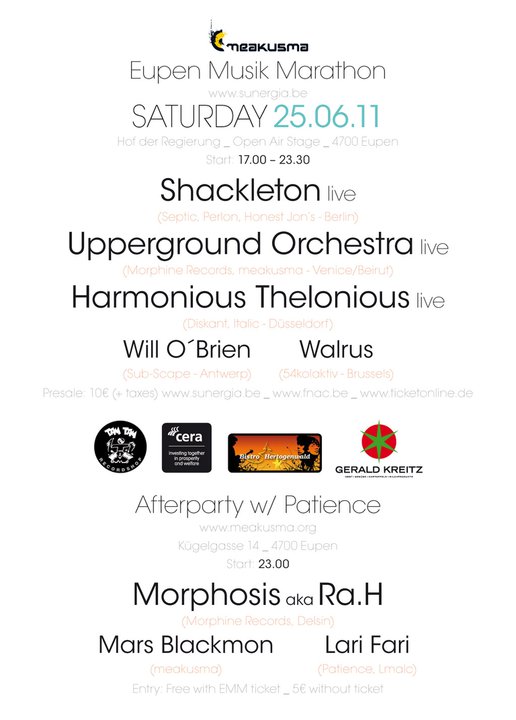 Musikmarathon:
Hof der Regierung
Gospert 42
4700 Eupen

Afterparty:
Atlantic
Rotenbergplatz 12
4700 Eupen
Musikmarathon
Start: 17.00
Entry: 12€

Afterparty
Start: 22.00
Entry: 5€
Free with Eupen Musik Marathon Ticket
meakusma at Musikmarathon Eupen
LINE-UP :
Musikmarathon
Afterparty
For the second year in a row, meakusma hosts a stage at the annual Eupen Musik Marathon. On June 25th, a plethora of artists with a penchant for deep, mystic grooves, often inspired by different musics from the southern hemisphere, will grace the meakusma stage. Also, organized together with Patience, there will be an exclusive afterparty, featuring DJ sets by Morphosis (aka Ra.H), Lari Fari and Mars Blackmon.
Headliner Sam Shackleton has for years been the voice of experimental Dubstep. His own Skull Disco label lay a different foundation for the new genre, linking it to oriental music, Techno and experimental electronic music. Although the Ricardo Villalobos remix of Shackleton's "Blood On My Hands" is his most obvious classic, his whole oeuvre is quickly gaining classic status, his mix CD for Fabric being a case in point.
Also on the bill is Harmonious Thelonius, the new project of Stefan Schwander, mainly know for his work under the Antonelli moniker. This new project mixes American minimalist influences with African rhythms and a distinctly European, slightly clubby view on sequencing. As a live experience, Harmonious Thelonious is original, emotional and hypnotic. Distinctly new and highly accessible at the same time.
Also playing live is the Upperground Orchestra, a four-piece Lebanese-Italian Jazz-Fusion band consisting of Rabih Beaini (Ra.h, Morphosis) playing synths and electronics, Tommasso Cappellato on drums, Alvise Seggi on bass and Piero Bittolo Bon on sax. Although heavily influenced by Sun Ra, Upperground Orchestra effortlessly manage to mark out their own path through the cosmic maze of Jazz and everything beyond.
DJ support comes from Will O'Brien, founder of the Antwerp based Sub-Scape party and DJ Walrus, one of the brightest new Belgian talents of the last few years.
The city of Eupen is located in the east of Belgium, close to the German and Dutch borders. There is direct trains every hour connecting Eupen with the Oostende-Brussels-Liège axis. The train station is at less than one kilometer from the festival stage. Presale tickets are available at Fnac for 10€. With this ticket, entrance to the afterparty is free.