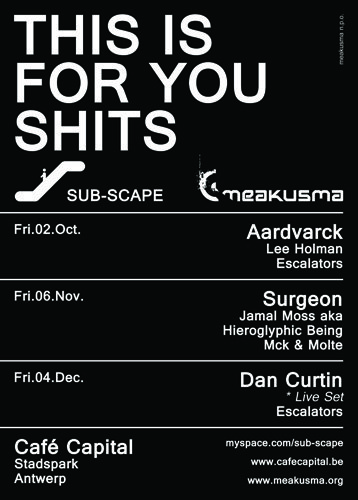 Café Capital
Rubenslei 37
2018 Antwerp
Start: 23.00
Entry: 9€
Sub Scape & meakusma at Café Capital
Line-Up:
Surgeon (British Murder Boys, Counterbalance, Warp – UK)
Jamal Moss aka Hieroglyphic Being LIVE (Axis/6277 – USA)
Escalators (Sub-Scape – BE)
meakusma soundsystem (meakusma)
Another collaborative effort, this time between Sub-scape and meakusma, will take place in one of our favorite Belgian clubs, the Caf\é Capital in Antwerp, on Friday November 6th.
After astonishing DJ sets at Recyclart and Katakomben in 2007 and 2008, we are pleased to again present Anthony Child, aka Surgeon, accompanied by Jamal Moss, aka Hieroglyphic Being.
Since exploding onto the Techno scene in 1995, DJ and producer Anthony Child has been remoulding his version of contemporary techno with a mind- and body-blowing discography of releases on his own Dynamic Tension and Counterbanlance imprints as well as leading techno labels Tresor and Downwards. Oblivious to current trends, his work continues to be deep and expressive, yet equally effective in a club environment. A perfect dynamic tension: balance and counterbalance. Surgeon will again play a DJ Set that will encompass his diverse range of musical styles and influences.
Jamal Moss has long been a part of the Chicago underground House/Techno scene as both a producer and DJ. Renowned for his unique raw sounding slow and rough, yet soulful, analogue acid house jams, he has recorded for respected labels such as International DJ Gigolo, Spectral, Cr\ème Oganization and Axis sublabel 6277. He has also worked closely with Techno legend Steve Poindexter and Chicago House pioneer Adonis. Jamal will perform a special live set, mixing analogue drum machines with his own re-edits and samples.
DJ support comes from Sub-scape's Escalators team, as well as from meakusma soundsystem.