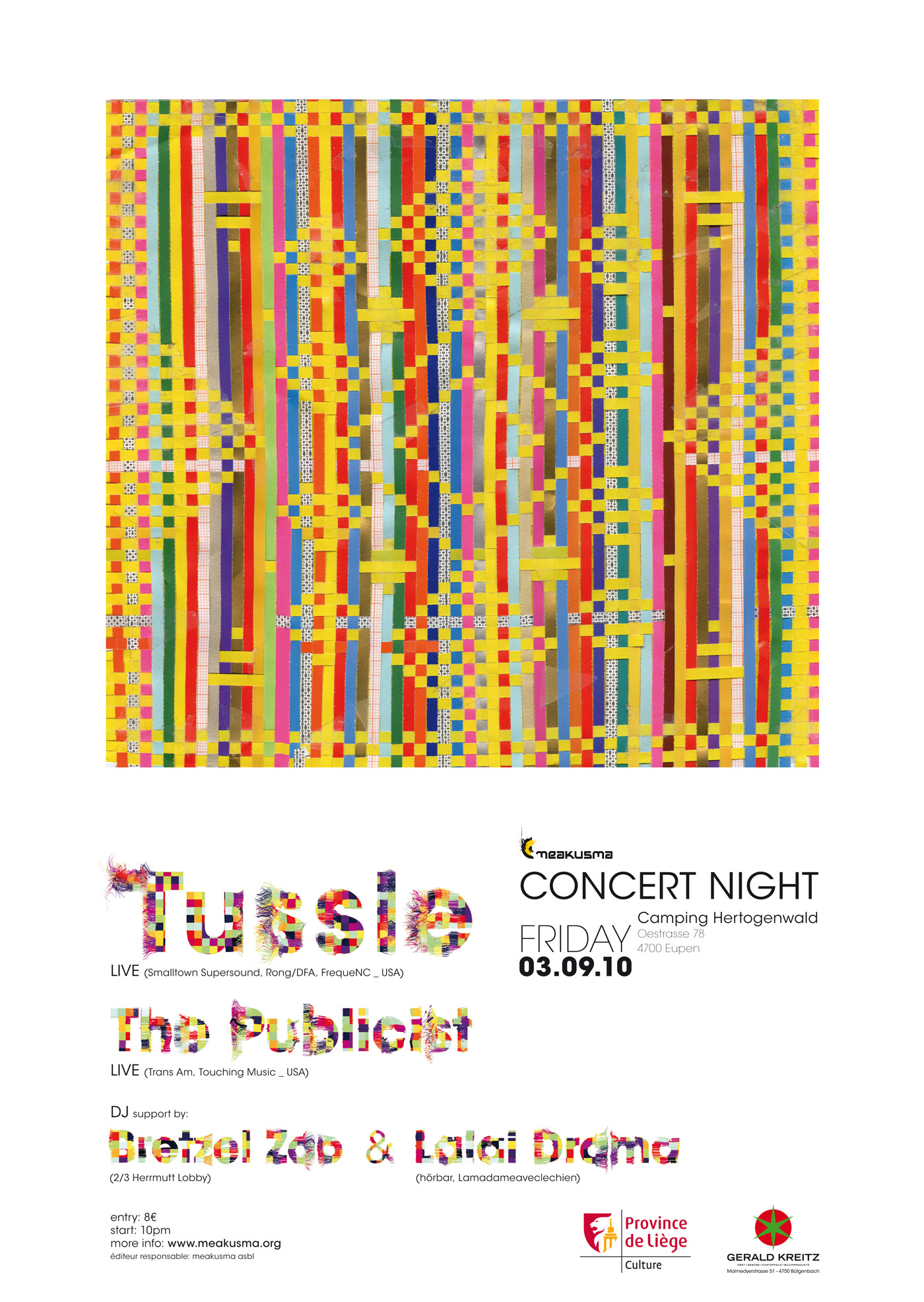 Camping Hertogenwald
Oestrasse 78
4700 Eupen
Start: 21.00
Entry: 8€


meakusma concert night
LINE-UP:
Tussle LIVE (Smalltown Supersound, Rong/DFA, FrequeNC – USA)
Publicist LIVE (Trans Am, Touching Music – USA)
Bretzel Zoo (Eat Concrete – BE)
Lalai Drama (HörBar, Lamadameaveclechien)
As part of their European tour, San Francisco based band Tussle is coming to Eupen (their only stop in Belgium), accompanied by The Publicist (the solo project of Sebastian Thomson, drummer of Trans Am). DJ support comes from Herrmutt Lobby and Lalai Drama.
Tussle is a great live band, a polyrhythmic rhythm-machine that links to Krautrock and Post Punk, while adding a uniquely modern sense of experimentation and song writing craft. Their last album 'Cream Cuts' was universally lauded as an electronic pop music record that crosses boundaries between today's rock and dance music scenes. They have played and toured with bands like Hot Chip, Ratatat, Yacht, Cluster, Faust and Gang Gang Dance. With a throbbing bass sound and their disco-influenced drumming, they are now a mainstay on the underground music scene already, prone to becoming a household name in the ever expanding niche occupied by such bands as LCD Soundsystem and !!!. Tussle has released a total of three albums and a handful of 12 inches on labels like Smalltown Supersound, Troubleman Unlimited, Rong/DFA and Tomlab. A soundtrack for the summer or the summer that was, seeing Tussle play live is a must!!
Support act The Publicist concentrates on the beauty and magic of beats to create a warm, disco-drenched pop sound. Like listening to Funk from outer space, aimed at people with interplanetary ambitions themselves.
Eupen-based DJ Lalai Drama will provide a fitting mix of new and old records, coherent as well as surprising. Bretzel Zoo, the DJ project of Herrmutt Lobby, will close off the evening with a mix of Afrobeat, Hiphop, Dub and Electronica. They aim for the dancefloor and you should pitch them their coffee black, no sugar.
Visuals by rüts DVD contributors Dirk Ignoul aka Zuper! and Kris Clijsters.
Partner: