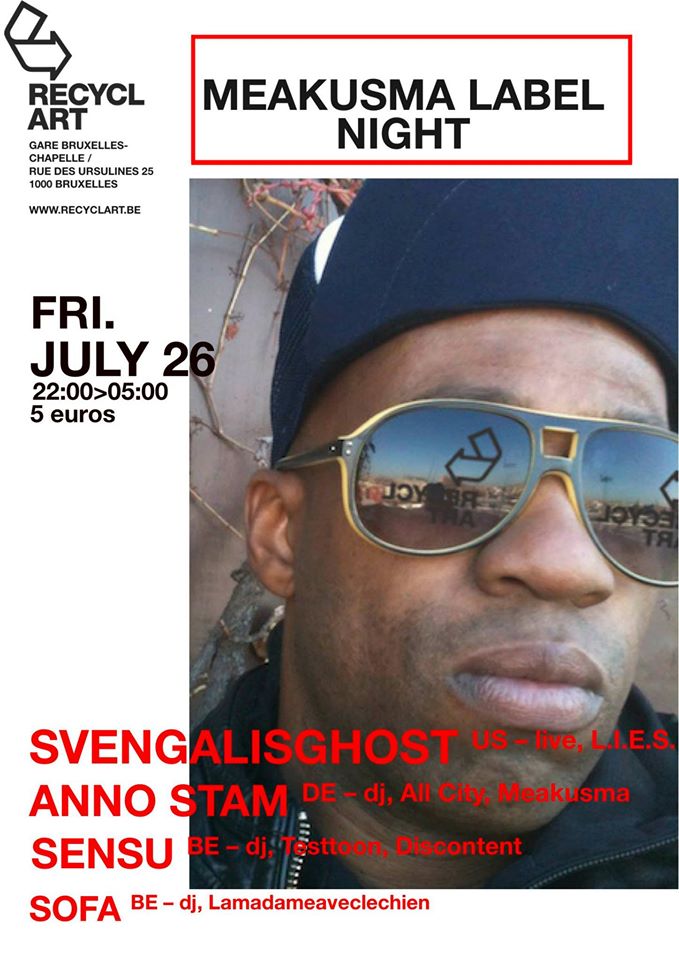 Recyclart
Rue des Ursulines 25
1000 Bruxelles
Start: 21.00
At the door: 5€
Recyclart Holidays
Line-Up:
Right in the middle of the summer, meakusma organizes an edition of the Recyclart Holidays. Don't mind wearing shorts, but nevertheless brace yourself for a night of intense and special club music.
Svengalisghost has only released two 12inches on the revered L.I.E.S. (Long Island Electrical Systems) label, but he is quickly building a reputation with his intense, Sci-fi drenched live sets. This is House music, but not as you might know it. In any case, when some of your main influences are Ron Hardy, 70's electronic Disco music and the rougher side of Chicago House and Acid music, you're always going to end up with something that breaks expectations. The roughness of Svengalisghost's music attributes greatly to its mystique. Get ready for some of the freshest club music around these days. Intense and mystical, this is House music as it was intended to be, remorseless but gracious, conjuring up an energy that touches upon the bare essence of dance music.
Anno Stamm is the new nom de plume of leftfield bassmusic producer Lars Stöwe alias Anstam, who has released his own take on breakbeat-driven electronic music on his own Anstam label and on Modeselektor's 50 Weapons label. He has famously remixed a song for Radiohead and recently played a warm-up concert for the Atoms For Peace launch party at Berlin's Berghain club. As Anno Stamm, he now takes on his Techno roots with the same open-minded and eclectic stance. As his latest release on meakusma shows, Stöwe injects fervour and a rootsy eclecticism into his music. This is daftly funky, yet sophisticated Techno music that plays with and defies repititions and expectations.
Sensu has for years been one of the underground DJ's of Brussels. His intense and informed Dj sets always intend to break open the mould and introduce people to unheard sounds. He is a frequent meakusma collaborator as a DJ and writer, he co-runs the electronic music label Testtoon records and has organized and co-organized a slur of parties and concerts, often bringing artists to Belgium for the first time. Something of a soft-spoken agitator, Sensu's sets touch upon House, Techno, Disco, Industrial and experimental and avangarde electronic music.
Sofa has made a name for himself with eclectic and intense DJ-sets that can touch upon Asian grooves, but just as easily switch to banging Rave sounds. His basic stance on music is driven by Hiphop and Jazz, but he carved out a niche for himself with his informed 'anything goes' stance, interested only in fresh and unexpected sounds. His considerable DJ-skills give his sets the necesary flow, explicitly updating his audience and making them move to what they would never have moved to before. He also runs the acclaimed Lamadameaveclechien label.