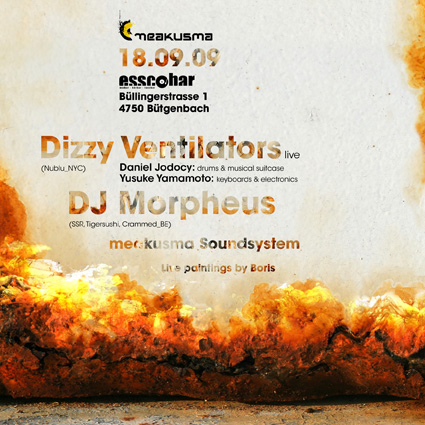 esscobar
Büllingerstrasse 1
4750 Bütgenbach
Start: 20.00
At the door: 7€
meakusma at esscobar
Line-Up:
Together with the drummer of Dizzy Ventilators, Daniel Jodocy, meakusma returns, once again, to their common home turf. Presenting another "party-embedded concert" at esscobar on September 18th. DJ support comes from no other then legendary DJ Morpheus. Dizzy Ventilators is the brainchild of Yusuke Yamamoto and Daniel Jodocy. Yamamoto, on keys and dub, is known as one of NYC's finest multinstrumentalists. Jodocy, on drums, is the inventor of the "musical suitcases", built from materials found on the streets of New York, that make the Dizzy Ventilators sound so inimitable. The suitcases have also been featured by John Zorn's finger pocket concierto as well as recorded for Zadic with Kenny Wollesen's band Wollesonic. With their debut album, Service Check In, Dizzy Ventilators are making a name for themselves as a duo both abstract and simple, extraordinary and the same. There is no real genre of music that can define what they play, because each track is composed of many different textures.

Morpheus was the lead singer of cult band Minimal Compact, producing a string of 12″s that became anthems in underground clubs in Europe and the United States. In 1994, he took on his Morpheus moniker and started compiling the Freezone series, while also being responsible for projects on SSR such as Carl Craig's legendary More Songs About Food and Revolutionary Art album, the Telex remix album, etc. Almost by surprise, he started his DJ career in 1995 when he was invited to play at a big R&S party in Ghent. Since then, Morpheus has been playing major clubs, fashion parties, festivals around Europe and has staged a successful reunion with Minimal Compact. He has built himself a reputation as an eclectic DJ and crate digger, highly respected in many different scenes and subgenres of the electronic music world and beyond.

Also, we took inspiration from a Forwart event in Hasselt, where a painter painted live to the music. At esscobar, former flyer painter from "Jazz im Foyer", Boris Nyssen, will be drawing his lines, projected via an overhead projector. Not to be missed!!
Partner: