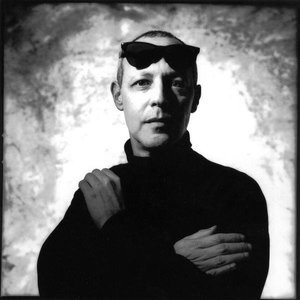 Dj Morpheus

Mostly known as the man behind the acclaimed, trend-setting Freezone series, and as the host of his own radio shows (aired on several cutting-edge European stations), DJ Morpheus is a man with a rich musical history. He started out as a teenage poet as he was quite infatuated with the works of the Beat Generation and published a book of poetry.

In the mid 80's he was the lead singer and main lyricist with cult band Minimal Compact, whose Middle-Eastern-tinged Dance/New Wave exerted a strong influence, both in Europe and in America, where a couple of their 12″ became absolute anthems in the underground clubs.

20 years on, it's happening all over again, as several leading DJ's (such as James Murphy/LCD Soundsystems, Playgroup, Ivan Smagghe & more) are raving about "Next One Is Real", "Statik Dancin" and other Minimal Compact vintage favourites.

After the demise of Minimal Compact, Samy started the Gruesome Twosome project, enlisting the help of collaborators such as Frenchman Bertrand Burgalat (who worked on a bunch of Mute releases and ghost-wrote several Laibach albums, and who has recently become the king of French lounge music), Norwegian Per Martinsen (aka Mental Overdrive/Chilluminati), and Orb member Thrash. The first Gruesome Twosome 12″ "Hallucination Generation" (which incidentally was one of the first releases on Crammed's then-fledgling dance division SSR) came out in 1989, a groundbreaking, slamming breakbeat track which once again became a cult club track and made it into all the influential dance charts (from underground tipsheets to Billboard).

Samy then decided to temporarily stop being active as a recording artist, and recorded a last album of sung poetry ("When God Was Famous") in which he paid tribute to Yeats, Hermann Hesse, Malcolm Lowry, Boris Vian, Delmore Schwartz, Kenneth Patchen, Gottfried Benn, Paul Celan, Eluard and his other childhood heroes. Meanwhile, he kept indulging in his favourite vice, i.e. collecting rare, obscure and marvelous vinyl records.

In 1994, Samy reincarnated as DJ Morpheus. His above-mentioned vice transmuted as a virtue as he was invited to share A&R duties for SSR with his long-time friend (and Crammed boss) Marc Hollander and took the controls of freestyle electronic series Freezone. Thanks to Samy's immense knowledge and flair, the Freezone series rapidly became one of the world's most respected and most enjoyable collections: each of its yearly installments has unfailingly been documenting the most interesting new trends, introduced up-and-coming cutting-edge acts (just think that acts like DJ Cam, Kruder & Dorfmeister, Photek, Abacus, T-Power, The Mighty Bop aka Bob Sinclar and The Ballistic Brothers all appeared on Vol.2 – in April 95 and offered exclusive tracks by high-profile artists (from Howie B to Coldcut, Carl Craig, Basement Jaxx, 4 Hero, Josh Wink, Plaid, Kruder & Dorfmeister, Alex Gopher, they're too numerous to list.

As A&R for SSR, Samy was responsible for key projects such as: the Carl Craig album More Songs About Buildings and Food, the remix album of Bebel Gilberto's hugely successful Tanto Tempo album, the Telex remix double-album of their classic tracks, the remix album of Suba's highly influential Sao Paulo Confessions, amongst others.

Morpheus started a weekly radio show in Brussels around 94. Tapes of his strange, late-night sessions were passed around, and he was offered a weekly spot on prestigious Parisian station Radio Nova. These days he still has a weekly program on Brussels' Radio Campus, and a regular monthly program on FM4 (Austria), Radio Grenouille (Marseille), Radio 106FM (Tel-Aviv). He's been a guest DJ on various shows around the world, such as Gilles Peterson's Worldwide, 4 Hero's (on Kiss FM), Coldcut's Solid Steel (on BBC London), Paul Thomas (Radio One), Couleur 3 (Switzerland), KCRW (USA), FG and Le Mouv' (France) and many more.

His DJ career started in 95 when he was invited to play at a big R&S party in Ghent. Since that almost-accidental start, Morpheus has been performing in major clubs and festivals all over the world (see list below).

True to the nature of his namesake (Morpheus is the Greek god of sleep), Samy's early sets featured mostly music of the downtempo/chill variety, but very quickly he started mixing Hip Hop with House, Drum'n'Bass and Breakbeats, while always looking for the most original and inventive tunes in each genre, thus earning himself the dangerous honour of being considered as "one of the originators of freestyle" ("dangerous" because, to this day, dance music is sadly -and relatively tightly – compartimentalized, divided, pigeonholed… silly as it may seem, followers of the various churches, erm, clubs generally don't like it when borders are crossed…)

DJ Morpheus received the Ibiza Award for Best Chill Out DJ in 2000.

Freezone aside, Morpheus has put together a handful of other, excellent compilations for SSR, including "If You Can't Beat'Em, Break'Em" (Breakbeat), "Phax & Phixion" (the latter came out in late 1998 and was hailed as one of the best compilation of underground US Hip Hop) and "In My Bag" (from Downtempo to Funk and Breaks).

In 2003, he worked with El Diablo, a percussion group from La Reunion (6 percussionists, singer & backing vocals) who play a local form of music called raggamaloya. He went there twice to work with them fusing electronic dance music records with their music: they did 6 concerts together in La Reunion and a further two concerts in France (in Dec. 03 at the Transmusicales in Rennes and the Africolor festival in Paris).