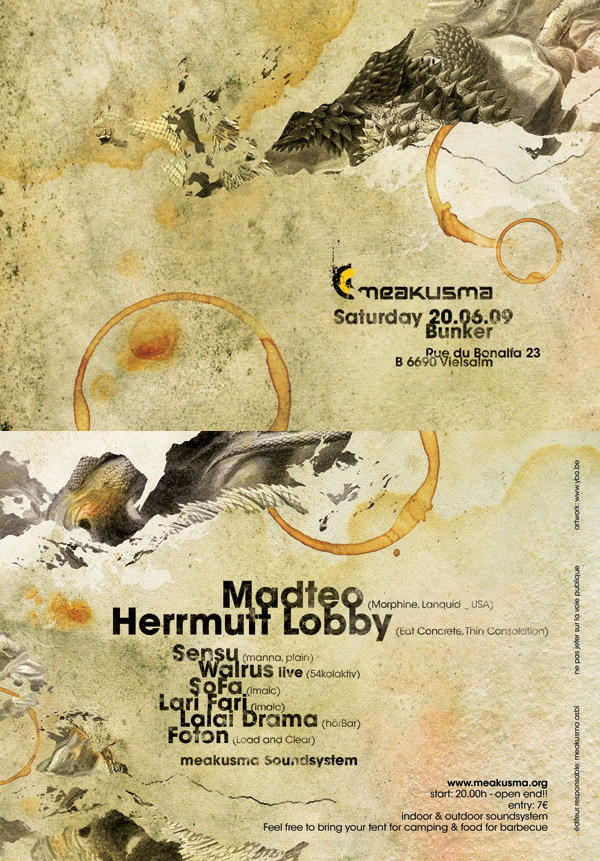 Bunker
Rue du Bonalfa 23
6690 Vielsalm
Start: 20.00
At the door: 7€
meakusma at Bunker
Line-Up:
Madteo (Morphine, Lanquid – USA)
Herrmutt Lobby LIVE (Confined, Unrezt, Blind, lmalc – BE)
Sensu (Plain, manna – BE)
SoFa (Lamadameaveclechien)
Walrus LIVE (54kolaktiv)
Foton (labomixfrequencies – BE)
Lari Fari (Lamadamaveclechien)
Lalai Drama (HörBar, Lamadameaveclechien)
meakusma soundsystem
After last year's promising edition with Shackleton, we are again going back to nature for another music marathon at the unique and intimate bunker location in the heart of the Ardennes, next to the border with Luxembourg.

With, amongst many others, special guest Madteo playing his first show in Belgium, one week before his show at the Bota Bar in Brussels. With his "Memoria" album on Morphine in 2008 and his upcoming release on meakusma, New York based Madteo takes references of Disco, Jazz, Dub, Noise, HipHop and even Detroit Techno to exciting and new extremes. Herrmutt Lobby will present one of their rare & phat Electro-Hop DJ sets with scratch and controller madness at its best! The Hague based Walrus, originally from Brussels, is part of the prolific 54kolaktiv stable and is presenting one of his first live shows. Expect an electic mix of Dubstep infected tripping Techno. If the weather's good, Brussels Manna, Plain and Café Belga resident DJ Sensu will close down the inside part of the night with one of his eclectic, surprising and intense DJ sets.
We'll then continue the party outside.
During the whole night (and perhaps day as well), a special outside soundsystem will host long DJ sets by Lamadameaveclechien's SoFa, Lalai Drama & Lari Fari, next to Load and Clear's Foton and meakusma soundsystem.

There's a lot of camping space, so bring your tent. This is the event to kickstart the summer!!!

Back to nature – burning bodies in the sun
Back to nature – just like lemmings, every one
Back to nature – capitalist aircraft fill the air
Back to nature – aerosol sun breaks on air
From "Back To Nature" by Fad Gadget.