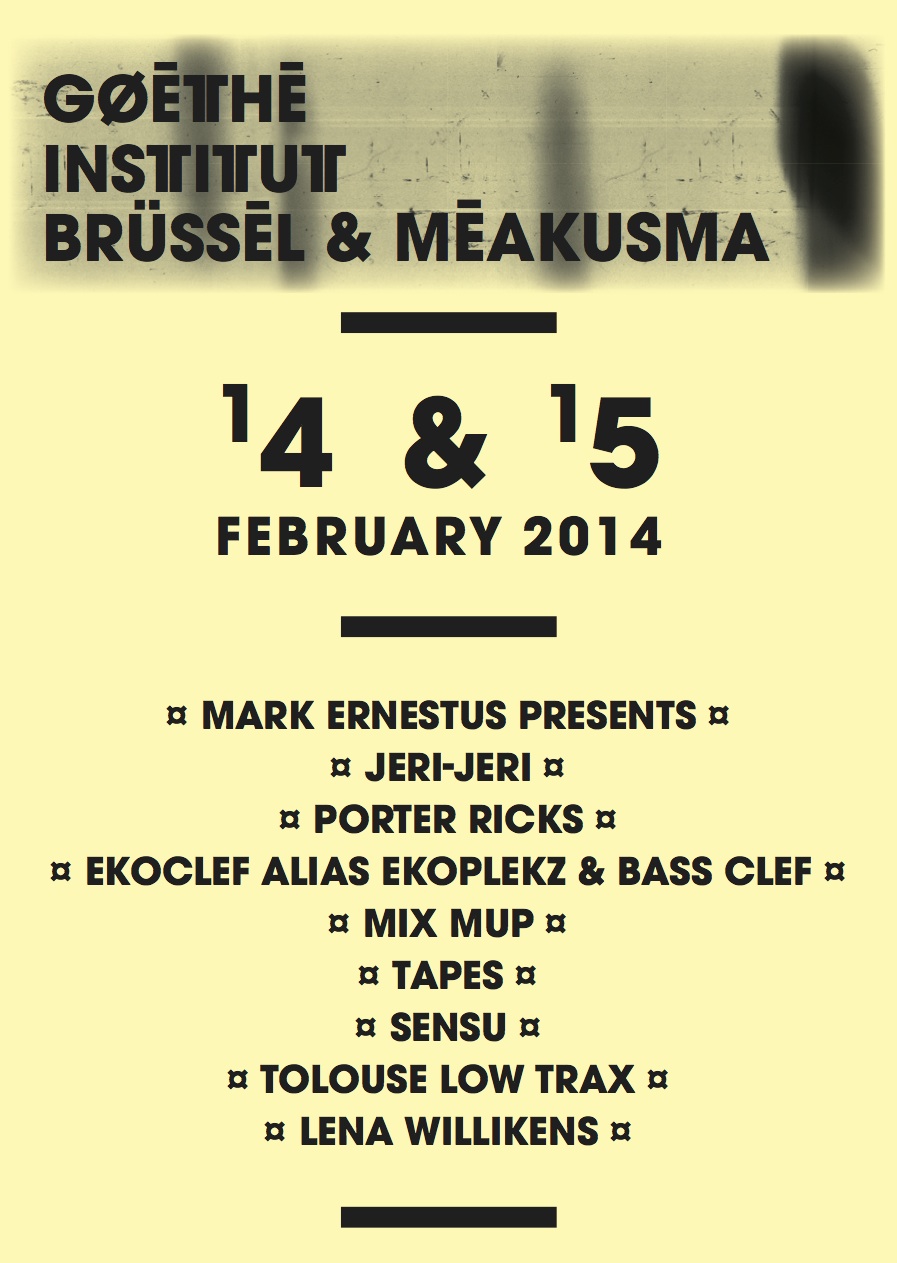 Recyclart
Rue des Ursulines 25
1000 Bruxelles
Presale via Fnac & RA: 10€ + fee
At the door: 13€
Combiticket (Brigittines and Recyclart) via Fnac: 18,50€ + fee
Goethe-Institut & meakusma at Recyclart
LINE-UP :
Joining forces for the fourth time, the Goethe Institut Brussels and meakusma are proud to present another round of daring and cutting edge electronic music. The Brigittines Art Center will host the first night, featuring performances by Mark Ernestus and Jeri Jeri, Tapes, a Mark Ernestus DJ Set and a set by Sensu afterwards. Recyclart will host the second night, featuring a live performance by the legendary Porter Ricks, a live set by Ekoclef, a live set by Mix Mup and DJ sets by Tolouse Low Trax and Lena Willikens.
Recyclart, February 15.
Headlining the second night will be Porter Ricks, the legendary techno project of Thomas Köner and Andy Mellwig that produced a radically original take on techno music released on the Chain Reaction and Mille Plateaux labels in the nineties. Their sound took the underwater aesthetic of Drexciya to new and suffocating levels of intensity. Open-minded and open-ended, a Porter Ricks concert is an experience that lays bare the heart of what experimental music can be, whilst retaining a sense of groove that is remorseless, yet inviting.
Ekoclef is the project of one-of-a-kind analogue explorer Nick Edwards (Ekoplekz) and itinerant trombonist and dubstep exile Ralph Cumbers (Bass Clef). Their album 'Tapeswap' was released on MC and is a unique experiment in collaborative overdubbing that emerged as a strange and hazily psychotropic trip through the fourth world via forgotten analogue switches, pedals and gear. Live both artists thrive out of their comfort zones creating a dense electronic jungle.
Mix Mup is probably most known for his collaboration with Kassem Mosse on the Trilogy Tapes label and his solo efforts on the Hinge Finger and Mikrodisko labels. His sound fearlessly meanders from rough and abstract rhythmic experiments to ambientish improvisations that give his music a solid, yet eclectic base. Mix Mup's music is at times gritty and confrontational, always circling around his original definition of groove. Steeped in the best of what techno and house have to offer these days, Mix Mup is one of the most exciting live acts around today.
Tolouse Low Trax, the moniker of Kreidler member Detlef Weinrich, has shown his surprising view on groove, melody and texture over the course of three acclaimed albums. His involvement with the already legendary Salon Des Amateurs in Düsseldorf should go a long way in explaining his sound. As a DJ, Tolouse Low Trax effortlessly shows his broad range of influences, equally spinning pure audio experiments as more accessible, yet intriguing variations on club music. He will open this second night.
Closing off the festivities in Recyclart will be Lena Willikens. She is a musican and DJ based in Cologne and a mainstay at Comeme parties in Santiago de Chile or Cologne as well as responsible for the artist bookings at Salon Des Amateurs in Düsseldorf and also works at the legendary A-Music record shop. As a Dj, she delves into the bizarre and rough side of music, conjuring up a sound that is passionate and informed.
Partner