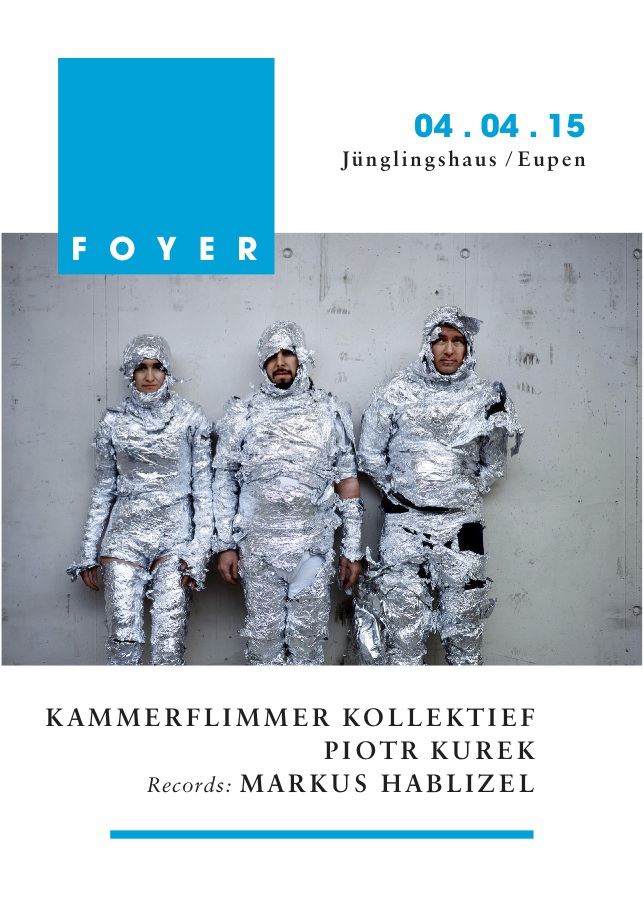 Juenglingshaus
Neustrasse 86
4700 Eupen
Start: 20.00
At the door: 8€
Foyer
Line-Up:
The sound of the Kammerflimmer Kollektief, based in Karlsruhe, baths itself in musical and expressive freedom, touching upon noise, jazz, kraut, folk and psychedelia. Featuring an Indian harmonium, synthesizer, guitar, double bass and recently also voice, their music is a restless research into intuition as a precise art form that conjures up dream-like soundscapes that never sound hazy nor confused. Founded in 1996, the Kammerflimmer Kollektief has to date released ten albums and has performed far and wide.
Piotr Kurek hails from Warschau. With his sound based on analogue synthesis, he manages to come up with incredible harmonies that are in continuous flux, yet that are focused and full of purpose. His music turns around melodic narratives and defines itself through soundscapes that are accessible in nature and that have an undeniable forward drive, referencing his work as a composer for contemporary theater and dance pieces.
Markus Hablizel is a former editor of the German Spex magazine, runs the avant-hop label Bomb Mitte together with Christophe Linder, is a dedicated field recordist, performs once every decade with his noise-based project Von Arc and runs the Hablizel publishing house. As a DJ, he intends to intertwine field recordings with electro acoustic experiments, crude electronics, fragile singer-songwriters and drones.

Partner: