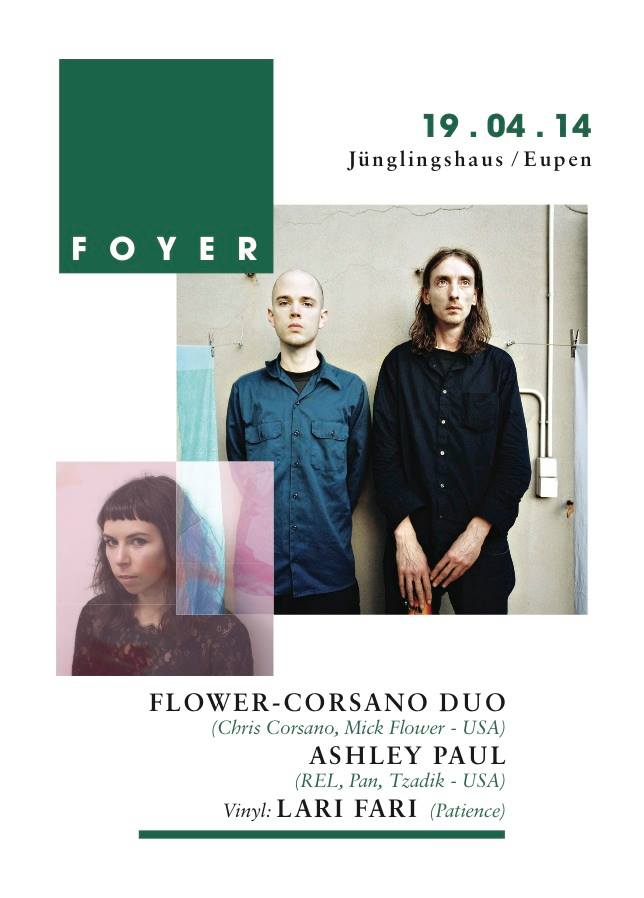 Juenglingshaus
Neustrasse 86
4700 Eupen
Start: 20.00
At the door: 7€
Foyer
Line Up:
On April 19, 2014, Foyer returns to the Jünglingshaus in Eupen featuring the Flower-Corsano duo and Ashley Paul.
Chris Corsano and Mick Flower explore forward rhythm and stasis through a delicate soundscape touching upon Eastern harmonics. With Corsano on drums and Flower on Japanese banjo, the duo delve into noise and melody, at times defined by rhythm, at times contradicted by it. Mick Flower is a household name in experimental music as a member of the Vibracathedral Orchestra. Chris Corsano is one of the most prolific drummers today. He has recorded and performed with Björk, Thurston Moore (Sonic Youth) and many more.
Multi-instrumentalist Ashley Paul produces uniquely intuitive song-cycles based on improvisation and a soft-spoken sense of experimentation. Recent releases have seen her use her voice more and more, conjuring up a lullaby-like amalgam of songs that develop and break down in a natural-like flow. Her Line The Clouds album was voted by Pitchfork as one of 2013's best albums.
Records before, in-between and after by Lari Fari. He will provide the perfect listening backdrop, playing records from his ever more eclectic music collection.

Partner