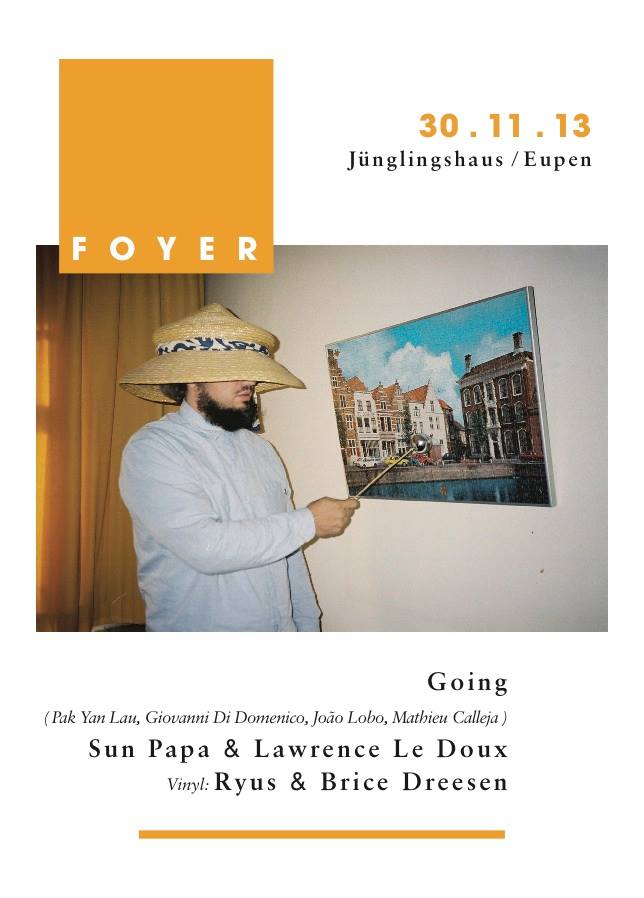 Juenglingshaus
Neustrasse 86
4700 Eupen
Start: 20.00
At the door: 6€
Foyer
Line-Up:
For the second edition of Foyer we are proud to present the unique live performances of Going and Sun Papa & Lawrence Le Doux.
Going is the Belgium-based modern jazz quartet of Pak Yan Lau, Giovanni Di Domenico, Joao Lobo and Matthieu Calleja. This original line-up of two percussionists and two keyboardists produces a soft-spoken poly-rhythmic jazz that references the sound of the Norwegian Rune Grammofon label whilst conjuring up their own highly original and personal take on jazz and electronic music in the process. They have famously collaborated with Belgian jazz musician Philippe Blondiau. Joao Lobo has performed with people like Evan Parker, Nate Wooley, Marshall Allen, etc. Giovanni Di Domenico has collaborated with Arve Henriksen, Jim O'Rourke and many more.
Sun Papa & Lawrence Le Doux is a project of Laurent Baudoux, known for being a member of Fan Club Orchestra (of Sonig fame) and a slur of other projects. His type of cosmopolitan micro-music takes influences from jazz, science fiction soundtracks and underground hiphop and electronica to produce a warm, heartfelt kind of stream of broken consciousness. Baudoux's talent lies in musically aggrandizing the unnoticed, sometimes even the silly, into an appealing, focused and even humorous amalgam of modern jazz-drenched electronics. When playing live, he is accompanied by his musical partner Sage Ann, who also played on Fan Club Orchestra's 'An Insane Portrait'.
Records before, in-between and after by Ryus and Brice Dreessen. Ryus and Brice are two bright young musical talents in Belgium. They run the Varech project for Brice's production work and have both of them DJ'd at several parties and events all over Belgium.
Partner