October 16, 2015
In
Uncategorized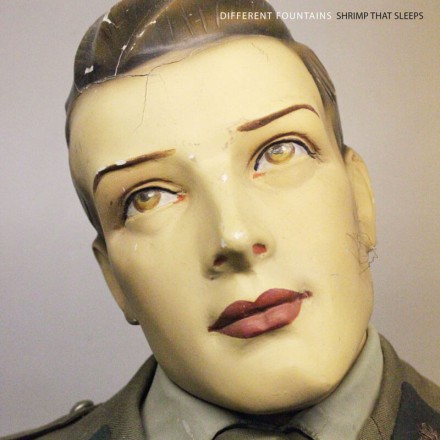 Shrimp That Sleeps
release
LP + CD + digital
release date
September 2014
Written & Produced by Bernardo Risquez and Michael Langeder
Recorded at Different Fountains Studio, Brussels
Mixed by Rafael Giner at NuStudy, Barcelona (all songs except B2) & Chris Ferreira (B2)
Graphic Design by Ina Kurthen
Cover Photo by Bert Jacobs

Different Fountains is the Brussels-based project of Bernardo Risquez and Michael Langeder. For a few years now, they have been at the center of what Brusssels has to offer in modern electronic music. Their sound hybridizes an impeccable knack for melody and atmosphere with an ever inquisitive mind-set that gives them an enviable and unique perspective in which influences float by naturally, touching base at will and evaporating exquisitely. 'Shrimp That Sleeps' is their first full length LP after having released a 7inch and a 12inch on their own Different Fountains Editions label. Its nine tracks (eleven on CD) touch upon subtle house music, post-rock, ambient and atmospheric pop. Through rhythmic diversity and a loop-like treatment of vocals (sampled or not), 'Shrimp That Sleeps' is an incredibly engaging, absorbing and beautiful record that works as one undeniable whole. There's diversity in moods, some tracks are danceable, some are contemplative and have an experimental feel to them. The Different Fountains universe is inviting yet not afraid to upset some conventions. This album is a highly convincing distillation of what makes music modern today and, in the process, adds to it through subtraction of what is not essential. 'Shrimp That Sleeps' is just that though, essential that is!
**Includes the full album on CD plus a bonus track and Sagat remix** Submerged leftfield electronica from Bernardo Risquez (Venezuela) and Michael Langeder (Austria) aka Different Fountains for Belgium's meakusma label. 'Shrimp That Sleeps' plays out a hazy suite of songs sounding something like a stoned, underwater To Rococo Rot, meeting lithe krautrock rhythms with bubbling minimalist melodies and outernational inflections in nine slickly sculpted sound spheres.
Achter Different Fountains gaan Brusselaars Bernardo Risquez en Michael Langeder schuil (al vertoeft het label – nogal onwaarschijnlijk – in Eupen): Het duo brouwt een experimenteel stoofpotje van elektronica (gaande van ambient to deep house), postrock en ietwat bevreemdende, door elkaar gehaspelde vocals, zo´n beetje hun handelsmerk. Het opvallend poppy klinkende resultaat shippert tussen hangmat en dansvloer en mag er zeker wezen.
Op naar de de volgende!
mb
Hinter dem Namen Different Fountains verbergen sich Bernardo Risquez und Michael Langeder. Nachdem die beiden Brüsseler eine 7-Inch sowie eine Single im 12-Inch-Format auf ihrem eigenen Imprint veröffentlicht haben, debütieren sie nun auf dem ebenfalls in Belgien angesiedelten Label Meakusma. Auf dem releasen zwar gemeinhin eher rumorige Querköpfe wie Terrence Dixon, Morphosis und Madteo, von deren Düster-Sound aber setzen Different Fountains sich auf Shrimp That Sleeps mit einem vertrackten House-Entwurf inklusive sanft-seichter Pop-Einflüsse ab. Glattgebügelt wird hier trotzdem nichts: Die Musik der beiden setzt auf Gitarren, schlierige Drones und mal gesprochene, mal leicht schief gesungene Vocals, hat offenkundig von Post-Rock und Ambient das Faible zur Flach- und Flächigkeit mitgenommen und hüllt sich in eine dezente Analog-Patina. Different Fountains lassen sich schwer festnageln und landen vielleicht nicht mit jedem Track einen Treffer, ihr Shrimp That Sleeps erträumt sich jedoch eine geschlossene, vielschichtige Welt. Ein starkes Debütalbum, das gerade aufgrund seiner Eigenwilligkeit für die Zukunft viel verspricht.
Kristoffer Cornils
The crossover between electronica and indie songwriting can be fraught with pitfalls. In its less inspired moments it can find a traditional band set up winding up as a stadium rave outfit, or a niche production team coming off twee and insipid (after all that much maligned folktronica tag was borne out of such grey-area sounds). There's no need to dwell on the negative though, and Different Fountains demonstrate another successful step forward in the fine lineage of fusion outfits that understand and innately channel both sides of the stylistic divide.
Meakusma is a safe haven for such concerns, as the Belgian label busies itself with an ever-shifting array of music pivoting between club tendencies and cerebral home-listening fare, but rarely kowtowing to one or the other. It's a stubborn eclecticism that runs deep through Shrimp That Sleep, which marks a confident debut album from the Brussels-based pair. Indeed Michael Langeder and Bernado Risquez have struck a smart balance between their predominantly electronic sound sources and sensitivity for song writing. Opening track "Get Up" sounds like murky experimentalism in its first breaths, but as it opens up with a warming arpeggio and an earnest vocal; it's easier to think of Erlend Oye and his gentle modernist pop as heard in The Whitest Boy Alive.
Much of the first half of the album is given over to these vocal-led songs, and each one is a delight to listen to. The shapeless tremolo of guitars that drift over "Catch 23″ have a bewitching shoegaze quality, the track gently building up in layers of melody and dropping away to a more raw electronic construct when the time comes for the singing to begin. It's noticeable that there are less obvious song structures in place, so instead of verse-chorus-verse-chorus you get protracted intro-vocal interlude-instrumental freestyle, for example. This shirking of the hackneyed pop rulebook undoubtedly works in Different Fountains favour in their quest for an original sound.
"Bay Sic" makes for a standout moment on the album, maintaining a moody atmosphere through a brooding bottom end while the distant vocals and a beguiling set of pads weave an enchanting textural tapestry. With a stout beat anchoring the track and steadily evolving thanks to some finely deployed delay, it makes for a fully-formed and instantly affecting experience.
Elsewhere there are some outright instrumental excursions, such as the B side lead tracks "Deep Home" and "Muybridge", the former being a detailed and slightly sinister house cut with dexterous percussion, and the latter being a powerful broken beat production carrying the torch from the Skull Disco days. It's in these tracks that it becomes clear just what skills and ideas Different Fountains have at their disposal. If they chose, they could no doubt turn out a whole album of either style, not to mention a healthy slew of club-friendly EPs. Instead they quest on for an offering as diverse as Shrimp That Sleep, and they succeed in making every twist and turn a worthwhile diversion almost maddening in its perfect execution.
Perhaps one of the greatest gifts of the whole indie-electronica crossover (when it works) is this free attitude, where those responsible could never stick on one style and mine it for all its worth. The curious listener will always wonder what else the pair might be able to deliver with a little further exploration of any given generic strand, and who's to say that Different Fountains won't do just that in years to come? For now though, enjoy the fact that you get to enjoy so many stylistic threads played out so expertly on one cohesive album.
Oli Warwick
Fine leftfield House and electronica album