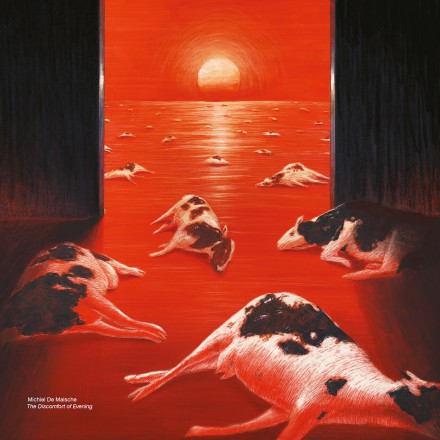 The Discomfort of Evening
release date
Single : August 26th - Album : September 19th
All tracks composed and produced by Michiel De Malsche. 

Mourning Silence features Romek Maniewski. 
Awakenings features Pak Yan Lau. 


Recorded at Studio O, Dada Studios, Recordoffice and SBSO Baken.
Mixed by Michiel De Malsche and Truenoys.
Executive producer: Natalia Maus.

Musicians: Adilia Yip (marimba), Eveline Groyne (ondes Martenot), Pak-Yan Lau (toy piano), Clement Nourry (guitar), Jeff Roberts (guqin), Hester Bolle (violin, electronics), Aymeric Devilloutreys (violin), Julien Poli (violin), Amaryllis Bartholomeus (viola), Miki Isako (viola), Romek Maniewski (cello), Anne-Gabrielle Lia-Aragnouet (cello), Anne Davids (bass flute), Philippe Saucez (bass clarinet), Andrew Claes (saxophone), Jean-Louis Maton (percussion).

Thanks to Maf!, Loes and Martha Maieu, Cantorij Gasthuiskerk

Artwork by Sven Rayen
Design by Philip Marshall


---
The Discomfort Of Evening is the incredible and original soundtrack by prolific Belgian composer Michiel de Malsche to 2020 International Booker Prize winner The Discomfort of Evening by Marieke Lucas Rijneveld. Visceral and virtuosic, Rijneveld's novel follows Jas, a girl growing up in a devout Christian family that runs a Dutch dairy farm, whose brother dies in an accident after she wishes he would die instead of her rabbit. Lost in grief, her family falls apart as she becomes consumed by increasingly dangerous fantasies.

Michiel de Malsche has captured the atmosphere and spirit of Rijneveld's book perfectly, moving through moments of confrontation and introspection, sinking into spirals of despair, stasis and subtle hope and change. Brooding ambient basslines, driven by droning murmurs, are offset with melismatic electro-acoustic pieces that embody the novel's haunting and dissonant world, whilst also incorporating manipulated field recordings such as animal sounds and a church service, allowing for a full manifestation of Jas's world in a completely new way.

De Malsche achieves this by rallying an unusual combination of acoustic instruments (16 in total) played by top-of-their-field musicians, creating a truly unique sound world and tonal palette, including an Ondes Martenot, a 7-stringed Chinese instrument called a guqin, a marimba, a string 6-tet, a toy piano and a bass flute.

De Malsche always confronts all emotional levels of his source material head-on, making his soundtrack into much more than just a fever dream. It is a precise description of, and accompaniment to, a devastatingly impactful book.

Michiel De Malsche is a Belgian composer, multi-instrumentalist and sound designer. He studied classical composition at the conservatories of Rotterdam and Ghent. His music has been performed all over the world and he has composed and produced dozens of soundtracks for contemporary dance, theatre, movies and documentaries.
Besides his work as a contemporary classical composer, he is active as a studio musician and producer in the world of electronic music.