October 16, 2015
In
Uncategorized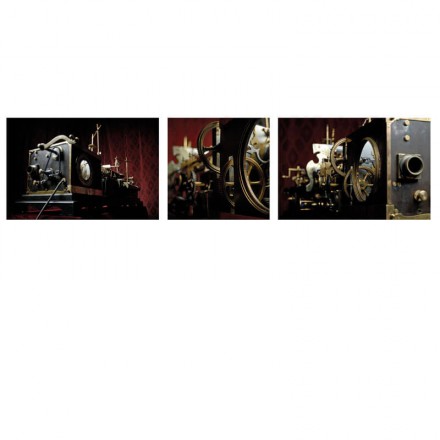 Bardo
release date
December 2012
All compositions and arrangements by Berliner Ring. Published by Art Yard Music Publishing.
All Tracks Licensed to meakusma Records by Art Yard Limited 2012.
P&© by Art Yard Ltd and Art Yard Music Publishing 2012.
All rights reserved © 2012 Art Yard ltd.
Pictures by Kerstin Groh

In their own words, like a radio-controlled mechanical, electro-mechanical and multifunctional musical instrument, Berliner Ring build up relentless and relentlessly different grooves in a characteristically non-direct way. As if playing around without focus they layer their tracks and slowly position them into form. The tracks featured here were originally released on CD on the Art Yard label. Melodies are fragmented, often even sparse, the groove never stops, but does so with intervals and while changing focus. Berliner Ring references similar bands in the krautrock and post-rock genre, but it's subtlety, the originality of their self-built instruments and their songs that shift from downright groovy to more atmospheric explorations of ambience and texture guarantee them a unique voice and perspective. Essential stuff.
Spaced out, percussive and cinematic electronic/non-electronic psychedelia – recommended
Excellent kraut-techno experimentalism with spiritual jazz overtones coming from Berlin-based quartet centred around Moritz Wolpert. Most intriguingly, Berliner Ring can count themselves among a select few no called Sun Ra to have released on the brilliant Art Yard label – kudos indeed – and with that in mind, 'Bardo' thankfully doesn't collapse under the weight of expectation. We find Alexander Christou, Thomas Stern, Christian F. Günther and M. Wolpert orbiting similar ideas of electro/acoustic krautechno as the Magazine roster, but perhaps with even more attention to detail and the advantage of a real, instinctive group telepathy at play. From myriad instrumentation – 12-string guitar, korg ms 10, korg sq 10, metallophone, timpanis, heckleshorn, and a range of self-built "electromechanical instruments" – they touch on extended, Can-gone-underwater grooves on 'El Amarna' beside the double-time flux of 'Unidentified Airport', before dealing in range-finding aqua-jazz deoths on 'Bardo', and even country-fied blues-dub strains in 'Good Evening' or Mike Weis-like electro-acoustic percussions on 'The Essex'. Tip!