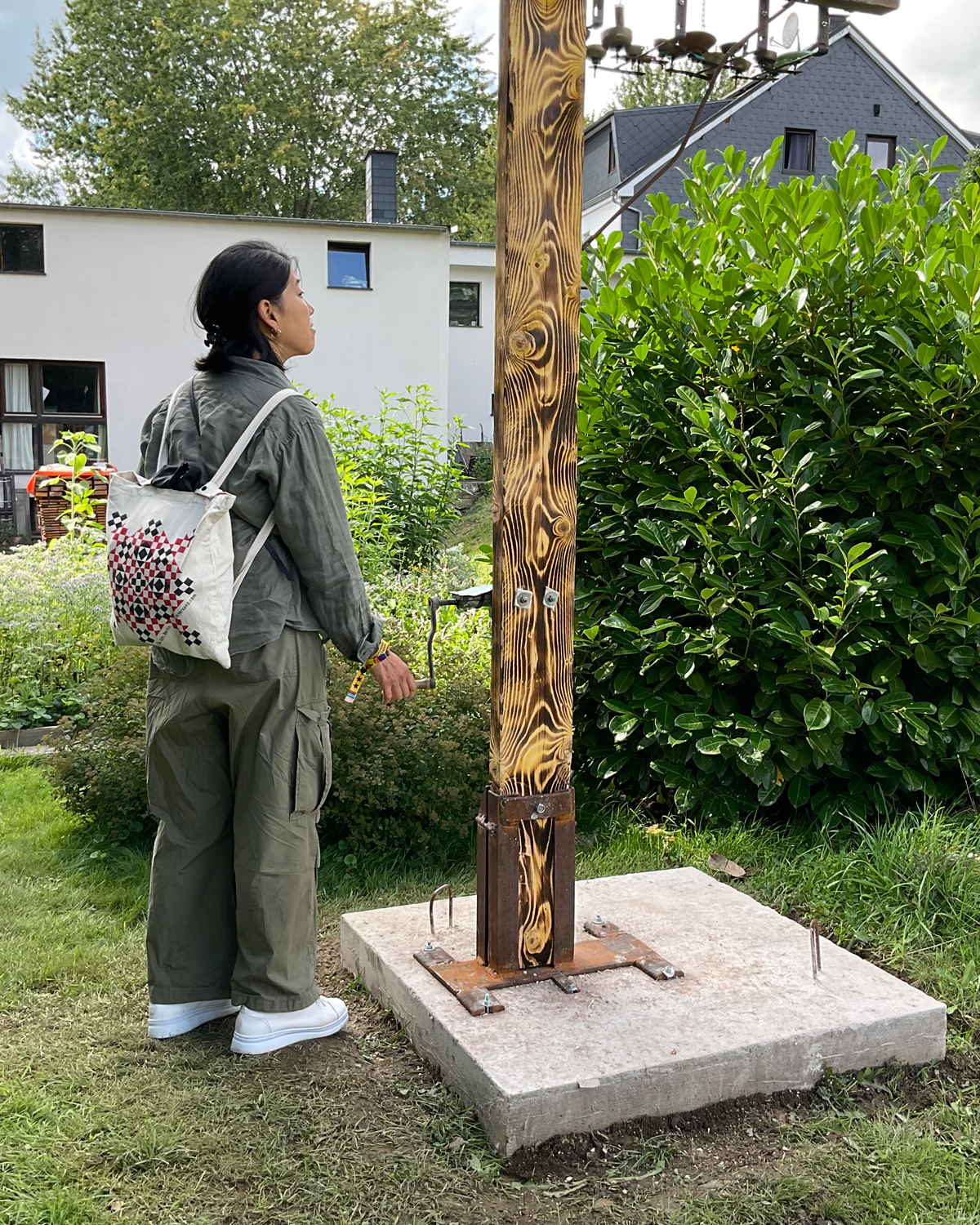 La Pluie Joyeuse by Frédéric Le Junter
EN
La Pluie Joyeuse has four supports with bells from different sources such as clocks, old telephones and bicycles. Each bell is at the same height with a "dancing" hammer above it. With one turn of the crank, the hammers strike the bells. The use of different types of bells creates interesting sounds and visual effects.
Try it out for yourself!
"My interest lies in landscape and sound materials, in chance, hesitation and improvisation. From a very early age, I was impressed by the sounds of ports and the visual circumstances of these immense spaces. When I was five years old, I started building volume pieces, starting out with cardboard and found objects. I started studying the saxophone at the age of 25 at the Dunkirk music school and when I was 28, in 1984, I took up bricolage again, intent on bringing together luthiery, music, mechanics and found objects in a fi rst sound machine."— Frédéric Le Junter
http://www.lejunter.net/
DE
La Pluie Joyeuse besteht aus vier Stützen mit Glocken aus verschiedenen Ursprung wie Uhren, alten Telefonen und Fahrrädern. Jede Glocke befindet sich in derselben Höhe und hat einen "tanzenden" Hammer darüber. Mit einer Umdrehung der Kurbel schlagen die Hämmer auf die Glocken. Der Einsatz verschiedener Arten von Glocken erzeugt interessante Klänge
und visuelle Effekte.
Probieren Sie es selbst aus!
"Mein Interesse gilt Landschaften und Klangmaterialien, dem Zufall, dem Zögern und der Improvisation. Schon im sehr jungen
Alter beeindruckten mich die Klänge der Häfen und die visuellen Gegebenheiten dieser riesigen Räume. Mit fünf Jahren begann ich
Stücke von größerem Ausmaß zu bauen, zunächst aus Karton und gefundenen Objekten. Mit 25 Jahren begann ich, Saxophon an der
Musikschule in Dünkirchen zu studieren, und mit 28 Jahren, 1984, nahm ich das Basteln wieder auf. Ich hatte vor, Tischlerei, Musik, Mechanik und gefundene Objekte in einer ersten Klangmaschine zusammenzuführen." — Frédéric Le Junter
http://www.lejunter.net/