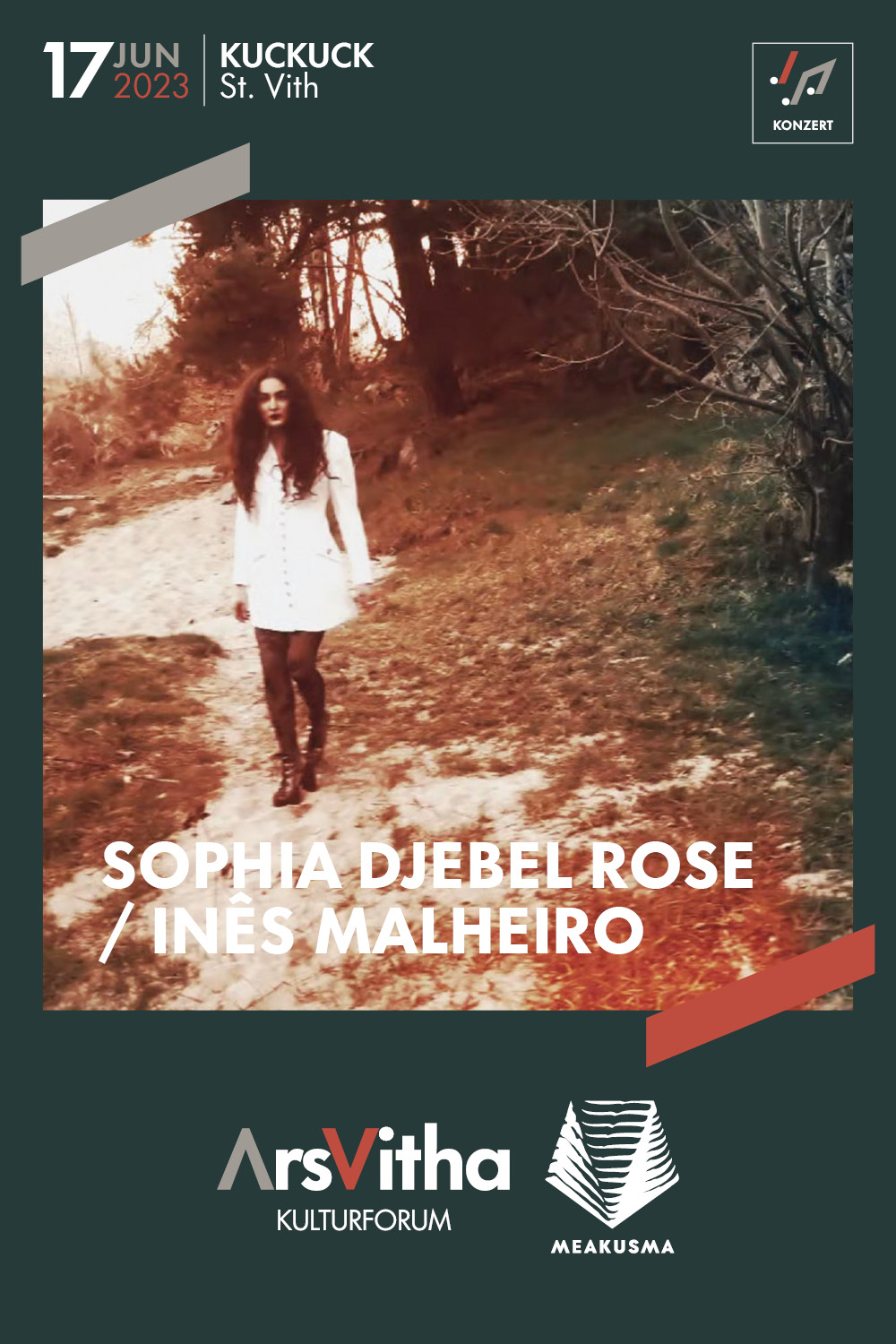 Doors open 19:30
Start: 20:00
Tickets: Presale 10€ / Door: 13€
Sophia Djebel Rose / Inês Malheiro
presented by ArsVitha & meakusma


Sophia Djebel Rose

Sophia Djebel Rose delivers a dark and trembling luminous poetry. The arpeggios of a guitar mix with the bareness of a voice that sings of black forests and clear waters, seasons, death, revolt and love. In the wake of the pioneers of the sixties, Catherine Ribeiro, Nico, Brigitte Fontaine, Buffy Sainte Marie
or even Emmanuelle Parrenin, Sophia Djebel Rose distills an audacious folk. Selected for Les Inouïs du Printemps de Bourges (Auvergne region), the artist released her first album on March 21, 2022, the day of spring.




Inês Malheiro

Inês Malheiro (PT) creates sound narratives using voice as raw material. Improvised or composed, recycled, broken voices and fragmented songs. In 2022, Inês released her debut album "Deusa Náusea" via Lovers and Lollypops and between 2018 and 2020 created "The endless chaos has an end", a music series based on emotional and cheesy moments.

Alongside her solo works, Inês has released "liquify, spread and float" (2022), an album-performance improvised and recorded at Guimarães Jazz, created the sound design for "Práticas Laboriosas do Enxofre"

(2022), an exhibition created by Coletivo Corisca, has released "Canal-Conduto" (2020) with Gonçalo Penas and presented "Organismus

Kathársis" (2020), a sonic performance at Lisboa Soa.


Partner: