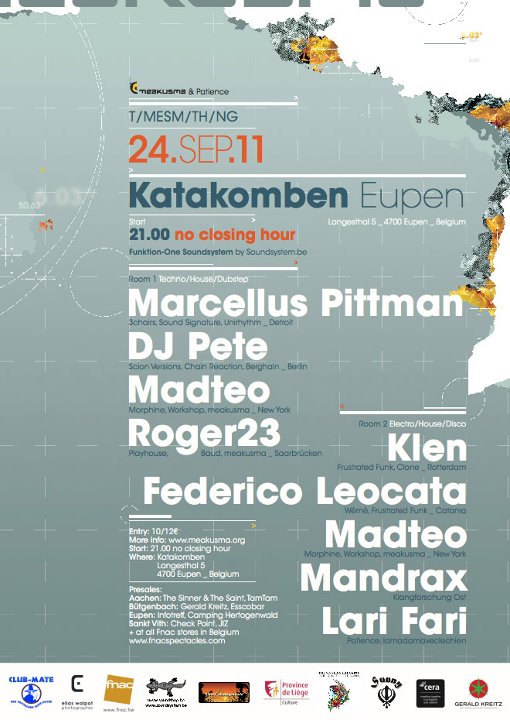 Katakomben
Langesthal 5
4700 Eupen
Start: 21.00
Presale: 10€
At the door: 12€
Patience & meakusma at Katakomben
LINE-UP:
Room 1
Room 2
On September 24th, 2011, meakusma and Patience go back to their roots, organizing a deluxe release party, without curfew, occupying the two rooms of the legendary Katakomben in Eupen. That night, meakusma also celebrates the release of the Timesmithing EP by New Yorker Madteo.

Top of the bill and making his debut in Belgium is Detroiter Marcellus Pittman, studio partner of Theo Parrish, member of the so-called 3 Chairs (next to, again, Theo Parrish, Rick Wilhite and Kenny Dixon Jr. aka Moodymann) and running the Unirhythm label. Pittman is a frontrunner of the Detroit Downbeat House and Soul music scene and has earned himself the reputation of being one of the most exciting producers and DJ's around today.

DJ Pete was part of the nucleus that started the Techno scene in Berlin and is still one of the driving forces behind its underground club scene. He is an internationally acclaimed producer, remixer, DJ, Resident at Berghain and a member of the Hard Wax record shop. His DJ sets combine Techno, raw House music and recently Dubstep as well, city-hopping from Detroit to Berlin to Birmingham and so on. As part of Scion, he released some essential material on the Basic Channel affiliate Chain Reaction. Under his own Substance moniker, next to releasing some of the most acclaimed early examples of Berlin Techno, he has remixed artists such as Juan Atkins, Robert Hood and Rhythm & Sound. Also on the bill is New York resident Madteo, originally from Padua in Italy, presenting his new releases on meakusma. His music always explores unearthed paths, touching upon House, Hip Hop and Electronica, but choosing a continuously leftfield and deeper way to express his musical ambitions. A collaboration with Joy Orbison will be released soon, next to a record on the essential Finnish Sähkhö.

With Roger 23, a familiar face is coming back to Eupen. Roger has for years been one of the most engaging voices on the international DJ circuit. His musical knowledge and insight are unmatched. His releases on the celebrated Playhouse label (amongst others) are examples of how to build grooves and atmosphere from unexpected sources. A Roger 23 DJ set makes you want to jump through the heavens. The second room features Klen who runs the Frustrated Funk label and is a Clone collaborator. Since 2002, he has released music by artists such as Marco Bernardi, Der Zyklus, E.R.P., The Hasbeens and many others. His DJ sets connect the traditional sound of Detroit and Electro from Rotterdam. The only live act of the evening is Federico Leocata. In the tradition of Gerald Donald and James Stinson (Drexciya, Dopplereffekt, Der Zyklus, Heinrich Mueller), this young Italian producer combines respect for tradition with his own unique voice. He has released on the Belgian Wémè label and has a release on the Frustrated Funk imprint coming up.

Mandrax is a DJ hero in the east of Belgium and beyond. He is a founding member of Klangforschung Ost and his DJ sets benefit from his large and diverse record collection. A trip through the wide and infinite world of electronic music with a master at the wheel.

Lari Fari from Eupen is a music junkie pure and simple. He has been collecting records for 10 years, oblivious to genre-definitions, his focus is on mood and substance, choosing timeless records to play a set that entrances without ever stating the obvious.

This party does not have a curfew, so we can see the sun rise together.
Partner: