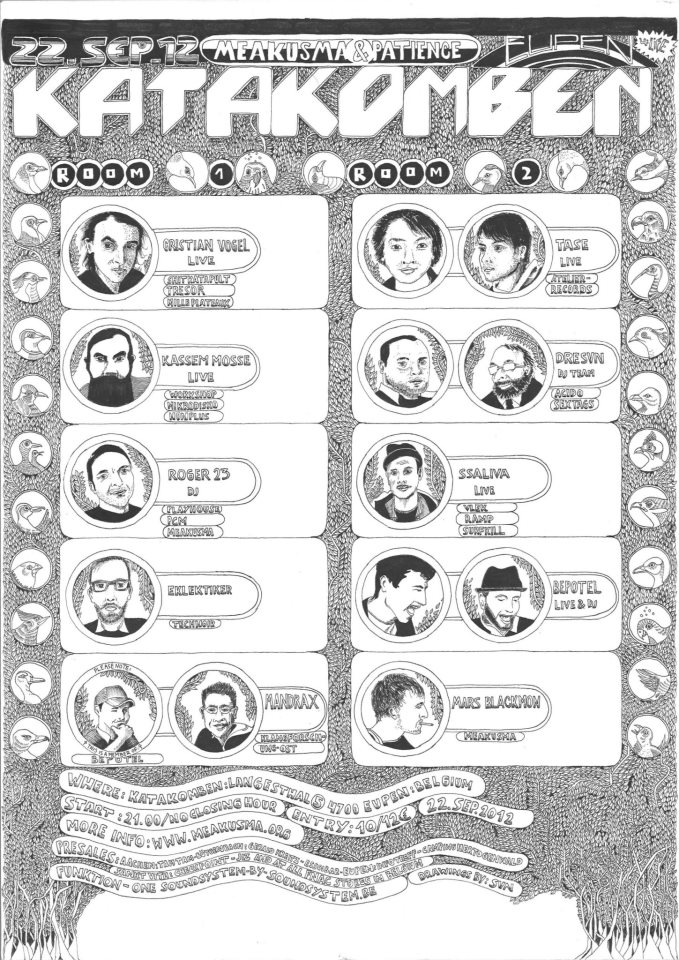 Katakomben
Langesthal 5
4700 Eupen
Start: 21.00
Presale: via Resident Advisor or FNAC 9€
At the door: 12€
Patience & meakusma at Katakomben
LINE-UP:
Room 1
Cristian Vogel live (Shitkatapult, Tresor, Mille Plateaux – CH)
Kassem Mosse live (Workshop, Mikrodisko, Nonplus – GER)
Roger 23 (Playhouse, PCM, meakusma – GER)
Eklektiker (Technoir – BE)
Mandrax (Klangforschung Ost)
Room 2
Tase live (Atelier Records – GER)
Dresvn DJ Team (Acido, Sex Tags Mania, Wania – GER)
Ssaliva live (Vlek, Ramp, Surf Kill – BE)
Bepotel live & dj (Bepotel Records – BE)
Mars Blackmon (meakusma – BE)
Join us on September 23 at sunset and skip the night until sunrise as we create Indian summer inside the Katakomben in Eupen with an extremely exciting line-up featuring Cristian Vogel, Kassem Mosse, Roger 23, Τase, Dresvn and more.

Cristian Vogel just released his new and amazing album on Shitkatapult. He is one of the only producers in today's electronic music to be able to fuse true avantgarde sounds with club music. His long career shows an incredible focus through all the very diverse projects he has worked on. You cannot call it Τechno, Dubstep or Ambient, because his productions are always more than the total sum of their parts. Kassem Mosse has become a household name in the scene through his releases on Workshop, Mikrodisko and Nonplus and his numerous critically acclaimed remixes. His live sets have also already acquired legendary status for being extremely moving, surprising, fresh and crisp. One of the meakusma regulars and fresh from his seminal house record on Neurhythmics, Roger 23, returns to Eupen for one of his captivating House DJ sets. Researched, yet spontaneous, Roger knows what he wants and he's happy to share it. Support in room 1 comes from Belgian DJ's Eklektiker and Mandrax.

Room 2 centers around the spirit and musical philosophy of Τase and Dresvn, both involved in the Sex Τags Mania and Sex Τags Amfibia labels. Τase will play live. His music can be either like a dark, moving Industrial-like thud or move into the almost ecstatic. Dresvn have released some of the strangest but also most important club records of the past few years. Τonight, they will DJ, playing some of the tunes that make them tick. Sex Τags Mania and Sex Τags Amfibia are partly responsible for House music taking yet another path, reinventing its past and making it sound once again like something unheard before. Ssaliva, aka Cupp Cave, has released one of the best Belgian records of 2012 on the Vlek label. His unique sound is informed by Hiphop, House, Disco and spacey, even abstract Electronica, with texture, melody and rhythm continuously contradicting and reinforcing each other. Bepotel, one of the most promising young bands from Belgium, will play live and DJ as well. Τhey are influenced by House, Ambient and Jazz and their live sets are quirky, energetic and organic. Support in room 2 comes from Mars Blackmon.

Τhere's no curfew for this party!
Partner: