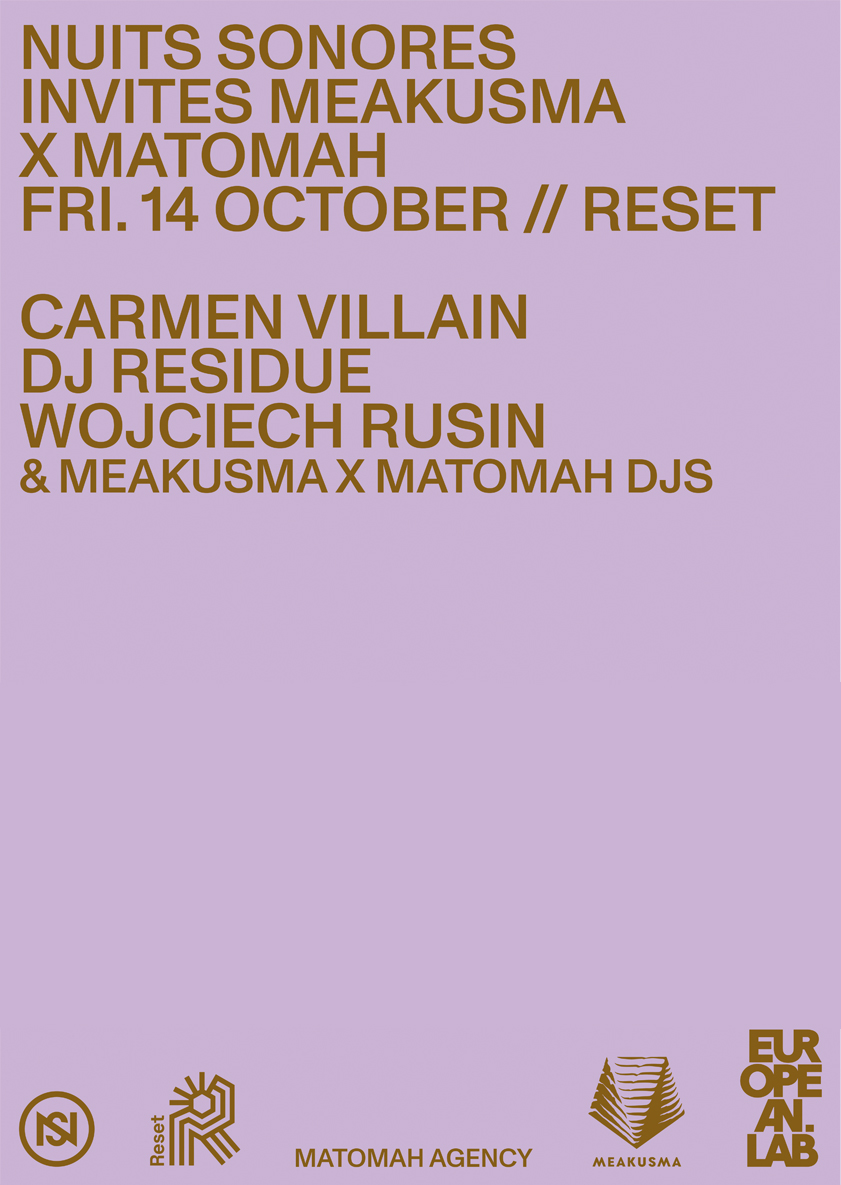 RESET
8 — 10 Rue de ligne
1000 Brussels
Start: 19:00
Presale: 16€ (ltd. amount of tickets available)
Get Your Tickets
here
NUITS SONORES invites MATOMAH AGENCY & MEAKUSMA
Nuits Sonores has invited Meakusma and the newly founded Matomah Agency to curate a night of concerts and wayward clubbing. On the bill are live performances by Norwegian-Mexican artist and producer Carmen Villain, Kassem Mosse's alter ego DJ Residue, Polish-born audio visual artist Wojciech Rusin and more tba. DJing before, in-between and after by Meakusma and Matomah.

Carmen Villain makes atmospheric music with field recordings, woodwinds, samples and synths, conjuring up her very own and very distinctive sound of the cosmos, integrating elements of fourth world, dub and ambient. She has released on labels such as Smalltown Supersound, Geographic North and Longford Editions. Her 2022 Only Love From Now On album was hailed as an unpredictable and extremely dynamic masterpiece, delivering on the promise her amazing catalogue always bore within.

Born Ayman Rostom, The Maghreban is a house and techno producer from Guildford, UK. He also makes hip-hop as Dr. Zygote and is a member of hip-hop project Strange U. He runs his own Zoot Records label. Fusing hip-hop, house and downtempo patterns with African and Middle Eastern jazz modes as well as contemporary club rhythms, The Maghreban's sound dwells on a lifetime spent making beats for the club and for home. It is a versatile mix of influences and moods and modes modern and emotive, at times thrusting, at times soothing.

Kassem Mosse's DJ Residue project turns the warehouse perspective of techno music inside out, coming up with a stripped down version that integrates experiment, the 90s chill out room and intricate percussion patterns. Between introspective and far out, DJ Residue conjures up a tribute of sorts to the unorthodox end of club music.
Both an album and single have been released in The Trilogy Tapes.

Wojciech Rusin draws inspiration from alchemical and gnostic texts, early renaissance choral music and Eastern European mythologies. He has released on Café OTO's Takuroku digital imprint and on Boomkat Editions/Documenting Sounds. His music has been featured on BBC Four and he has worked for The National Theatre, The Southbank Centre and National Theatre.

This event is a collaborative effort between Meakusma and the new Matomah Agency, run by former Les Ateliers Claus booker Tommy Denys and Martin Vernier & Marija Kudabaité.