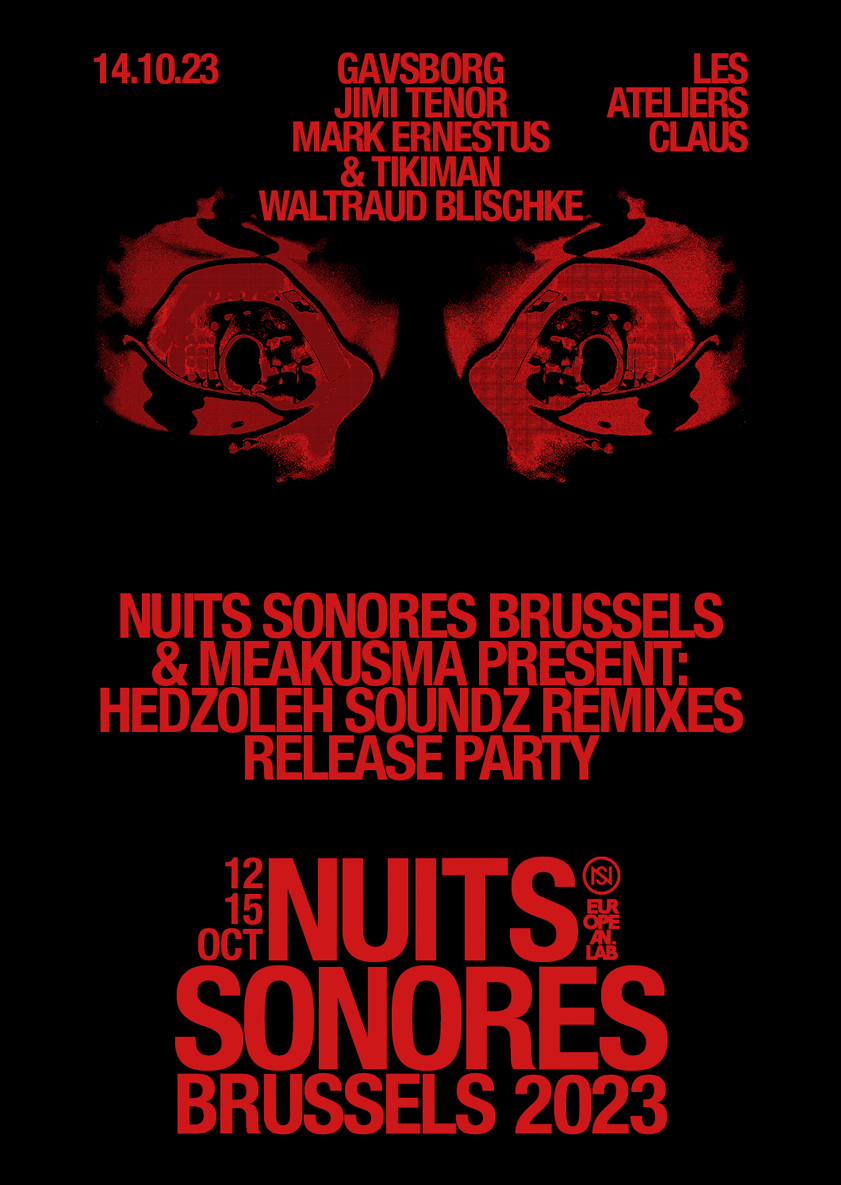 Les Ateliers Claus
Rue Crickx 15
1060 Bruxelles
Presale: 12€ + fee (ltd. amount of tickets available)
Get your ticket
here
Start: 20.00
NUITS SONORES BRUSSELS & MEAKUSMA
NUITS SONORES BRUSSELS & MEAKUSMA PRESENT: HEDZOLEH SOUNDZ REMIXES RELEASE PARTY
Nuits sonores & Meakusma invite you to celebrate the release of the Hedzoleh Soundz remix 12" on Meakusma, with live performances by Jimi Tenor, Mark Ernestus & Tikiman and Gavsborg and a dj set by Waltraud Blischke at Les Ateliers Claus on 14 October.
Hedzoleh Soundz were one of the first and most original 'Afro' bands from 1970s Ghana, playing an unusual mix of traditional music and western rock as part of the West African Highlife scene. The music for the Hedzoleh album was used by legendary South-African trumpeter Hugh Masekela as the backbone to his afro-jazz classic, "Masekela – Introducing Hedzoleh Soundz". After reissuing Hedzoleh in 2022, a collaborative effort between Meakusma and Soundway, the new remix 12inch sees Jimi Tenor, Mark Ernestus, Gavsborg and Waltraud Blischke transport Hedzoleh's tracks into new spheres and circumstances.
With the support of Ostbelgien
Gavsborg
Gavsborg hails from East Kingston, Jamaica. He is a member of the group Equiknoxx with Jordan Chung (Time Cow) and founder of the label and collective Equiknoxx Musiq. His recent output is widely credited with reinventing Jamaican dancehall, which he has helped to steer towards experimental and futuristic electronic music. This left-field approach to production has afforded him the opportunity to work with a wide variety of artists and labels from different corners of music such as: Mavado, Aidonia, Dirty Projectors, Palmistry, Addis Pablo, De La Ghetto, Busy Signal, Spice, Missy Elliott DDS, Swing Ting, Domino Records and more.
Jimi Tenor
Jimi Tenor needs no introduction. He ever remains the incredibly productive musician whose work lies beyond current trends, next to being a performer who combines afro-american music, spontaneous silliness and shameless glamour, all in his very own way. His musical catalogue is vast and has seen him release music on Puu, Warp, Bureau B and many more labels. He has also worked as a photographer, has directed short films and designed clothes and musical instruments. Now an established European artist who operates outside of the mainstream, his music appeals to clubbers, alternative rock enthusiasts and jazz and funk rebels alike.
Mark Ernestus & Tikiman
Mark Ernestus and Tikiman have a longstanding collaboration going, ever since releasing the first and legendary Rhythm & Sound 12" in the second half of the 90s.
Ernestus is the founder of the legendary Hard Wax record store, which in 1989 laid the foundation for Berlin's electronic club music scene. He played a key role in establishing the Berlin-Detroit nexus, and started creating music as one half of Basic Channel, with its deep, immeasurably influential hybrid of dub and techno. He also has a keen interest in African music, leading to his Senegalese Mbalax-influenced Jeri-Jeri project.
Tikiman has carved out his own trajectory ever since becoming the acclaimed vocalist for Rhythm & Sound, releasing collaborative work with many other producers in electronic music, next to producing his own version of dub techno and beyond. He recently released the future classic Tikiman Vol. 1 on Kynant Records, using his real name Paul St. Hilaire.
Waltraud Blischke
Waltraud Blischke studied political science, theatre, film and art history at the University of Cologne, wrote for Spex and works as a dj. She collaborated with Cologne labels a-Musik and Sonig and has lectured on aesthetic-discursive music meditation at the Robert Schumann University in Düsseldorf and has produced found sound collages. A Waltraud Blischke DJ-set stands for radical and in-depth eclecticism.
Partner: