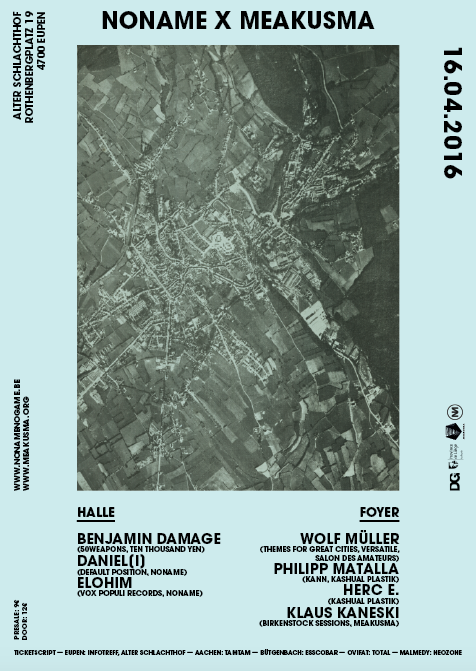 Alter Schlachthof
Rothenbergplatz 19
4700 Eupen
Start:
20.00
Presale:
9€
Online :
Ticketscript

Soon available in :
Eupen - Infotreff, Alter Schlachthof
Bütgenbach - Esscobar
Aachen - Tamtam
Ovifat - Total
Malmedy - Neozone
At The Door:
12€
NoName x meakusma
Line-Up:
Halle
Foyer
On April 16, meakusma and NoName will be collaborating for the first time in the Alten Schlachthof in Eupen.
Both organisations have their own specific identity and focus, but are complementary in their intentions and even their specific directions. In two rooms, different strands of electronic dance music will be featured, touching upon functional club music as well as out of left field adventure.

The NoName stage features a performance by Benjamin Damage who releases on Modeselektor's 50 Weapons label. Effectively the first artist to have been signed to 50 Weapons, his music shifts between UK Bass and quality contemporary techno music. The German music magazine Spex defined his decidedly forward-thinking sense of tradition as drawing upon old Aphex Twin and Autechre productions and incorporating British rave euphoria. NoName artists Daniel[i] and Elohim will complete the program in style.

Meakusma invites Berlin DIY label Kashual. Their approach surpasses mere functionality or economy and continuously sets out for originality and artistic adventure and in doing so unearths a striking mental kinship with meakusma. Wolf Müller, a.k.a. Jan Schulte, from the notorious post kraut avant garde circus Salon des Amateurs, has been crafting his masterful, wild, casual and extremely danceable take on disco, wave and stumbling percussion for a couple of years now, leaving a deep impression on open-minded clubbers everywhere. Kashual DJ's Philipp Matalla and Herc E. as well as meakusma's Klaus Kaneski will provide further wayward and weirdo dancefloor essentials.

Partner: