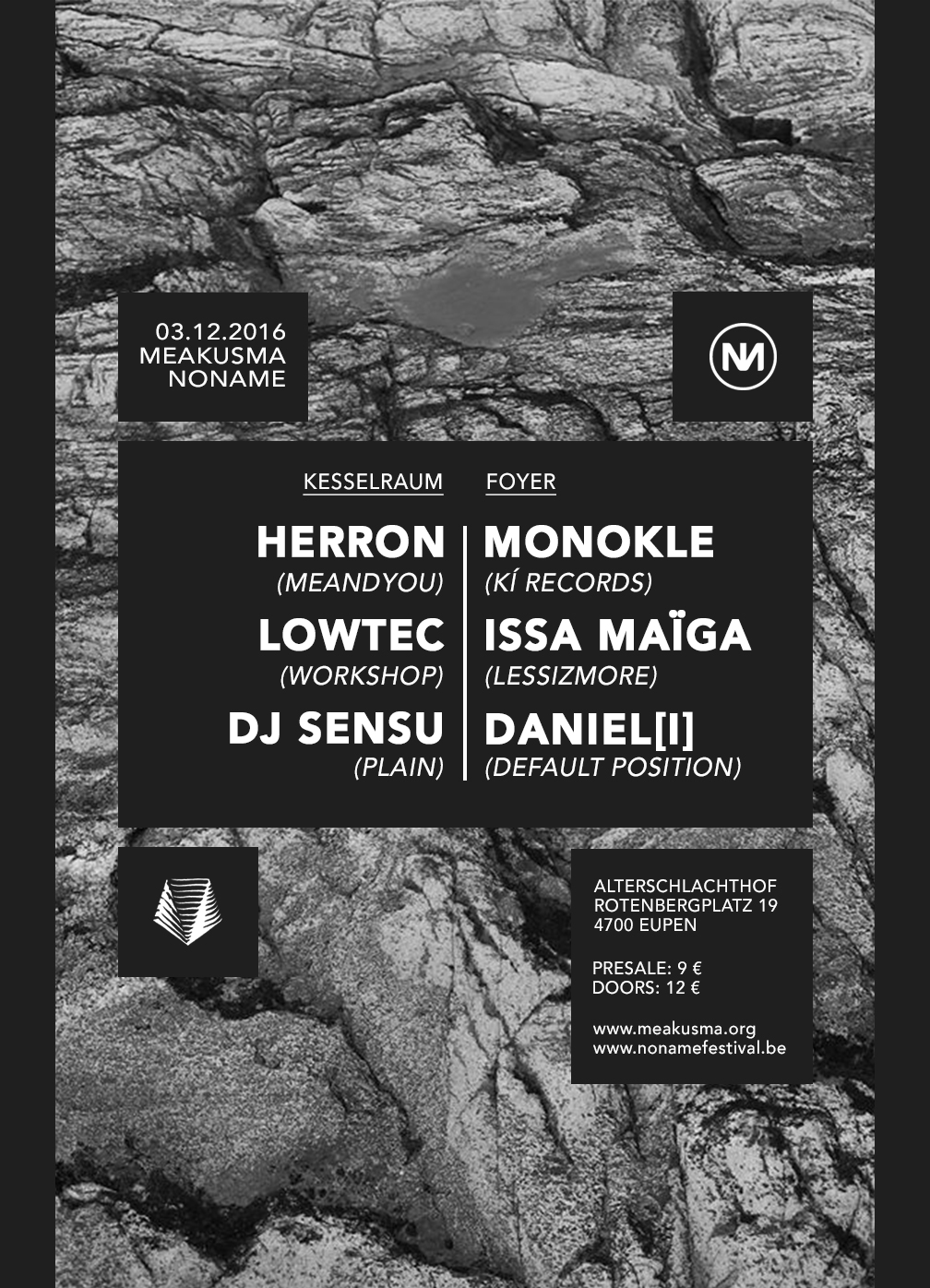 Kulturzentrum Alter Schlachthof Eupen
Rothenbergplatz 19
4700 Eupen
NoName x meakusma
Line-Up:
Kesselraum
Lowtec (Workshop, Out To Lunch – GER)
Herron (meandyou, Hinge Finger – UK)
Sensu (meandyou, meakusma – BE)
Foyer
Monokle live (Ki Records – RU)
Issa Maïga ( Lessizmore – BE)
Daniel[i] (NoName – BE)
After their successful first collaboration, meakusma and NoName join forces again in the Kulturzentrum Alter Schlachthof Eupen in Eupen on December 3. ​

The NoName stage features performances by Monokle from Saint Peter​sburg, Belgian Issa Maïga and NoName resident Daniel[i]​. Monokle has been releasing music since 2006, dwelling in warm melodics and a defined IDM focus. His tracks are unique, recognizable and highly modern. His two main influences are silence and Erik Satie as his music developed from IDM and glitch to incorporate ambient and drone music. Lessizmore resident Issa Maïga has been DJ'ing for years, centering his sound around electro and classic Chicago and Detroit house music. His style has rhythm as its main focus, relentless and informed. NoName artist Daniel[i]​ completes the bill.

Meakusma invites house music legend Lowtec who runs the essential house music label Workshop, Meandyou artist Herron and Sensu. Lowtec has been around since 1997, releasing music on his own Out T​o Lunch and Workshop labels and on many more. His house music sound has been quintessential to the genre with a focus on groove and experiment defining his club music point of view. Herron hails from Manchester and is one of three people behind the Meandyou party concept and label. He has released on Meandyou, Workshop and recently collaborated with Joy Orbison in CO/R on the Hinge Finger label. Sensu completes the bill in this room.

Partner: