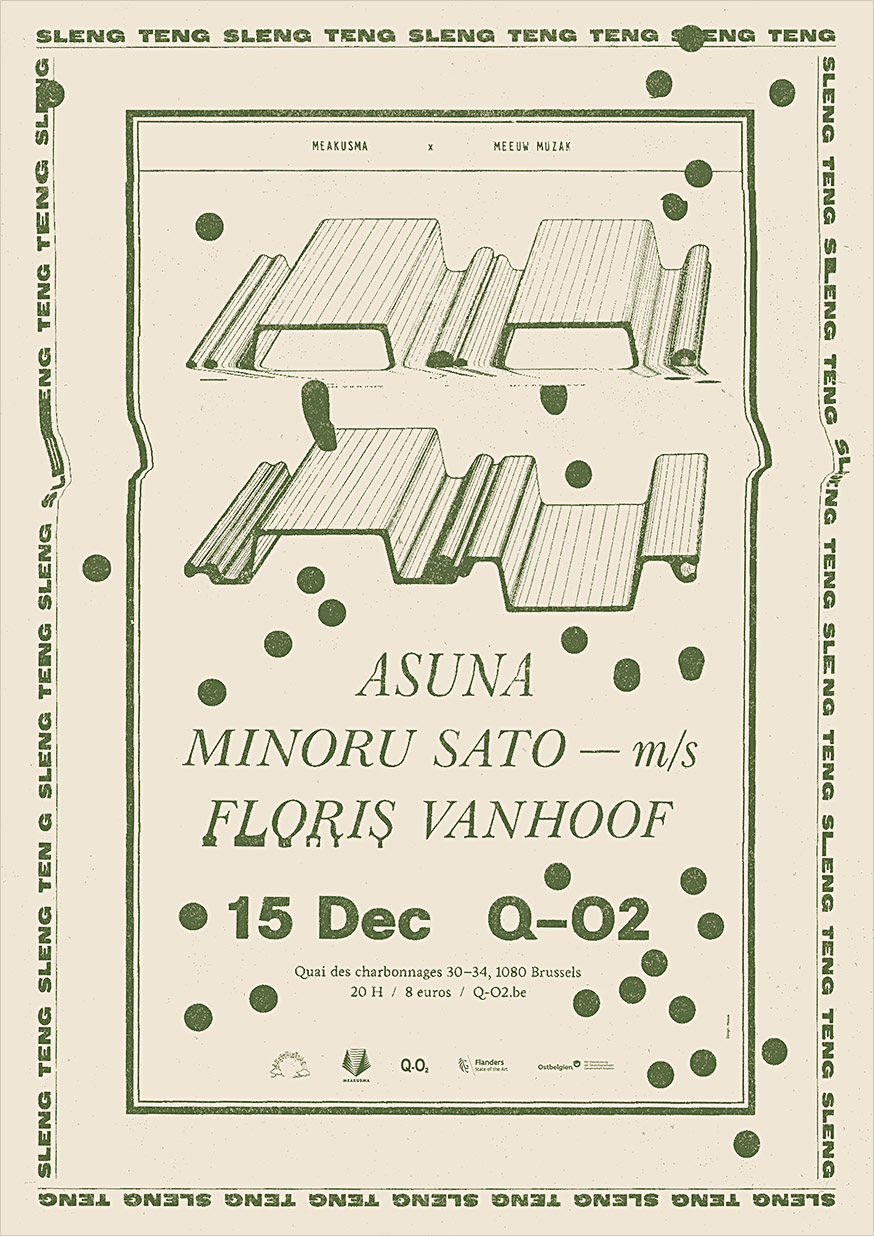 Q-O2
Koolmijnenkaai 30-34
1080 Brussels
Meeuw Muzak X meakusma
Line Up:




Minoru Sato and Asuna started collaborating in 2004, combining Asuna's use of decompressed wind organs with Sato's resonating glass tubes.Their main focus is on acoustic phenomena such as the vibrations, reflections, resonances and fluctuations of sound waves. They compose and perform these phenomena as aural experiences.

In 2008, Keisuke Oki was invited by Minoru Sato and Asuna to form the Valve/Membrance trio. They extended the original instrument setup by connecting all instruments via tubes to create an air flow and to increase air pressure. 2008 saw them perform at Happy New Ears in Kortrijk, Belgium and at Transmediale in Berlin.

More recently, Asuna and Minoru Sato have started using new approach that combines characteristic and site-specific tones. Their version of Sleng Teng, the popular 1986 digital dancehall riddim, is a first result of this new angle.

Minoru Sato (JP) is a sound artist, curator and founder of the WrK label that ran from 1994 till 2006. He also works under a variety of aliases such as m/s, SASW and Il Grande Silenzio (a collaborative project with banjo player and visual artist Atsuo Ogawa) and has published music and written work for Senufo, Spekk, Meeuw Muzak and Errant Bodies Press.

Asuna (JP) has been active since the early 1990s. He produces installation work and live performances, making use of many tiny cheap toys to create a multilayered and fascinating plastic universe of drones, loops and occasional pop implosions.

Floris Vanhoof (BE) combines homemade musical circuits and abandoned projection technologies for installations, expanded cinema
performances and music releases. Vanhoof's intention is to translate one medium to another to find how our perception operates and which new perspectives can appear.



This collaboration between Meakusma and Meeuw Muzak was made possible with the support from the Flemish Community and Ostbelgien.


Partner: