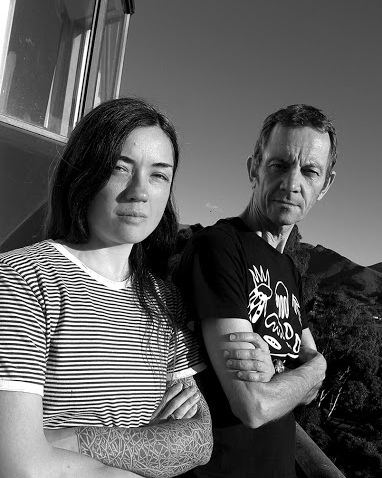 Doors:
20.00
Start:
 20.30
Entry:
Sold Out !
meakusma festival aftermath
---
Liz Harris & Roy Montgomery
---

Liz Harris (aka Grouper, Nivhek) is a musician and artist who lives and works in Astoria, USA. Roy Montgomery is a guitarist from Christchurch, New Zealand. The pair already collaborated on a split album in 2010 and most recently on Roy's 2018 LP Suffuse. For this concert they perform a special set of existing and new material together.

https://grouper.bandcamp.com
https://roymontgomery.bandcamp.com



---
Arnold Dreyblatt & The Orchestra of Excited Strings
---

Arnold Dreyblatt: Excited Strings Bass
Konrad Sprenger: Percussion, Digitally Automated Guitar System
Joachim Schütz – Modified E-Guitar

One of the second generation of New York minimal composers, Dreyblatt studied music with Pauline Oliveros, La Monte Young, and Alvin Lucier and media art with Woody and Steina Vasulka.

Arnold Dreyblatt has charted his own unique course in composition and music performance. He has invented a set of new and original instruments, performance techniques, and a system of tuning. Often characterized as one of the more rockoriented of American minimalists, Dreyblatt has cultivated a strong underground base of fans for his transcendental and ecstatic music with his Orchestra of Excited Strings. He has recorded for such labels as: Zaddik, Table of the Elements, Drag City, Recommended, Black Truffel, Choose and Hat Hut and has performed throughout
Europe and the US since 1979.

His music has been performed by the Bang On A Can All-Stars, Jim O'Rourke, The Great
Learning Orchestra Stockholm, Pellegrini String Quartet and the Crash Ensemble Dublin. He has recorded for such labels as Tzaddik, Hat Hut, Table of the Elements, and Cantaloupe.In 2009, Dreyblatt formed a new ensemble for concerts for Nymusikk in Oslo and the Impakt Festival in Utrecht with himself on Excited Strings Bass, Jörg Hiller on Percussion and "Motor-Guitar", Joachim Schütz on modified E-Guitar. The ensemble grew out of many years of collaboration with Jörg Hiller as musician, music producer and recording engineer. This ensemble has continued to peform internationally at the SKIF Festival, St. Petersburg; MMI Festival, Marseille; Face E Festival, Geneva and at the State-X/New Forms Festival in the Hague as well as in galleries and concert sites in Germany such as the Stadtgarten, Köln, Mex 21 Festival, Dortmund; Kunst als Klang Festival MANALESE editions and Neue Berliner Kunstverein and at the Berghain in Berlin as part of the MaerzMusik Festival among other venues.




Partner: