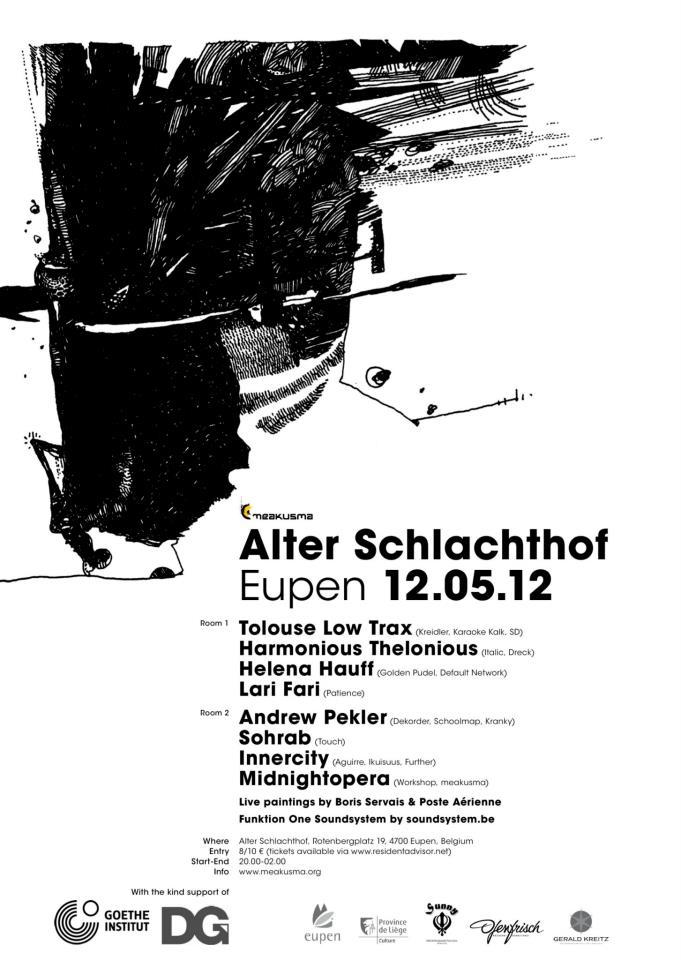 Alter Schlachthof
Rotenbergplatz 19
4700 Eupen
Presale: 8€ (Resident Advisor)
At the door: 10€
meakusma at Alter Schlachthof
LINE-UP :
Tolouse Low Trax LIVE (Kreidler, Karaoke Kalk, SD Records – GER)
Andrew Pekler LIVE (Dekorder, Schoolmap, Kranky – GER)
Harmonious Thelonious LIVE (Italic, Diskant, Asafa – GER)
Helena Hauff (Golden Pudel, Default Network – GER)
Sohrab LIVE (Touch – IR)
Innercity LIVE (Aguirre, Ikuisuus, Further – BE)
Midnightopera (Workshop, meakusma – GER)
Lari Fari (Patience, Lamadamaveclechien – BE)
Live painting by Poste Aérienne (Poste Aérienne – BE/GER)
On May 12, meakusma returns to the amazing Alter Schlachthof building in Eupen. Two rooms, two different atmospheres, but one spirit. The main room focuses on club music, but as always with an edge, while the second room aims more for the mind, listening music from some very exciting artists.

In the main room, Tolouse Low Trax will be presenting his new album 'Jeidem Fall', just released on Karaoke Kalk. Detlef Weinrich, known primarily as a member of the band Kreidler, has been producing music for a few years now as Tolouse Low Trax, music that incorporates experimental sounds and atmospheres into a club-oriented context. Unique, daring and extremely engaging, his tracks nod to the past, but are essentially futuristic. This is mysteriously vibrating drum computer music that will hypnotize you on the dancefloor. Romantic in the old European sense of the word, but universal in its result.
Also playing live is Harmonious Thelonious, the critically acclaimed project of Stefan Schwander, most famous for his minimal techno productions under his Antonelli Electr. and A Rocket in Dub monikers. Basically a fusion of live African percussion with the syncopated sense of melody and rhythm of American classical minimalism, Schwander's new productions have an explicit sense of investigation, of continued research.
DJ support comes from Golden Pudel resident Helena Hauff and local boy Lari Fari. Helena Hauff is an up and coming DJ from Hamburg, running her own special nights in the Golden Pudel club. She plays Acid, Chicago House, Electro and Wave in her inimitable style. Eclectic and intense, she's already a force to be reckoned with. Lari Fari has been a music collector and DJ for ten years. He focuses on mood, sound and substance . His open-minded sets have a unique forward motion to them, never caught in just one style or sphere, but eclectic at the heart.

Andrew Pekler will headline the second room. He of course needs no introduction. Having caved out a particular niche for himself, his music continuously challenges his audience and shifts their perspectives. Pekler often works with found materials, be they samples, instruments or genre conventions. His music shifts between sounding out of this world and close to home. Evocative and emotional, Pekler's music is like an echo of some nocturnal live jazz, heard with interference and distance.
Also performing is Sohrab. Originating from Tehran, Iran, this musician has been making waves with his first album on the English Touch label. His Ambient productions are spacious and rebellious in their nature. Informed by the context of his home country, his music serves as an internalized reaction to it. Combining beauty and anxiety, Sohrab's music easily transcends his own perspective. One the most exciting new Ambient musicians around these days.
Innercity, aka Belgian synth wiz Hans Dens, has a sound that is heavily informed by what you could call the resurgence of Krautrock and Ambient Drone music of today, but his take on these things is unique. A lush, almost romantic sense of space and texture, his music twists around expectations and plays with the listener's preconceived idea of what music should and could be. His album 'Future Life' on Aguirre was one of the best records of 2010.
Midnightopera from Darmstadt, Germany has for years been one of the favourite DJ's of the meakusma camp. He has released on Altered Moods and meakusma with his Immer. Chic project and is preparing a track for the next Workshop compilation. As Midnightopera, he plays rarities and weird finds, for people that dare to look further.
The second room features live painting by Boris Servais and Poste Aérienne.