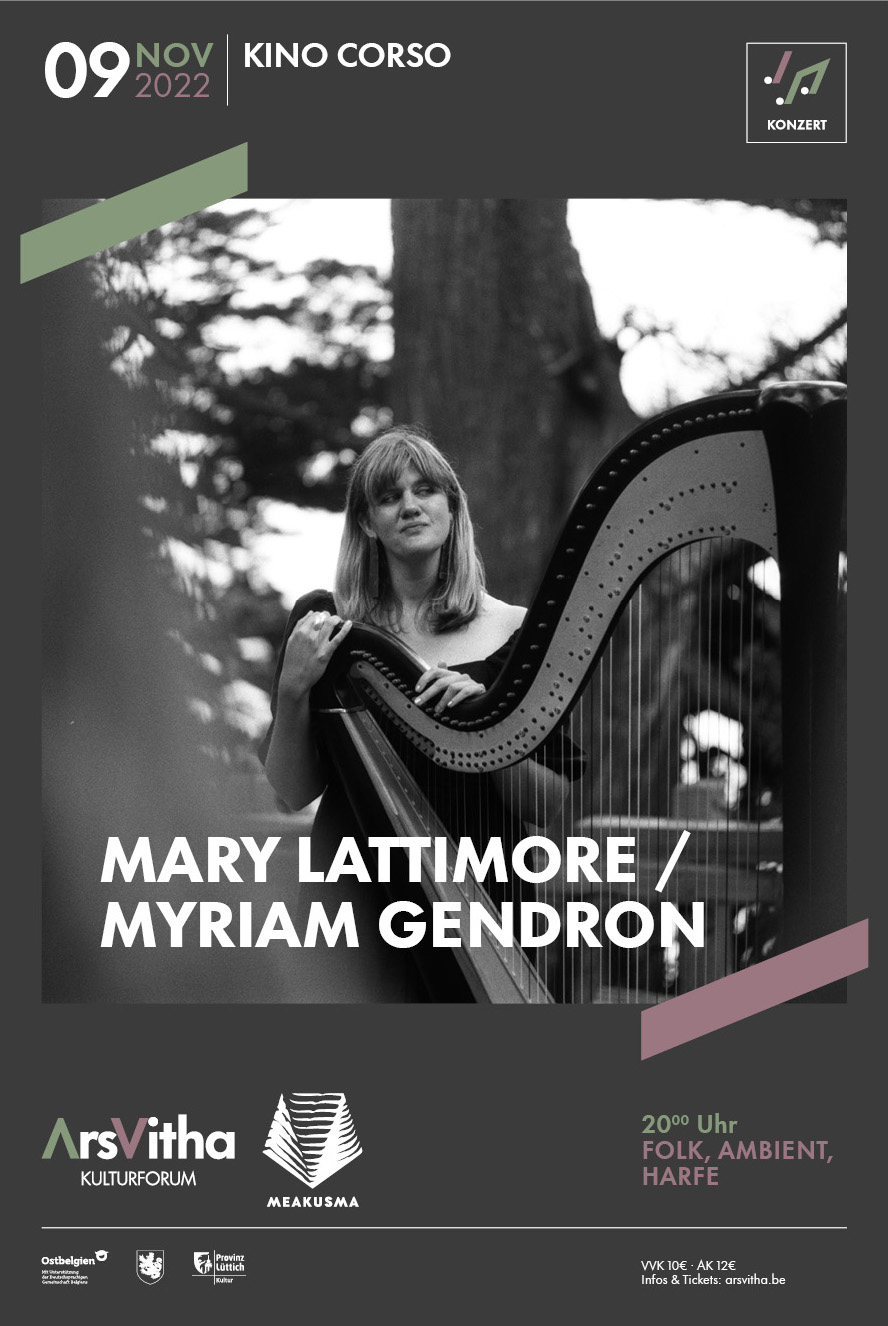 Kino Corso
Bahnhofstraße 14
4780 St. Vith
Start: 20:00
First concert at 20:30
Door: 10/12€

Mary Lattimore and Myriam Gendron
presented by ArsVitha & meakusma
On Wednesday November 9th, we are happy to present concerts by Myriam Gendron and Mary Lattimore at Kino Corso in St. Vith, in collaboration with ArsVitha. Although we previously announced that the club night with EMS in Nidrum featuring Levon Vincent on October 29th, would be our last event in the German-speaking region of Belgium in 2022, the last minute offer we received to organise a concert night with these two amazingly talented musicians was simply too good to pass up.
Mary Lattimore is a classically trained harpist living in Los Angeles. She experiments with a large concert harp and effects. Her approach can be described as instrumental storytelling, creating dreamscapes in the listener's mind's eye. Her music is energetic, yet has a calming effect and her arrangements are organic, detached, free and modern. She has worked with artists from various musical backgrounds, such as Thurston Moore, Kurt Vile, Steve Gunn, Harold Budd and Jónsi. In may of this year, she performed a stunningly beautiful and encompassing concert in the garden of the Eupen music academy.
Singer and songwriter Myriam Gendron hails from Quebec and lives and works in Montréal. In her work, she explores the resonances between new and old music, often reclaiming traditional tunes from Quebec folklore. Her songs draw as much from folk as from original blues, mixing in field recordings and adding distortions. Her music seems to detach itself from time, reshaping folk through noise and tape loops.
Intimate music for an extraverted world.
Mary Lattimore
Myriam Gendron
Partner: