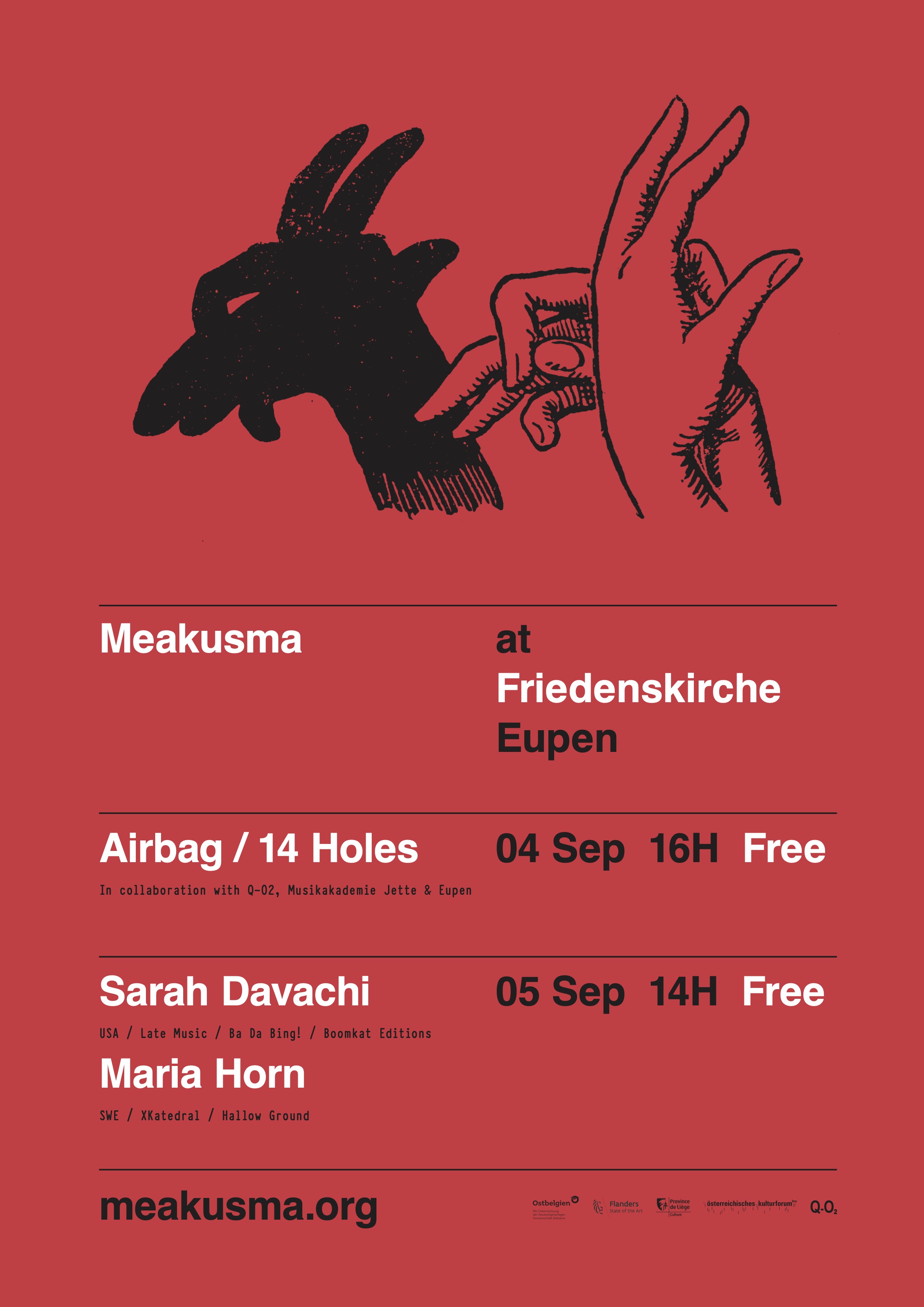 Friedenskirche
Klötzerbahn
4700 Eupen
Doors open : 13:45
Start : 14:00
Limited capacity !
Maria Horn & Sarah Davachi
Maria W Horn is a composer hailing from the north of Sweden, based in Stockholm since 2011. Maria W Horn is interested in the manipulation of time and space through sonic extremes – oscillating between minimalist structures and piercing power electronics utilizing both digital and analog synthesis as well as acoustic instruments and audiovisual components.
Her work examines aspects of human perception – how audiovisuality and overload/loss of perceptual stimuli can conspire to transcend everyday life and invoke alternate mental states. She is a part of Sthlm Drone Society – an association working to promote slow and gradually evolving timbral music, and co-operates the label XKatedral.
Notable performances and festival apperances include MUTEK Mexico City, Insomnia Festival Tromsø, Rewire Festival, Elevate Festival alongside names like Anna Von Hausswolff and Brian Eno, Stanford Live, CTM Festival Berlin, Madeira DiG, Copenhagen's Organ Sound Art Festival, LOST Festival Parma at Labirinto Della Masone (Ulver, Sunn O))) etc.), MUTEK Montreal, Counterpulse San Francisco, Euphonic Festival Barcelona, Göteborg Art Sounds, Open Source Art Festival in Gdansk, Flussi Festival in Avellino, Tresor Berlin, DAVE Festival Dresden, Lumen Project Stockholm, Click Festival Helsingør and a permanent installation project at Luleå Biennial, one of the most ancient and prestigious culture institutions in Sweden, built inside the Vita Duvans panopticon prison.
"Maria W Horn delivered MUTEK's most dynamic performance, oscillating between thrilling noise and sub-bass violence, and more subtle vibrations—funereal organ work along the lines of Kali Malone or Ellen Arkbro—which easily bled into minimalist sine wave experiments."
– resident advisor
"The work of Swedish composer Maria W Horn is characterised by deep, sombre excavations of psyches and histories. 2018's Kontrapoetik utilised meticulous research to progress the complex, often troubled history of Horn's home region of Ångermanland in Sweden. Linking the methodologies of composition and satanic ritual, the record was suitably dark and catarctic, its pitch black drones like a discovery from an ancient site. For the follow-up Epistasis, Horn's focus switches from political narratives to an interior evocation that is visceral and desolate, stretching her drone work even furthermore a four track song cycle of icy minimalism."
– The Wire (issue 432)
As a composer and performer of acoustic and electroacoustic music, Sarah Davachi's (b. 1987, Canada) work is concerned with the close intricacies of intimate aural space, utilizing extended durations and simple harmonic structures that emphasize subtle variations in texture, overtone complexity, psychoacoustic phenomena, and temperament and intonation. The instrumentation she employs is varied, including electric organ, pipe and reed organ, tape-replay samplers, voice, analog synthesizers, piano, ​early Western strings and keyboards, and orchestral strings, brass, and woodwinds. Similarly informed by minimalist tenets, baroque leanings toward slow-moving chordal suspension, and experimental production practices of the recording studio environment, in her sound is manifest an experience that lessens apprehension of the familiar and the distant. In addition to her acclaimed recorded output, including 2019's Pale Bloom on Superior Viaduct, 2018's Gave in Rest​ on Ba Da Bing, and 2018's Let Night Come On Bells End The Day on Recital, Davachi has toured extensively across the globe and has shared the stage and collaborated with artists such as Grouper, William Basinski, Ariel Kalma, the Bozzini Quartet, the London Contemporary Orchestra, Oren Ambarchi, Donald Buchla, Suzanne Ciani, the BBC Scottish Symphony Orchestra, Jessica Moss, ​Áine O'Dwyer, Alessandro Cortini, James McVinnie, Ian William Craig, Kara-lis Coverdale, Aaron Dilloway, Robert Aiki Aubrey Lowe, Ellen Arkbro, Loren Connors, and filmmaker Paul Clipson. Davachi operates the record label Late Music, founded in 2020 with the partner labels division of Warp Records; Cantus, Descant, a 2xLP of new works for pipe organ, reed organ, and electric organ, was the imprint's first release.
Between 2007 and 2017, Davachi had the unique opportunity to work for the National Music Centre in Canada as an interpreter and content developer of their collection of acoustic and electronic keyboard instruments. Her research and writing focuses on critical organology and timbre and has been published and presented in North America and Europe. She has held artist residencies at The Banff Centre for the Arts (Banff, CA), STEIM (Amsterdam, NL), WORM (Rotterdam, NL), EMS (Stockholm, SE), OBORO (Montréal, CA), MESS (Melbourne, AU), and the National Music Centre (Calgary, CA), and is the recipient of grants from the Canada Council for the Arts, the Alberta Foundation for the Arts, SOCAN, and The Goethe-Institut. Davachi holds a bachelor's degree in philosophy from the University of Calgary, and a master's degree in electronic music and recording media from Mills College in Oakland, California, where she studied primarily with Maggi Payne, David Bernstein, and James Fei. She is currently a doctoral candidate in musicology at UCLA and is based in Los Angeles, California, USA.
www.sarahdavachi.com
Partner: