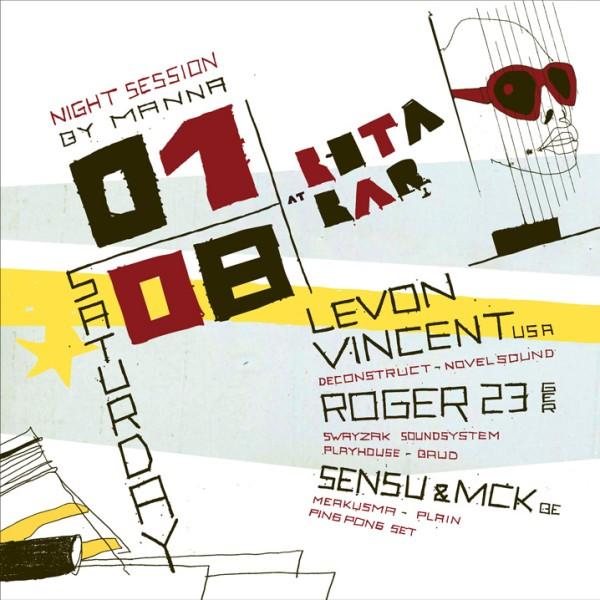 Café Bota
Rue Royale 236
1210 Saint-Josse
Start: 11.30
Entry: 5€ < midnight > 7€
manna at cbs
Line-Up:
Levon Vincent (Deconstruct, Novel Sound – USA)
Roger 23 (Swayzak Soundsystem, Playhouse – GER)
Sensu & mck (Plain, manna, meakusma – BE)
Mark the first of August in your calendars, write down 'Midsummer Madness', because that is exactly what manna, our collaborative effort with plain and forwart, is going to offer you with the Belgian debut of Levon Vincent, straight from New York, and our favourite starchild Roger 23.
Once again, not to be missed.
DJ'ing since 1993, Levon Vincent has had his big break in 2008 with his unique, pumping Techno sound. His Invisible Bitchslap EP, released in November 2008, contained about the catchiest bassline Techno has seen in a long time. This record is typical for the Levon Vincent sound. It is intense, merciless, it explicitly references Techno, but Levon leaves room for interpretation and play, resulting in a sound palette that is open-ended, malleable and edgy. He also runs the Novel Sound label, co-runs the Deconstruct imprint and has recently contributed a mix to the Resident Advisor site. A future classic!
Roger 23 needs no introduction. He has played in some of the most famous and cutting edge clubs around Europe, is the tour DJ for Swayzak and has released records and tracks on Playhouse, Volt Musik and Baud. His DJ sets are ecletic, incorporating House, Techno and weird 80's stuff. He is a true craftsman when it comes to Dj'ing, having an amazing talent to 'feel' the dancefloor, mixing in stuff from leftfield, being able to always surprise his audience, without ever losing the groove, although the groove in Roger's hands is totally his own unique voice.
As a small, special treat, manna members and residents MCK and Sensu will do a ping pong warm up set. Can you dig it?