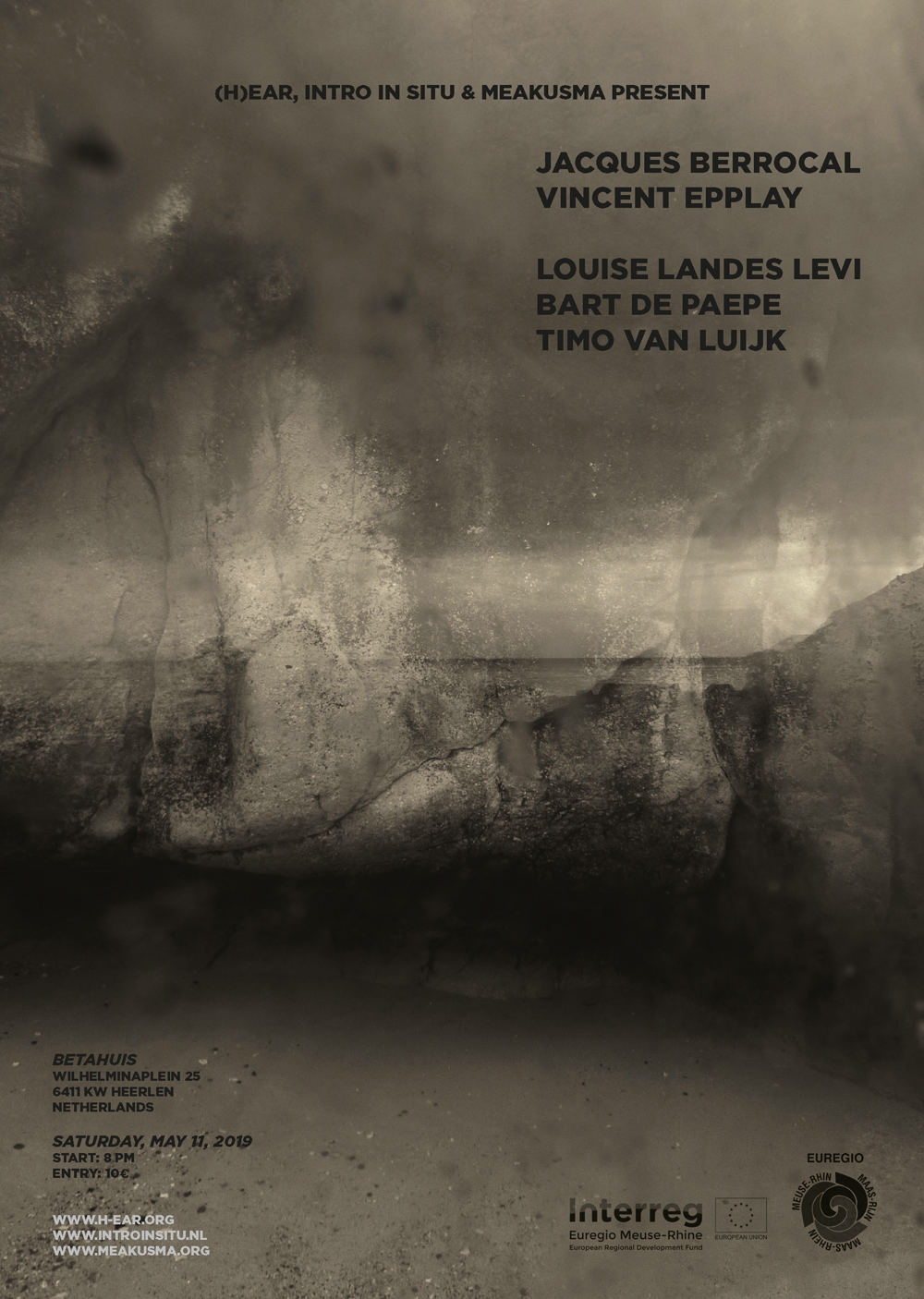 Betahuis
Wilhelminaplein 25
6411 KW Heerlen
(h)ear, Intro In Situ & meakusma pres.
Jacques Berrocal, Vincent Epplay
Louise Landes Levi, Bart De Paepe, Timo van Luijk
(H)ear, Intro In Situ and meakusma present an evening with performances by Jac Berrocal and Vincent Epplay, Louise Landes Levi, Bart De Paepe and Timo van Luijk.
Legendary trumpeter Jac Berrocal is based in Paris and has played alongside Pascal Comelade, Jaki Liebezeit, Nurse With Wound, Sunny Murray, James Chance, Pierre Bastien, Lol Coxhill and many more.
Vincent Epplay is a visual artist, filmmaker and sound artist. He has recently recorded with Gunter Schickert and has produced soundtrack work for Robert Flaherty, Jean Painlevé and Pierre Clémenti. Together with David Fenech, they released the acclaimed Antigravity and Ice Exposure albums on Blackest Ever Black.
Louise Landes Levi is a poet, performer, traveler and a founding member of Daniel Moore's Floating Lotus Magic Opera Company, America's first fusion orchestra.
She extensively studied North Indian sangeet and its poetic tradition. Visual artist and musician Bart De Paepe runs the Sloow Tapes and Sloowax labels. He recently released the Pagus Wasiae album.
Autodidact sound artist, composer and improviser Timo Van Luijk works with acoustic instruments and various sound objects. He runs the La Scie Dorée and was a member of the music collective Noise-Maker's Fifes.
This event is supported by the Interreg Euregio Meuse-Rhine.
Partner: