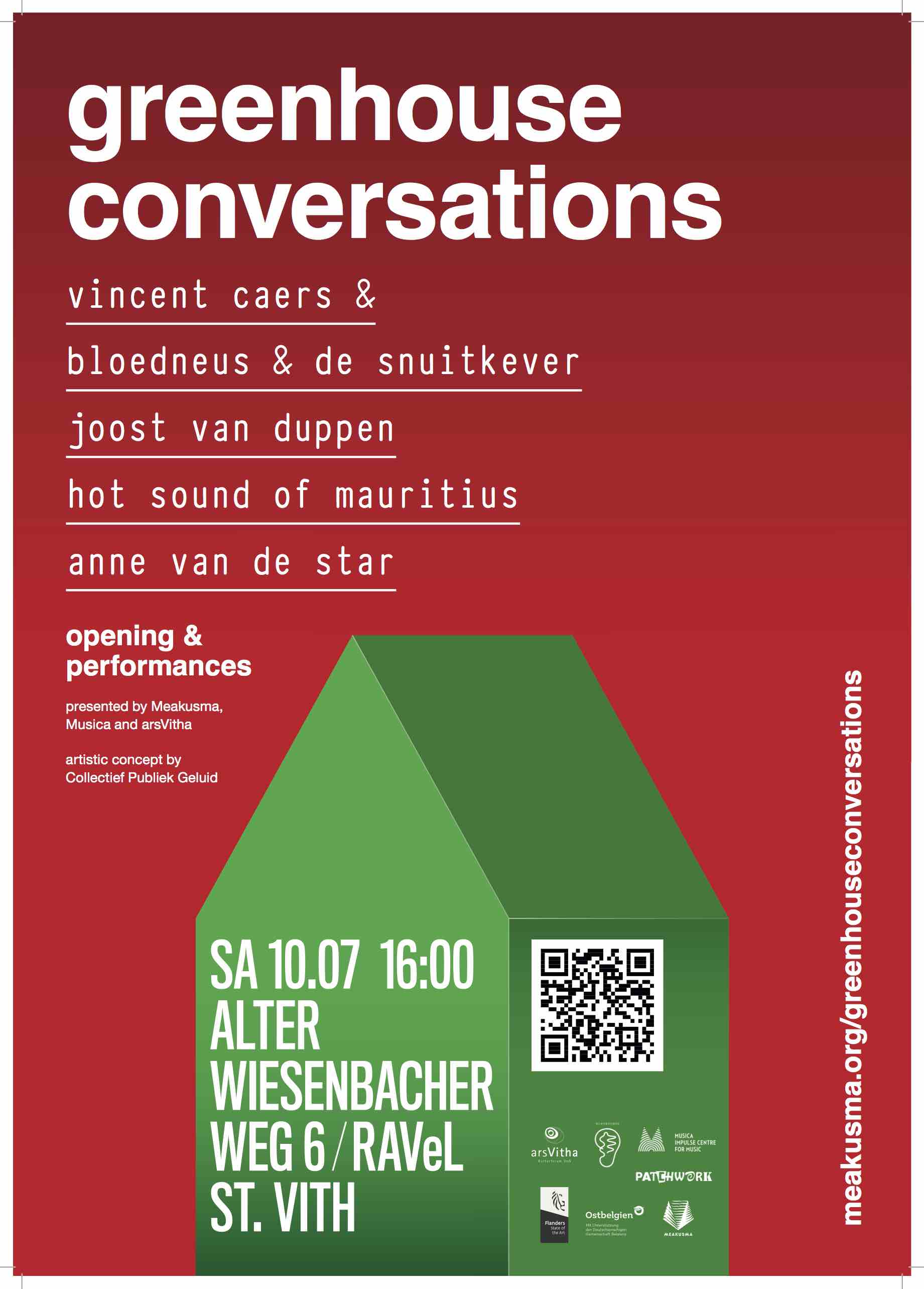 Alter Wiesenbacherweg 6 / RAVeL
4780 Sankt Vith
Start : 16:00
Greenhouse Conversations – Opening // Cancelled
Greenhouse Conversations – Opening
The official opening of Greenhouse Conversations in Sankt Vith will take place on July 10th at 16h. Greenhouse Conversations is a greenhouse that is also a sound art installation. The greenhouse was built jointly by residents of the city of Sankt Vith, visitors to the Patchwork VoG, artists from the Collectief Publiek Geluid and members of the cultural associations Meakusma and Musica. Here, locals can sow, grow and harvest their own vegetables and listen to sound compositions by international artists. In a relaxed setting, visitors can discover the greenhouse and the communal gardens of Patchwork.
There will be three concerts for which the sound setup of the greenhouse will be used, next to an acoustic concert. Furthermore, previous contributions by a variety of artists who have developed pieces specifically for the project will be on play. Three works by Leo Kupper will also be featured from July 10th onwards. Leo Kupper is a composer who was born in Nidrum in 1935 who has worked with Henri Pousseur, who was born in Malmedy, in the first studio for electronic music in Belgium, since the 1950s. Kupper is one of the pioneers of the Belgian electronic avant-garde who enjoys international renown. His East Belgian roots had a formative influence on his "Poésie Sonore", in which the subject of nature repeatedly plays a central role.

Concerts by:
–
Vincent Caers and Bloedneus en de Snuitkever
Vincent Caers is an electronic sound artist, multimedia performer, percussionist and artistic researcher at the LUCA School of Arts. He is currently working on his doctoral thesis in which he researches new performance formats and integrates contemporary scores into audiovisual electroacoustic improvisations. His focus is on creating unstable sound environments where surprising sounds are brought into dialogue with various media, resulting in a refreshing kind of immersive audiovisual chamber music. Inspired by various attitudes to the creative process that predominate outside of the sound arts, his work is permeated with unexpected forms and non-auditory sensory references that are often expressed through multi-channel audio realisations.
Bloedneus en de Snuitkever is a musical project for novel sound adventures. The aulos, a double reed pipe, is at the center of the project. Detached from its previous context and its entire culture, there is something enigmatic about the instrument. Bloedneus en de Snuitkever breathe air into an instrument that has been silenced for over a millennium and create a modest renaissance of the instrument.
–
Hot Sound Of Mauritius
Behind Hot Sound Of Mauritius stands Michael XXX, from the surroundings of the Patchwork project. A passionate musician, he will perform his own interpretations of classics with guitar and vocals, solo and with musician friends.
–
Anne van de Star
Anne van de Star sees herself as a creator of images. On the one hand, she concentrates on the creation of films, performances and drawings. On the other hand, she designs sound structures and soundscapes. Her sound works are like sculptures, the matter of which is invisible, but they are audible due to their extremely physical character. This physicality is supported by the rooms in which she presents her work (the architectural character of a room, a hall, a building, etc.). In her audio work, two apparent opposites come together: the medium is almost sculptural, but at the same time eludes it through its constant changeability and impermanence of the statics.
–
Joost Van Duppen
Joost Van Duppen creates soundscapes for theatre, installations, ensembles and moving images. Field recordings play a crucial role in his work and are often his starting point, interwoven with new compositions. His love for nature and silence influenced his first solo album Kaamos, followed by the album Soor with his Mirrounds Ensemble. He currently lives in Brussels and combines his work as a sound artist with being a field technician and nature guide.
+ Works by
Leo Kupper
:
Aérosons
For phonetic microtones and electronic sounds.
Length: 14'25 "(1982)
Annazone
For mezzo-soprano (Anna Maria Kieffer) and birdsong.
Length: 9'03 "(1991)
Lumière sans ombre
Work for bass (Nicolas Isherwood), monastic sounds and midi instruments.
Length: 16'20 " (1993)
In collaboration with
Patchwork VoG
,
ArsVitha
and the
city of Sankt-Vith
. With financial support from
C-TAKT
, the
German-speaking Community
, the
Flemish Region and the Flemish Community
.
Partner: