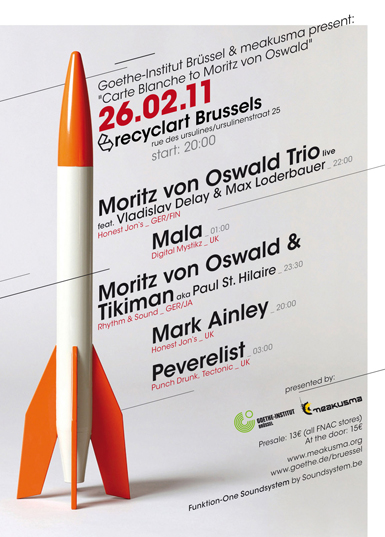 Recyclart
Rue des Ursulines 25
1000 Bruxelles
Start: 20.00
Presale: 13€ (all FNAC stores) At the door: 15€
Goethe-Institut & meakusma pres. "Carte Blanche to Moritz von Oswald"
LINE-UP :
The Goethe-Institut Brussels and meakusma are honored to present a club night curated by the legendary Moritz von Oswald (Basic Channel, Maurizio, Rhythm & Sound, Palais Schaumburg), one of the godfathers of what came to be known as the Berlin Techno sound and still one of the most important contemporary producers of electronic music. We have of course given him "Carte Blanche".

He will be performing himself, with his trio, featuring Vladislav Delay (Luomo, Uusitalo) and Max Loderbauer (Sun Electric, NSI). Exploring the possibilities inherent in live, collaborative improvisation, with von Oswald playing electro-acoustics, Loderbauer on analogue synthesizers and Vladislav Delay again taking up drums, his original instrument, the trio aims at creating an "endless groove" of sorts, de-emphasizing melody and harmony and putting the rhythmic pulse of percussion firmly in the foreground. Call it deconstructed Techno if you must, the result of this way of working references legendary Krautrock band Can and, at the same time, puts them at the heart of what musically is most relevant today. Continuously fluxing their rhythms, they shrug shoulders with Electronica and Afrobeat, layering and re-thinking music for today and the future.
Also, he will be playing a DJ set accompanied by vocalist Tikiman, aka Paul St. Hilaire.
Tikiman has for years been closely linked to Moritz von Oswald through his collaborations with Vos Oswald's legendary Rhythm and Sound project (which he ran together with Mark Ernestus). Next to this, Tikman has leant his unique voice to projects with The Bug, Deadbeat, Moderat, Stereotyp, Jean-Marie Aerts, Vainqueur, etc. Since 2000, he has been running his own False Tuned label, home to his own productions and a few collaborations as well. Organically fusing modernity and tradition, Tikiman directs a pulse of spiritual light through the unity of his voice, production and performances.

Mala is part of Digital Mystikz and one of the people behind DMZ. Digital Mystikz have long been considered to be one of the prime movers and shakers of the Dubstep scene. Their tracks "Pathways", "Haunted" and "Anti-War Dub" are considered to be some of the most essential tracks coming from the genre so far, establishing Dubstep as the force of inspiration and creativity it still is today and also forging cross-genre collaborations. Peverelist is the lynchpin of the Bristol Dubstep music scene. His championing of home grown talent has made his label, Punch Drunk Records, the defining contemporary label of one of the world's most influential musical cities. His own productions have proved crucial in shaping the second wave Dubstep sound, citing influences from Reggae's sound system culture and European and American Techno and House. His "Jarvik Mindstate" album, released in 2009, is already a classic.

Independent label Honest Jon's is run by Mark Ainley. For twenty years, they have been releasing inventive non-Western music. Mark Ainley will play a warm up DJ set for the Moritz von Oswald trio.
For this very special occasion, Recyclart will be equipped with a Funktion One Soundsystem.

This is an event not to be missed!
Partner: