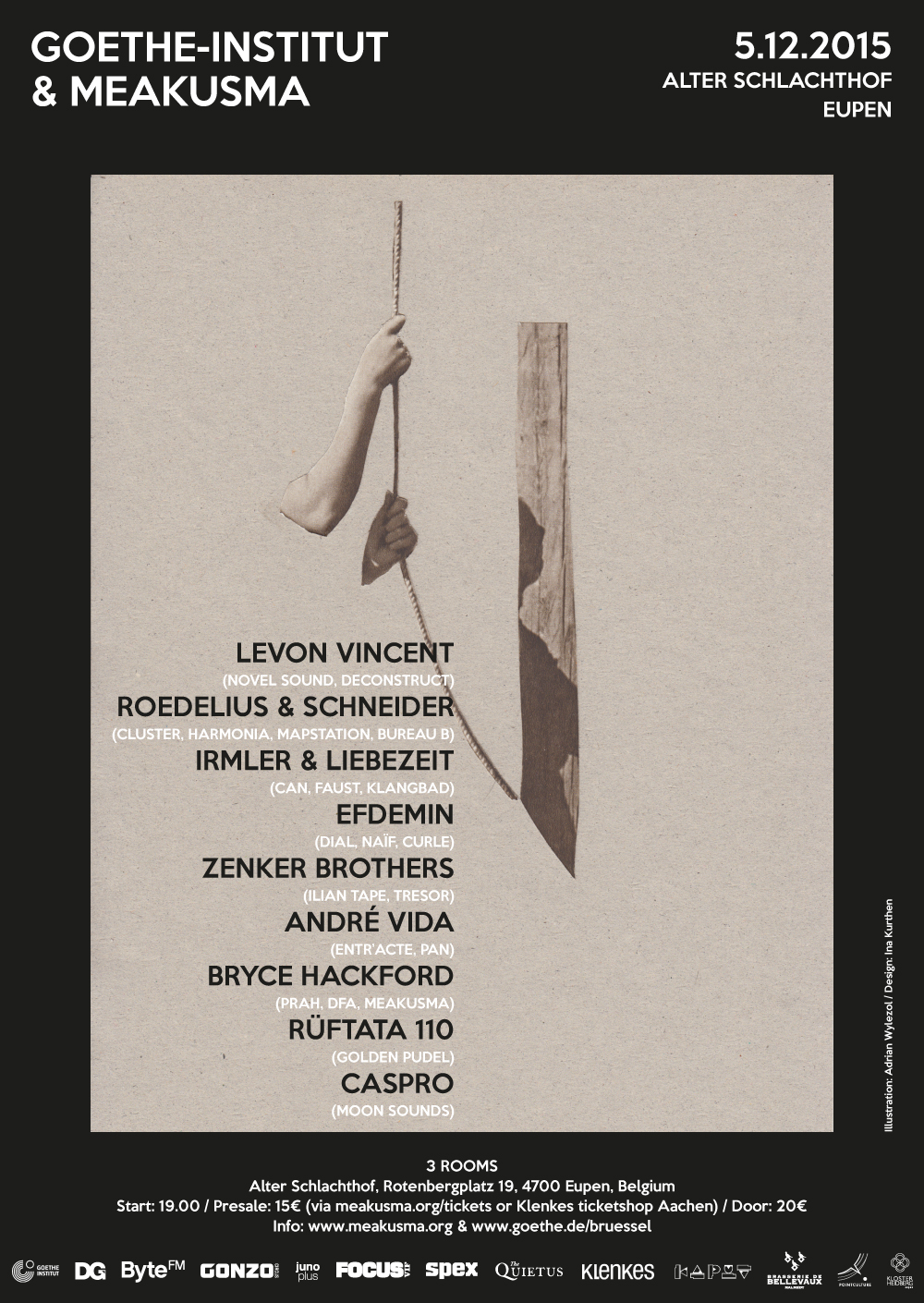 Alter Schlachthof
Rotenbergplatz 19
4700 Eupen
Start: 19.00
Presale: 15€ (+fee) -> buy here
At the door: 20€
Goethe-Institut & meakusma Night
LINE-UP :
Halle
Kühlraum
Foyer
On December 5, meakusma and the Goethe-Institut are proud to present a night featuring some downright exciting club and listening music. This being the first major music event using three rooms of the newly renovated Alter Schlachthof in Eupen, we believe to have secured a stellar line-up featuring some truly legendary performers. Three rooms, nice acts and an eclectic streak running through the whole program, featuring DJ-sets and live performances by Levon Vincent, Roedelius Schneider, the Zenker Brothers, Efdemin, Irmler Liebezeit, André Vida, Bryce Hackford, Rüftata110 and Caspro.
Room 1 or the 'Halle' features DJ-sets by Levon Vincent, The Zenker Brothers, Efdemin and Caspro.
Levon Vincent has long been one of the most daring and original performers in modern-day club music. His brand is raw, epic and dirty house music, informed by his years spent in New York clubs. He runs the Novel Sounds and Deconstruct vinyl-only labels and is an extremely prolific producer in his own right, cherishing a fiercely independent artistic stance combined with a unique way of promoting his music. Obsessed with the art of the house music DJ-set, Levon is one of club music's most prolific and innovative voices.
Efdemin hails from Kassel, but nowadays resides in Berlin. For more than ten years, he has been releasing his own brand of minimal house music that is warm, engaging and extremely focused. His releases on Dial, Métisse, Naif and Curle Recordings have made him a mainstay of modern house music. Oftentimes lost in haunting reverie, an Efdemin DJ-set always revolves around reduced house tracks and deep, dry techno music. His sets are witty, gritty and serious in their intent to be nothing short of blissful.
The Munich-based Zenker Brothers are Dario and Marco Zenker. For years, they have been a vital part of Munich's club scene. Having joined productional forces in 2014, they released their acclaimed 'Immersion' album on their own Ilian Tape label in 2015. Techno music is their game, craftsmanship their core. A delicate straightforwardness defines their music, without shunning melody and atmosphere.
Local boy Caspro is young, eager and focused on content. He got his musical training from an experienced family member and plays house, techno and electro.
Room 2 or the 'Kühlraum' is our concert space for the night.
German music legends Hans-Joachim Roedelius (of Cluster and Harmonia) and Stefan Schneider (co-founder of Kreidler and member of To Rococo Rot) have so far released two amazing albums together on Bureau B, fusing electronica with a feel for nineteenth-century romantic piano music. Hans-Joachim Roedelius has been one of the most influential musicians of the past 45 years as a member of the essential electronic krautrock band Cluster and as a solo artist. Still focused on experiment and contemplation, his music has influenced numerous producers and DJ's working in club and experimental music alike.
More German musical ancestry in the shape of Hans-Joachim Irmler (of Faust and Klangbad) and Jaki Liebezeit (of Can and many other projects). Their first collaborative effort 'Flut' was released on Klangbad last year and delved into their influences with poise and a futuristic stance. It was hailed as a highly engaging trip into wayward grooves and avant-garde sound design, a descent into cosmic chaos that makes sense and that is highly informed by the improvisatory nature of their collaboration.
André Vida is an American-Hungarian saxophonist, lyricist and composer who has worked with Ricardo Villalobos, Arto Lindsay and many others. Free jazz and electronic music-based, he wrote the opening music for the 2014 Berlin Biennale.
Room 3 is the 'Foyer' and is the chill out room for the night.
Here Bryce Hackford and Rüftata110 will do the honors. New York-based Hackford has been developing his unique and staunchly non-conservative fusion of decomposed techno and meditative ambient music for a couple of years now. He also remixed DFA's Delia Gonzalez to great acclaim. Rüftata 110 is Ralf Köster, booker for the Golden Pudel club in Hamburg and the man behind the MFOC nights there. Complaints are his biggest compliments.
The Foyer will also feature live painting and illustration done by Boris Servais and Adrian Wylezol of Poste Aérienne. Boris Servais (Eupen) is a traveler with a passion for illustration. He loves to explore absurd topics and stories in playful miniature books and zines, always trying to realize a powerful and expressive linework. Adrian Wylezol hails from Berlin and is something of an adventurer in the experimental arts. His surprising and imaginative creations and his sense of story-telling make for an extremely varied body of work.
Partner: