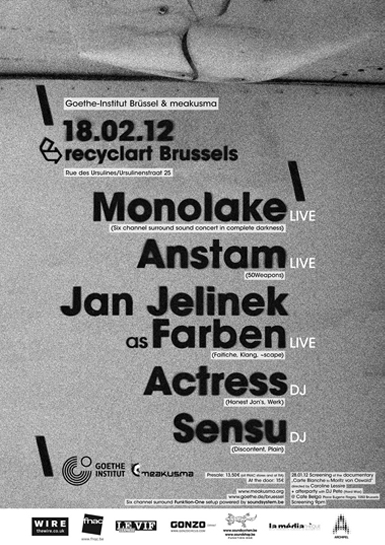 Recyclart
Rue des Ursulines 25
1000 Bruxelles
Start: 22.00
Presale: 13,50€ (all FNAC stores)
or for foreign customers via Resident Advisor
At the door: 15€
Goethe-Institut Brüssel & meakusma night
Line-up:
On February 18 2012, meakusma and the Goethe-Institut Brüssel join forces for the second time to bring you a night of cutting edge electronic music.
For the first time in many years, Monolake is coming back to Belgium. He will be presenting his new album "Ghosts". Equipped with a Funktion-One soundsystem, with the speakers set up around the audience, Monolake will perform in the middle of the room using a six channel surround sound setup. Ever since Robert Henke started releasing music as Monolake in 1996, his name has been at the forefront of musical innovation. His take on musical composition and his unique sound and musical technique have made him a household name amongst many of today's electronic music producers and fans worldwide. Because of this reputation and the fact that he does not often perform live, this performance is a rare feat, not to be missed.
Jan Jelinek is also reknown to constantly reinvent himself musically. His Farben project is his personal take on house music. With subtle and indirect grooves, built on obscure micro samples, Farben's music goes beyond normal expectations without resorting to hype or overstatement. His music sometimes feels light and easy, but always has a deeper and different meaning that strays it away from just being deep house. Since 2008, Jan Jelinek has also been running his own and very successful Faitiche label. This will be the first performance of Jelinek in Belgium under his Farben moniker.
Also a first for Belgium is the performance of Anstam. This mysterious project from Berlin has been releasing records now for a few years on their own label and on Modeselektor's 50 Weapons. Their high tech mix of dubstep, grime and techno makes Anstam one of the most essential acts in today's club scene. Closing off the night is Actress. In only as much as the blink of an eye, Actress has become one of the leading producers and DJ's of the new generation of club music cognoscenti. His album Splazsh on Honest Jon's Records, released in 2010, was hailed as one of the best dance music albums of the last few years. As a DJ, he takes his audience on an ultramodern Afrofuturist trip.
Warming up the event will be Sensu. This DJ from Brussels has for years been working on his own eclectic brand of electronic music DJ'ing. Incorporating avant-garde sounds into his always expanding musical universe, Sensu conjures up a futuristic mix that is not afraid to nod to the past.
A limited amount of tickets is available in all Fnac stores and via Residentadvisor. The rest will be sold at the door, the evening of the event itself. Be sure to be early, because Monolake plays at midnight already.