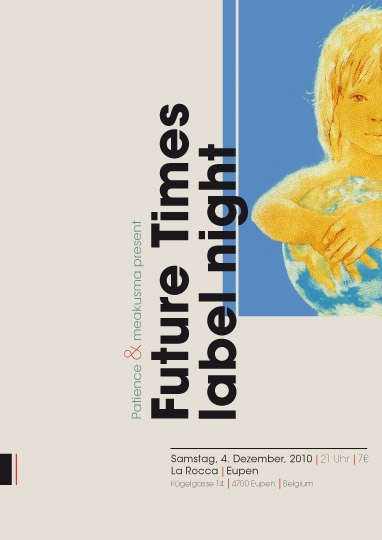 La Rocca
Kügelgasse 14
4700 Eupen
Start: 21.00
At the door: 7€
Patience & meakusma pres. Future Times labelnight
Line-Up:
Following their show in Amsterdam for the Rush Hour Disco 3000 night (headlined by Detroit legend Theo Parrish), the upcoming American label Future Times comes to Belgium for the first time, presenting Beautiful Swimmers and Protect-U.
Beautiful Swimmers is the production duo of Andrew Field Pickering and his friend for long and DJ partner Ari Goldmann. Using samples from forgotten records picked from flea markets and mixing them with parts played on analogue synths, they have released some epic tunes on Future Times already, the Electro Boogie masterpiece 'Swimmers Groove' for example and the Cosmic Reggae Disco tinted 'Big Coast' that got them international praise for a.o. Roman Fl\ügel of Alter Ego. Next to this, they also run a party in Washington DC called 'The Whale' that has featured Tensnake, Tim Sweeney, Hunee, Aeroplane, Damfunk and Lovefingers. Their blog 'Heal Yourself and Move' sees Andrew Field Pickering write about the state of present day dance music and club culture.
Next to the DJ set by Beautiful Swimmers, Protect-U, a project by Michael Petillo and Aaron Leitko, will perform live. After playing in different Punk and Hardcore bands for a few years, they founded Protect-U and last year released their debut EP 'Double Rainbow', a playful fusion of Talking Heads, Arthur Russell and Trax Records influences. Together with Andrew Field Pickering, Michael Petillo runs the Future Times label and Aaron Leitko is a contributor for the cultural column of the Wasington Post.
This night will take place in the event room of the La Rocca youth club in the lower part of Eupen. Doors open at 21.00 and the entrance is 7€.
Partner