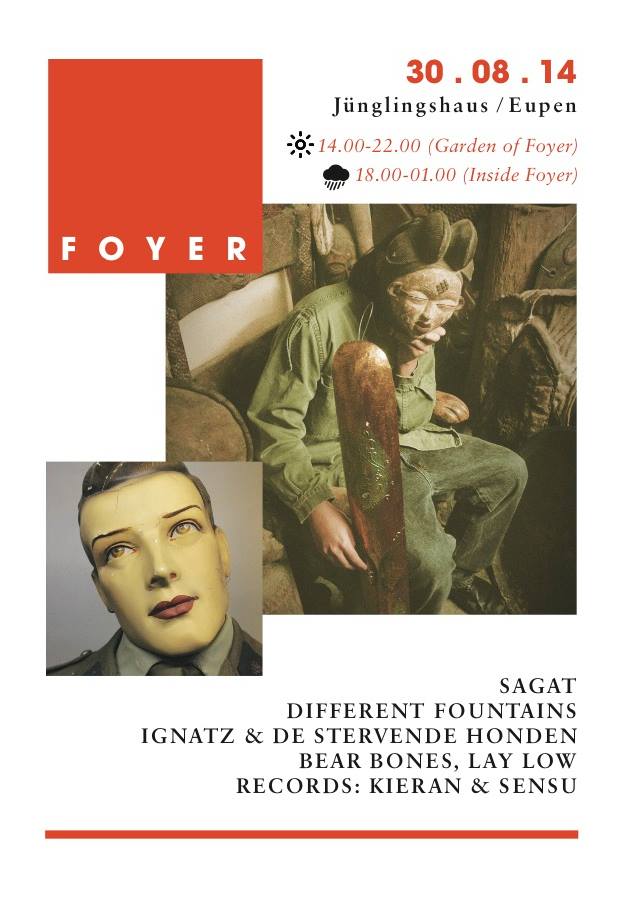 Juenglingshaus
Neustrasse 86
4700 Eupen
Start: 20.00
At the door: 7€
Foyer
Line-Up:
OK, so here's the deal. On August 30, we will close off the summer in style with a special edition of Foyer centered around the album release of 'Shrimp That Sleeps' by Different Fountains. If the weather gods allow, live perfomances by Ignatz & De Stervende Honden, Bear Bones, Lay Low, Different Fountains and Sagat and DJ sets by Kieran and Sensu will take over the beautifully intimate garden of the Jünglingshaus in Eupen between 2 and 10 PM. In case of rain or any other kind of temperamental weather, we will move the proceedings inside, moving all performances to the early evening. Via our website and facebook pages, we will keep you posted on what will happen exactly.
Ignatz is the internationally renown alter ego of Bram Devens. His songs are acoustic, hypnotic, lo-fi explorations of old blues and ambientish moods, released on such labels as (K-RAA-K)³, Fonal Records and Ultra Eczema. De Stervende Honden, originally intended to play with Ignatz in support of their collaborative "Teenage Boys" album, have had to cancel their performance this Saturday. Ignatz will perform solo. It's unfortunate, but Ignatz solo is an amazing experience all the same.
Bear Bones, Lay Low is the project of Ernesto González, native of Venezuela but nowadays based in Brussels. His music is psychedelic and optimistic, with analogue synthesis, fuzzed-out guitar freak outs and spaced-out rhythms steering the tracks to their very often illogical conclusion. He has released albums and tapes on such labels as (K-RAA-K)³, Young Girls Records and Smeltkop.
Different Fountains, the Brussels-based project of Michael Langeder and Bernardo Risquez has released a string of acclaimed 12inches on their own Different Fountains Editions label since 2012. 'Shrimp That Sleeps' on meakusma is their first full album, a thrilling selection of wayward pop songs steeped in modern-day electronica, abstracted club incluences and a gentle sense of the absurd.
Sagat, who is one third of the beloved Bepotel collective from Brussels, has released two 12inches on the Vlek label to international acclaim. His sound is club-based, but has a definite opening to experimental electronic music. He has just remixed Different Fountains, remodeling their sound into an abstract dancefloor burner.
Based in Cologne, Polar Club founder and Roxy Tanzbar resident Kieran has a love for musical experiment and leftfield club music. He effortlessly mixes Jazz, Industrial sounds, Fourth World and experimental club music into an informed and energetic whole.
Sensu's trademark eclecticism shows in his DJ sets that aim to marry the unconventional with the audience's expectations. He writes about music, is involved in the Testtoon label, writes and DJ's for meakusma and contributes to the Black Wigwam radio show on Intergalactic FM.
Partner