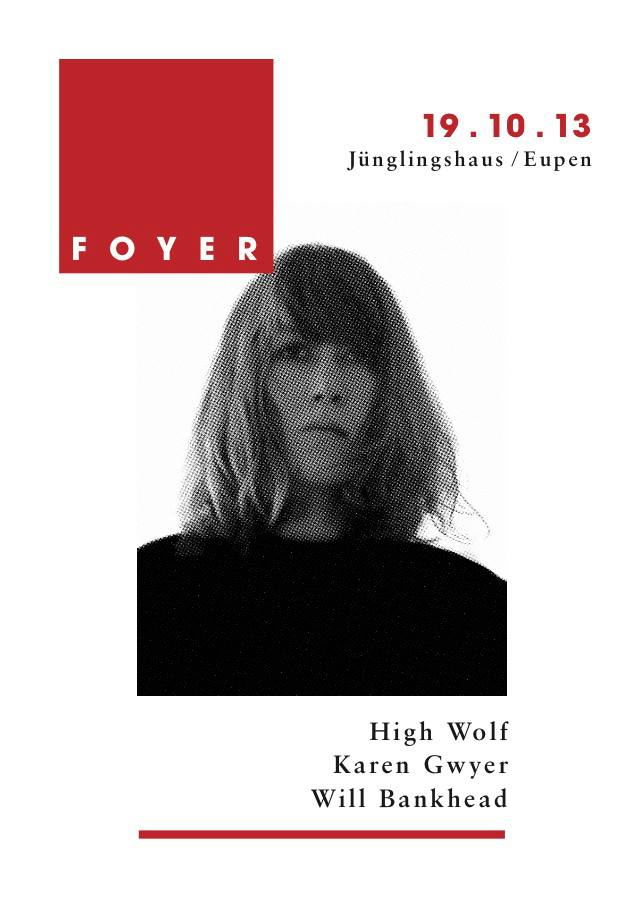 Juenglingshaus
Neustrasse 86
4700 Eupen
Start: 20.00
At the door: 6€
Foyer
Line-Up:
Foyer is a new concert series, hosted, in the early evening, in the congenial foyer of the Juenglingshaus in Eupen that ten years ago was the home of the renowned hoerbar events. Guests for the first edition are High Wolf, Karin Gwyer and Will Bankhead.
High Wolf's recent and acclaimed 'Kairos: Chronos' album on the American Not Not Fun label is an incredibly engaging trip into psychedelic and dubbed-out ambient-ish grooves. His music a brooding reflection on his eclectic influences, these influences the result of him traveling extensively and performing all over the world, High Wolf is one of these very few ultra-modern music producers that seem to grasp today's musical spirit at the flick of a switch.
Karen Gwyer is a relatively new name in electronic music. Her debut album 'Needs Continuum' on the English No Pain In Pop label has quickly solidified her reputation as a unique producer and performer. She also contributed a remix to the 'Interpretations on F.C. Judd' album on the Public Information label, alongside Chris Carter of Throbbing Gristle fame, and has a new release coming up on Opal Tapes. Her intuitive and exploratory production methods give her music a daring intimacy that references classic house music and electronic psychedelic music, cozying up to the work of people like Arthur Russell, Cabaret Voltaire and Fuck Buttons.
Will Bankhead is best known for running the essential The Trilogy Tapes label, being the designer of some of the most iconic record sleeves of the legendary Mo Wax label and nowadays designing for 4AD, R&S, Honest Jons and James Blake. He is also behind the essential internet broadcast Knyx Radio where he plays records from all parts of the musical spectrum, which is something he will do on this first edition of Foyer as well.
Partner