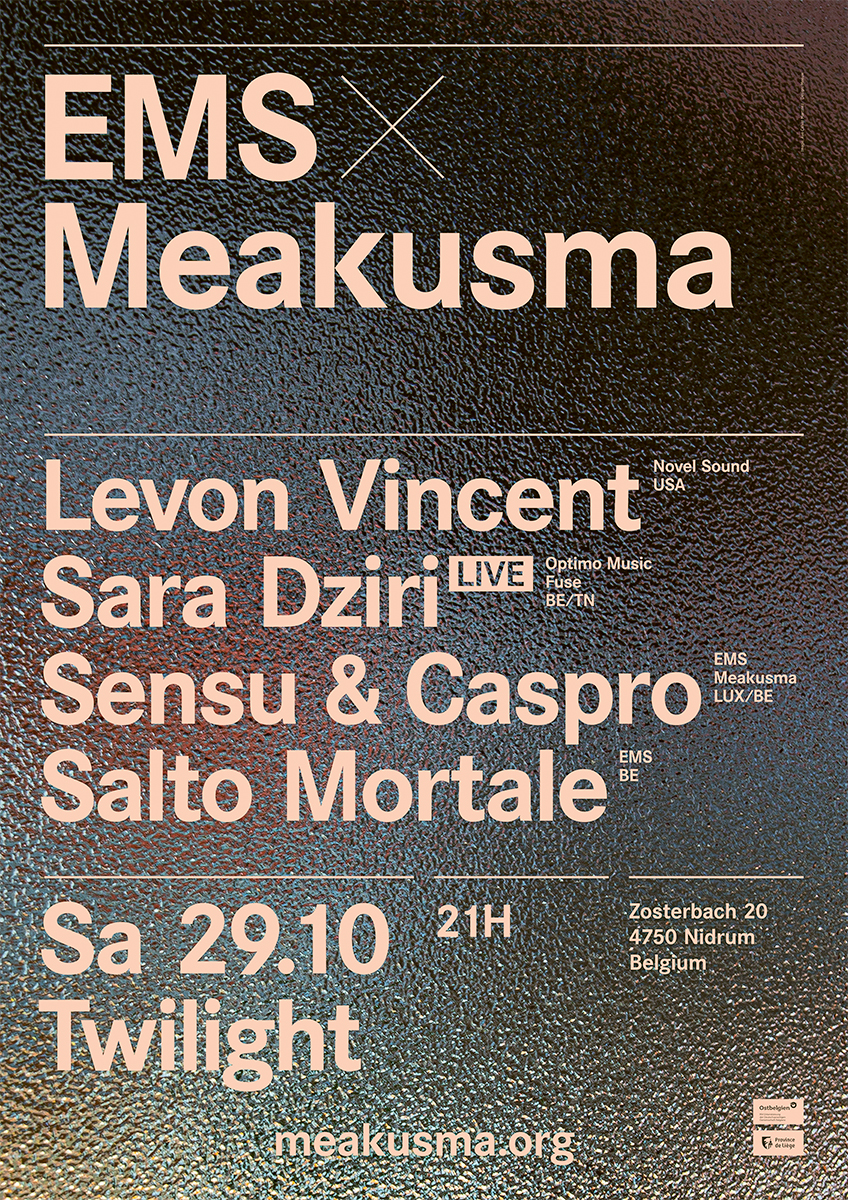 Twilight Café
Zosterbach 20
4750 Nidrum
Levon Vincent, Sara Dziri, Sensu & Caspro, Salto Mortale
presented by EMS & meakusma

The EMS party collective and MEAKUSMA present legendary New York house and techno DJ and producer Levon Vincent for what will be the last event of 2022 organised or co-organised by Meakusma in the German-speaking region of Belgium.

Levon Vincent is a true icon of modern house and techno music. Born in New York, his artistic identity is heavily linked to the roots of club music in his hometown. This is where he built his craft, gaining an incredible inside knowledge of what makes dancefloors tick. Levon is nowadays based in Berlin, but his DJ-sets as well as his productions breathe New York house music history, allowing for eclecticism and unexpected, even very experimental and minimalist influences to define his work. It is function turned art. His sets as well as his productions mix 90s NY house, dub techno, new wave and more. They pump, but with poetry and insight. He runs the Novel Sound label and used to run Deconstruct together with Anthony Parasole. We booked Levon for his first ever set in Belgium in 2009 in Brussels and we are delighted to have him back with us. His sets dwell on all the possibilities of club music and go beyond still.

Brussels-based Sara Dziri is a DJ, music producer, sound designer and performer. She is a multi-faceted artist and one of the people defining Brussel's electronic underground music. Her DJ-sets and productions stand for surprising rhythmically complex house and techno. Dziri will be playing live, on the back of the release of her immersive debut album on Optimo which defies logical techno structures by embracing them as well as undermining them. She is a resident DJ at the legendary Brussels techno club Fuse and hosts radio shows on Kiosk Radio and Tsugi Radio. DJ action comes from EMS residents Caspro and Salto Mortale and Luxembourg-based Sensu.

Halloween outfits should allow for heavy sweating!


Partner: