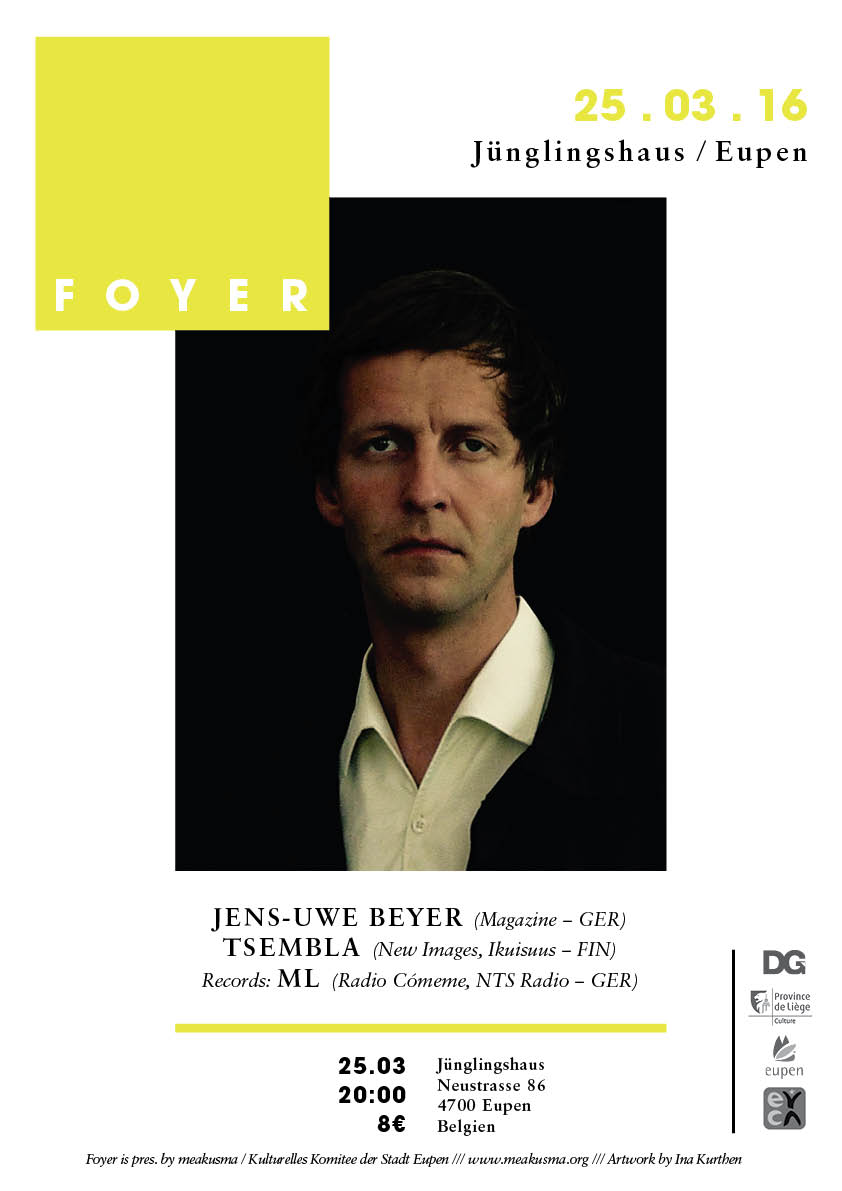 Juenglingshaus
Neustrasse 86
4700 Eupen
Start: 20.00
At the door: 8€
Foyer
Line-Up:
On March 25, meakusma goes back to the Foyer of the Jünglingshaus in Eupen presenting two unconventional concerts by Jens-Uwe Beyer from Cologne and Finnish-Swedish artist Tsembla.

Jens-Uwe Beyer is known for being one of the founding members of 'All-Star Band' Cologne Tape and for running the Cologne-based Magazine label together with Barnt and Crato. He has frequently contributed music to the Pop Ambient compilations on Kompakt before founding his own PNN label. he has released solo work on Magazine, Kompakt Pop, PNN and Italic. His The Emissary album is a deceptively tranquil and beautiful ambient music outing that houses deep and brooding undercurrents. As very much the case with the producers linked to the Magazine label, The Emissary carries a subtle statement in its tendency to focus on explicit beauty and combining that tendency with refined avant garde techniques. Beyer's music essentially makes the wayward accessible.

Tsembla is the music project of Finland-based artist Marja Johansson. She uses a plethora of instruments, objects, samples and electronic devices conjuring up twisted melodies, fluttering rhythms, abstract voices and mutating textures, all the while balancing between the known and the imaginary. Her latest piece Terror & Healing, released on New Images in 2015, is edgy and raw. Full of detail, her compositions come close to pop music due to her whimsical use of instruments and her defined DIY approach.

Playing records before, in between and after is ML from Cologne. He is responsible for the 150 Session radio show on Radio Cómeme and NTS and bears eclecticism close to his heart, touching upon avant-techno, rural voices, jazz, psychedelic and minimal music.
Doors open at 20h. Concerts start at 21h30.
Partner: