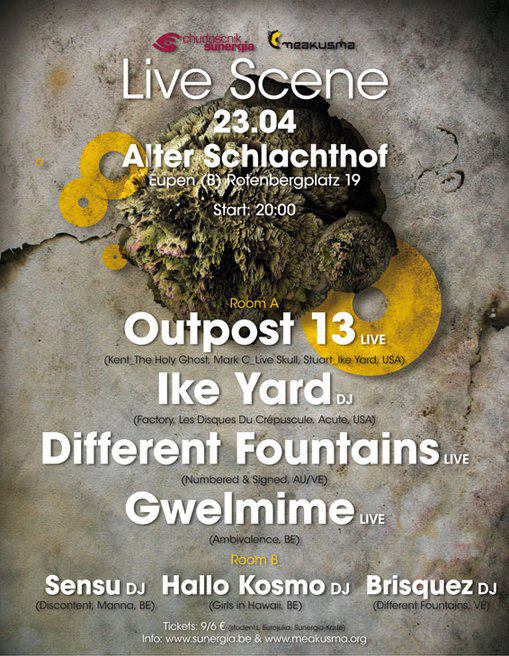 Alter Schlachthof
Rotenbergplatz 19
4700 Eupen
Start: 20.00
At the door: 9€
Chudosnik Sunergia and meakusma at Alter Schlachthof
LINE-UP :
Outpost 13 LIVE (Kent – The Holy Ghost, Mark C – Live Skull, Stuart – Ike Yard, USA)
Ike Yard DJ (Factory, Les Disques Du Crépuscule, Acute – USA)
Different Fountains LIVE (Numbered & Signed – AU/VE)
Gwelmine LIVE (Ambivalence – BE)
Sensu (Plain, manna – BE)
Brisquez (Different Fountains – VE)
Hallo Kosmo (62 TV Records – BE)
On Saturday April 23, meakusma once again presents a night of adventurous music, this time in the beautiful Alter Schlachthof in Eupen, Belgium. Top of the bill is NYC Post-Punk legend Stuart Argabright with his new project Outpost 13, a research into Ambient and dry Post-Punk influenced Dub music. Argabright will also be playing a DJ set under his Ike Yard moniker, Ike Yard being his most legendary project, with releases on Factory Records and Les Disques Du Crépuscule in the beginning of the 80's (they reformed in 2007 and released a new album in 2010).
Also on the line-up is the Brussels-based band Different Fountains. Their blog of the same name is one of the most essential music blogs today and their small label focuses on beautifully crafted limited releases, often based on jams organized in their studio in Brussels. The eclectic Gwelmine draws influences from Pop, Rock, Electro and classical music, topped up with vocals in many different languages. A solid shot of post millennium Trip Hop, but more versatile and open-minded than the genre allowed when springing up in the nineties.
DJ support comes from Brussels-based DJ Sensu, for years one of the voices of underground DJ'ing in Belgium, Brisquez, an architect, producer and DJ born in Venezuela, but based in Brussels and Hallo Kosmo, the bass player of "Girls in Hawaii" and an eclectic DJ in his own right.