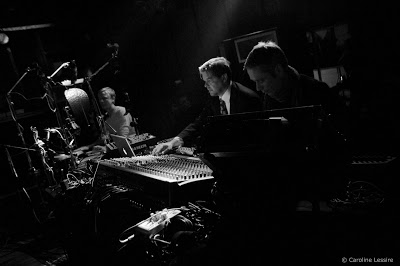 Café Belga
Place Eugène Flagey
1050 Brussels
Start: 21.00
At the door: free
'Carte Blanche to Moritz von Oswald' a documentary by Caroline Lessire
Line-Up:
Documentary Screening (Carte Blanche to Moritz von Oswald)
DJ Pete (Scion Versions, Chain Reaction, Berghain – Berlin)
Sensu DJ (Plain, manna – BE)
Goethe Institut Brussels, Café Belga & meakusma present ..
The 'Carte Blanche to Moritz von Oswald' Documentary by Caroline Lessire
+ An Afterparty with DJ Pete (Hardwax, Scion Versions, DE) and DJ Sensu
A documentary about the 'Carte Blanche to Moritz von Oswald' event, organized by the Goethe Institut Brussels and meakusma in February 2011 in Recyclart. This half hour film was directed by Caroline Lessire, known for her work in video and photography, focusing on the many aspects of music. She has curated the photo exhibition "Step Across The Light : a journey through music photography" and directed documentaries about Anti-Pop Consortium, Laidback as well as music videos.
An afterparty with DJ Pete and Sensu.
For almost two decades, DJ Pete has been at the vanguard of Berlin's Techno landscape. As a producer (under his Substance moniker and with the Scion project), remixer and international DJ, his work comprises a wide range of the most important currents of the last 20 years. These days he spices up his DJ sets with a lot of Dubstep. For this event, he will play a more experimental set, especially tailored to the night and the location.