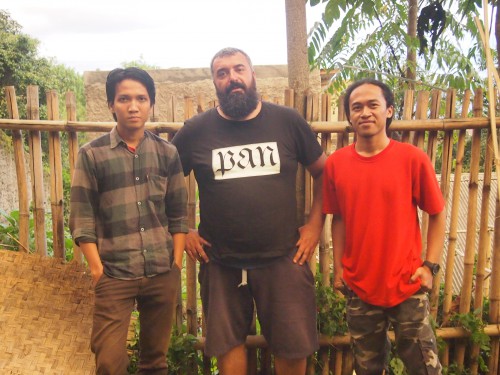 Rabih Beaini & Tarawangsawelas

Lebanese-born producer and DJ Rabih Beaini (also known as Morphosis) specializes in grainy, imaginative analogue electronic music. In the past year however, his Morphine label has telescoped in on key (often overlooked) voices in avant-garde electronic and outernational music. After he discovered and produced the explosive Indonesian duo Senyawa, who will also perform for EUROPALIA, Beaini got seriously attracted to Indonesia.
Beaini's genuine musical ability and a range of influences—from his native oriental sounds, over krautrock to new wave—seep into his inventive, dark, and emotional productions and immersive DJ sets.

EUROPALIA sent the producer to Indonesia to work on a new live performance in collaboration with the Tarawangsa duo Teguh Adi Permana & Wisnu Ridwana. Tarawangsa music is a rare Sundanese tradition of pure and minimal trance music played on 2 string instruments. The Tarawangsa, a two stringed fiddle played upright like a rebab or small cello, and the Jentreng, a seven-stringed zither. Confusingly, the names of both instruments can be used to signify the musical genre as well. These instruments are unique and inseparable and have been rarely played outside of Indonesia. Tarawangsawelas will release their debut album on Morphine records this autumn!