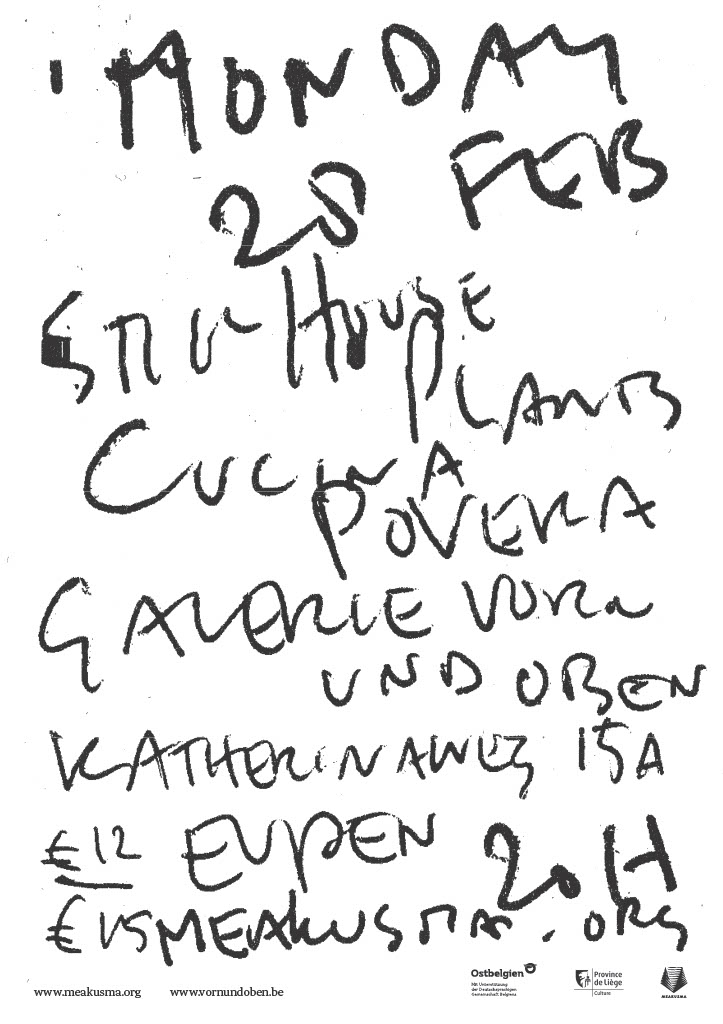 Galerie vorn und oben
Katharinenweg 15a
4701 Eupen
Start: 20:00
Presale: 12€
Door: 15€
Get Your Tickets
here
Still House Plants and Cucina Povera
On Monday February 28th, Meakusma presents concerts by Still House Plants and Cucina Povera at the Galerie Vorn und Oben in Eupen.

Still House Plants are a Glasgow and South-London based three-piece made up of Finlay Clark, David Kennedy and Jessica Hickie-Kallenbach. They started writing music together during their second year at the Glasgow School of Art, were part of the eclectic Green Door Studio scene in Glasgow and held a six-month residency at London's Cafe Oto in 2018. Still House Plants navigate a divergent approach to pop music, integrating fractured R&B, harmolodic guitar, punk, post-punk, post-rock and the cut-up effect of UK garage. Chords and words are treated as samples, adding an unequaled sparsity that is stuttering, and fragmented, permuted by living drums, guitar and a husky voice on top and below. Their 2020 Fast Edit album on Bison and Blank Form Editions was written with the aid of mobile phones, dictaphones and laptop recordings of live shows, rehearsals and conversations. Theirs is a collage of different fidelities and aural spaces, where things sit on top of each other, fall over one another and fade in and out of place.

Cucina Povera is the solo project of Luxembourgish-Finnish musician Maria Rossi. Conjuring up drifting and otherworldly meditations driven by ethereal voice and subdued harmonic tones touching upon minimalist improvisation, Rossi's work has quickly become a mainstay in contemporary electronic and experimental music. Repetition and a non-confrontational stance define her music, but make for a confrontation all the same. On the verge of intuition and control, Cucina Povera's music is rife with soft-spoken paradoxes and escapes definition gracefully. Ever-mutating, always open-ended, musical commitment comes in the shape of the aforementioned repetition. Hers is the earworm undressed. Releases on Primordial Void, Editions Mego, BAKK and NIGHT SCHOOL are testament to her unique perspective.



Partner: