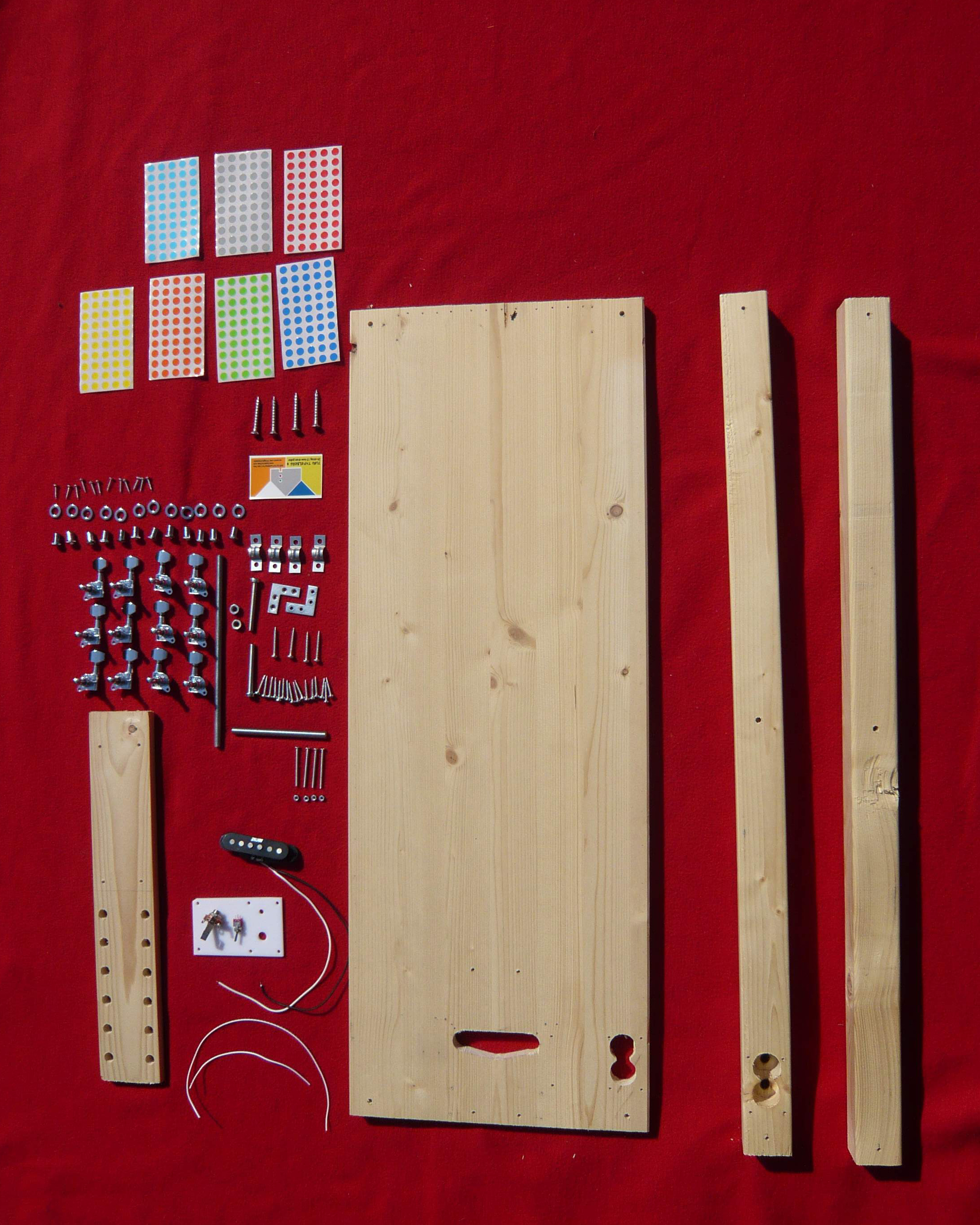 Alter Schlachthof - Heuboden
Rotenbergplatz 17
4700 Eupen
Start:
 10:00 - 16:00
Register at:
info@meakusma.org mentioning "INSTRUMENT NAME" in the subject
DIY Workshop w/ Yuri Landman
On June 12th, we are offering a workshop by renowned instrument maker Yuri Landman in Eupen. Participants can choose to build one of three possible string instruments. If weather circumstances allow, Landmann will perform an outdoor concert with his self-made instruments on June 13th.

Yuri Landman is a Dutch musical instrument maker, musician and cartoonist. He has built adventurous guitars for Lee Ranaldo and Thurston Moore of Sonic Youth. Stringed instruments, all of which can be amplified electronically, at times traditional and at times futuristic, are his trademark.

Since 2009, Landmann has been organising instrument making workshops at festivals, concert halls and academies across Europe. He has been performing with the Yuri Landman Ensemble since 2012 and also plays solo experimental electronics and is part of the two-piece band Bismuth. For his solo shows, he has developed instruments made of wood, strings, metal rods, electric motors and PET bottles. In 2017, he built a sound installation for iii in The Hague in the Netherlands and developed a new instrument making workshop for Lee Ranaldo's Lost Ideas Festival in Menen. Landman's collections of experimental musical instruments for artist residencies, research and education are managed by cultural institutions across Europe, such as the WORM multimedia center (Rotterdam) or Muziekgebouw aan't IJ (Amsterdam). He also teaches at various academies and universities across Europe.

The workshop will take place from 10 AM to 4 PM at Alter Schlachthof on the Rothenbergplatz 19 in Eupen. Participants can choose to build the Triochord (3 strings), the Six Swinger (6 strings) or the Home Swinger (12 strings). Wood as well as the other materials and tools are provided on site. The workshop is aimed at everyone aged 16 and over – younger participants must come accompanied by their parents – with or without previous experience. Depending on the size of the instrument, participation including material costs 75€, 115€ or 155€. Below we list a more detailed overview of all three instruments. Building these instruments is as easy as assembling an IKEA closet and thus requires no special skills. There is some soldering involved, only two joints, but Yuri will help where needed.

Upon registering for the workshop, please make sure to leave your phone number and indicate which instrument you would like to make. Also, we will provide you with payment information since 50% of the participation fee is to be paid in advance. There are only ten spaces available so it is advised not to wait too long to confirm your participation.

The concert will take place on June 13th at 17:00 behind the Heuboden at Alter Schlachthof.

CHOOSE YOUR INSTRUMENT

HOME SWINGER
The Home Swinger is a 12 string 'third bridge'-zither. This 'third bridge' technique is a famous sound effect developed by Glenn Branca and adopted and popularised by Sonic Youth (the effect is to a smaller degree present in a Jaguar and a Jazzmaster, the plucking behind the bridge kind of atmospherical sounds).

SIX SWINGER
The Six Swinger is a more economical model of the Home Swinger. It has 6 strings instead of 12.

TRIOCHORD
The Triochord is a different instrument, but the building process is very much alike. It is offered for those who do not want to spend much on the workshop. It has only three strings and is essentially a slide guitar.


Partner: