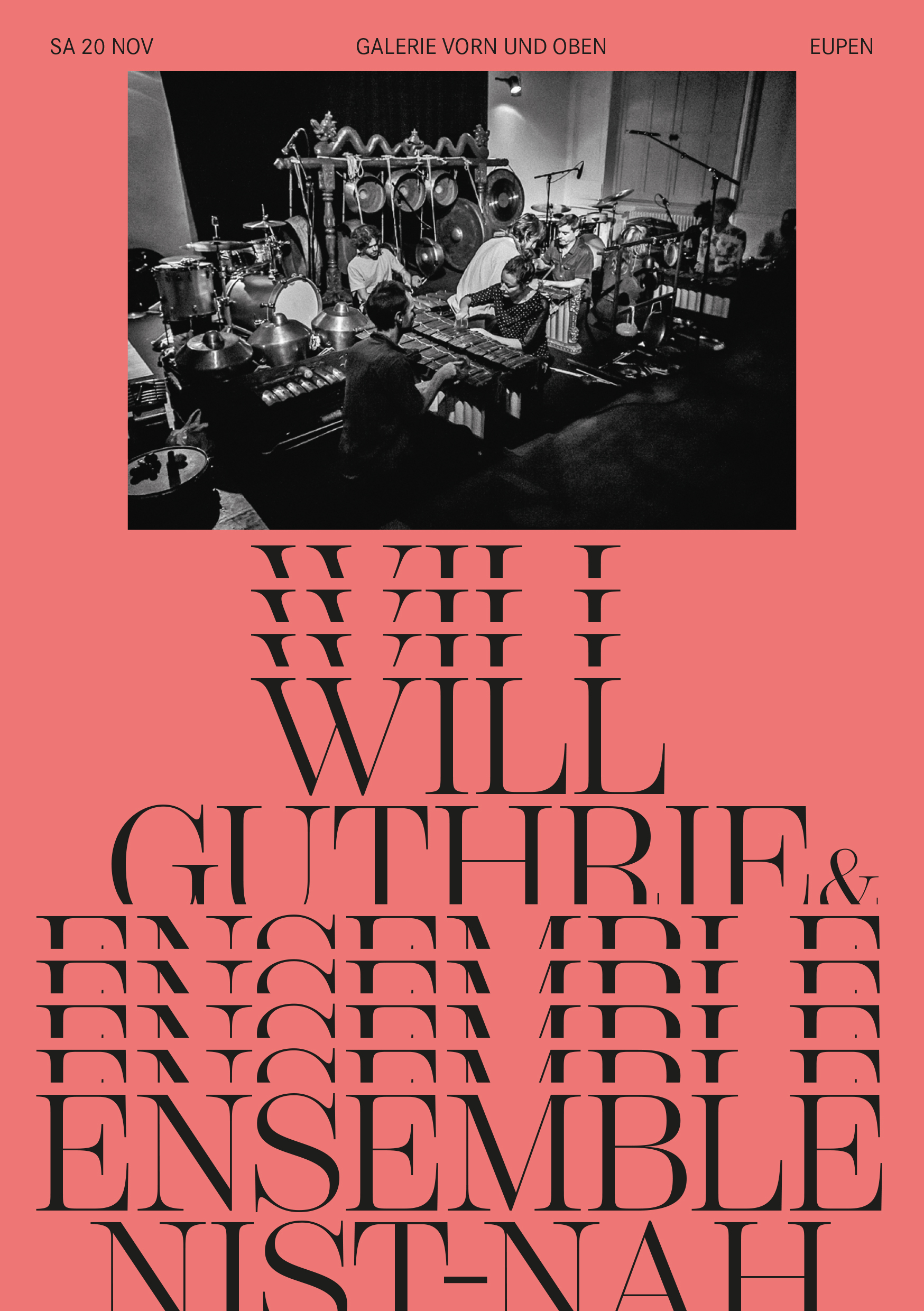 Galerie vorn und oben
Katharinenweg 15a
4701 Eupen
Doors open:
20:30
Entry:
Presale 12€ / Buy your ticket
here
Ensemble Nist-Nah
Ensemble Nist-Nah
Ensemble Nist-Nah is the new gamelan/percussion ensemble led by Nantes-based Australian drummer and percussionist Will Guthrie. Branching out into a new direction, in Nist-Nah, Guthrie employs metallaphones, hand drums and gongs used by the gamelan ensembles of Indonesia, alongside a drum kit, several types of percussion, found objects and scrap metal. The ensemble's music is influenced by Guthrie's travels through Indonesia where he studied various forms of gamelan music.
Far from an exercise in exoticism, Nist-Nah develops out of Guthrie's recent and extensive work with metalpercussion, where gongs, singing bowls and cymbals are used to build up walls of hovering tones and sizzlingdetails. Nist-Nah is influenced by Indonesian music and uses the gamelan extensively, yet it is a contemporary percussion project, very much infused with Guthrie's own interests and perspectives.
The ensemble hosts a wealth of experience and expertise, its members being traditional musicians, contemporarypercussionists and noise and free jazz fanatics. It thrives on Guthrie's interests in free jazz, electro-acoustic musicand diverse experimental music practices, exploring long tones, extended techniques, and non-metered pulse.
Members of the ensemble are: Prune Becheau, Charles Dubois, Thibault Florent, Will Guthrie, Amelie Grould,Mark Lockett, Sven Michel, Lucas Pizzini, Arno Tukiman.
Will Guthrie is an Australian drummer and percussionist living in France. He plays solo using different combinationsof drums, percussion, amplification and electronics, and leads the contemporary Ensemble Nist-Nah. He has released music on labels such as Black Truffle, Editions Mego, Ipecac, Erstwhile, Clean Feed, Gaffer Records,Hasana Editions, 23five, iDEAL and his own label Antboy Music. He first made a name for himself within theAustralian jazz scene, establishing himself at a young age as a major presence by winning the Wangaratta NationalJazz Awards for drums in 1997 and going on to perform with many of Australia's most celebrated jazz musicians. Inthe new millennium, his work took a long detour away from the drum kit through junk electronics, extremeamplification and electro-acoustic techniques, documented on a series of solo and collaborative recordings.
http://www.will-guthrie.com/index.php?/projects/ensemble-nist-nah/
Partner: